Read More Reviews
REVIEW: Infantino BKids 3-in-1 Walker, £59.99

Review written by
Toddle About VIP Club
Member, Sam Barrs. I have an 8 month old little girl who is always full of beans and we were lucky enough to get to review the Infantino Bkids 3-in-1 Walker! The walker is
designed for babies 6-36 months
and has 3 stages that suit different ages
- at 6 months it's designed to be stationary and the handle down so baby can play, at 9 months you can adjust the handle but keep it stationary so baby can stand and at 12 months you can unlock the wheels and baby can use it to walk. My little girl has thoroughly enjoyed discovering the different functions on the walker. She even figured out that the eyes on front roll around and play noises before I did!
There's plenty of things for little hands to play with on the walker
even before it's used as a walker although on one side there is a small door that keeps a ball inside and I've found that my little girl can just pull this door straight off so I've had to keep it off.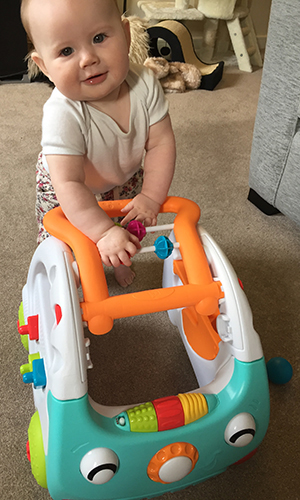 Although only 8 months, my daughter has already used the walker for walking.
It is
very sturdy
and holds her weight well although if baby couldn't walk yet, the back wheels that are supposed to lock don't keep the walker completely stationary so supervision is always needed.
It goes well on carpet at a nice steady pace and is manageable for her to push along.
I think my favourite part of the walker is the overall look!
It's fun and colourful
and as soon as I got it out of the box it was already being taken out of my hands! Good job it's easy to put together. Overall, aside from the little red door coming off, it has been perfect for my daughter and has quickly became her favourite toy. The noises make her giggle and there's endless entertainment for her.
Very well built, easy to put together and great to aid in developing skills
.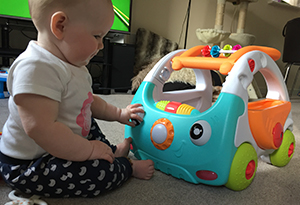 Purchase here:
http://amzn.to/2qtehrB