Read More Reviews
Review: How to Light your Dragon Book, worth £12.95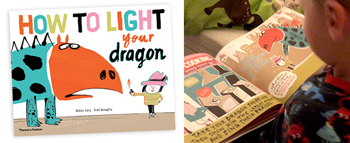 Review written by Toddle About VIP Club member, Cate Matthews.
We loved this picture book about a child with a pet dragon whose fire has gone out. The story covers the methods you might use to get the fire going again; it is a simple enough story but with a lot happening on each page for my four year old to think about and ideas we haven't come across in a book before. The ideas and jokes in the story are surprising and funny which makes the book feel fresh and entertaining (to me as well as my son!) and it ends with a lovely positive message.
I asked my son what he thought of the book and he said 'I like the spiky bits on his back and when he was a baby and chasing burglars, and the sparkling fire and the bit where it says 'now you're cooking' which gives you an idea of the variety of things that go on, even in a short story!
The large, bright pictures are across a double page and are bright and attractive enough that my baby was interested too – but the details such as the dragon's facial expressions are funny for the older one. It gave us a lot of opportunities to talk about how the dragon feels and what might happen on each page. The age guidance for the book is age 5-6 but I think children of a wider age range would enjoy it, because you can appreciate it in different ways. Even without the words it is an attractive book and the story would still come across.
I liked the text, the words are designed to be part of the pictures rather than separate typed sections which makes the pages look much more interesting. The text is a 'narrator' voice giving advice to the child – it reminded me of 'A Beginner's Guide to Bearspotting' by Michelle Robinson.
Overall we really enjoyed reading this book and have read it many times already – my son asks 'can we have how to light your fire?' As we've all enjoyed it I think this could be a new favourite! 
Buy from Amazon