Read More Reviews
Review: Hape Cooking Essentials, worth £23.55
Review by VIP Club Member Kathryn Neale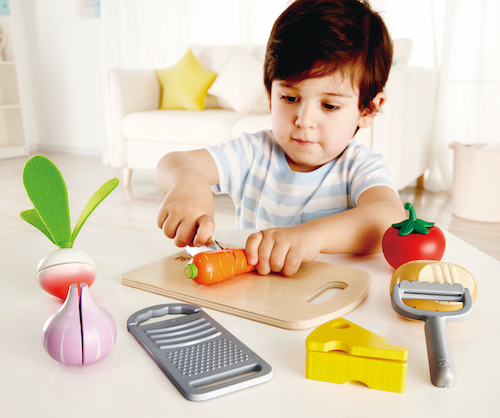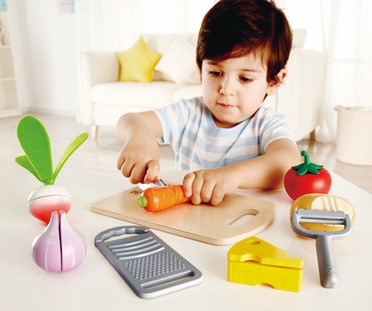 Product Information
Cut, peel and shred the vegetables and grate the cheese on your own cutting board. The separable ingredients and various utensils ensure an extra realistic playing experience. Makes preparation fun! 
Review
The Hape Cooking Essentials playset is intriguing and exciting from the beginning with the colourful box, the paper lunch bag style packaging and each item carefully wrapped in tissue paper.
The product is recommended for 3+ years but my little one is 2 and knew immediately what to do with pieces. It was nice for me to be able to play too and show her what to do with pieces she was unsure of.
She was able to hold and chop each item, using the chopping board with ease as all pieces are easy to handle for little and big hands.
The use of wood makes the pieces strong, robust and durable so they stand up well to the use of an excitable, keen toddler.
The items all look true to life with their shape and colours so we're easily recognisable to what food or item they were supposed to be.
We found this educational as it has taught new words we adults know but that aren't as common or maybe a 2 year old wouldn't necessarily have known.
My child really enjoys this playset as it makes her feel grown up like mummy.
I feel confident and comfortable enough to let her play and explore the various pieces, using her imagination and creating recipes as she likes to let me know what she is doing and making at each step.
The noise of the chopping through the velcro was enjoyed and made my child feel accomplished with each successful halved item and wanting to chop again and again, leading to many hours of fun and play. The sound of grating the potato was found to be giggle worthy too!
The lunch bag original packaging is nice to keep either as part of play or, like we have done, kept for putting the pieces away into after play.
Items are all easily cleaned and even with cleaning and frequent use the shape, colours and velcro durability have all held up well.
The price of this item is definitely worth every penny. The fun and amount of play this has had already it will last a long time and I look forward to my 1 year old eventually having this and learning to play with the pieces as they are intended.
.
.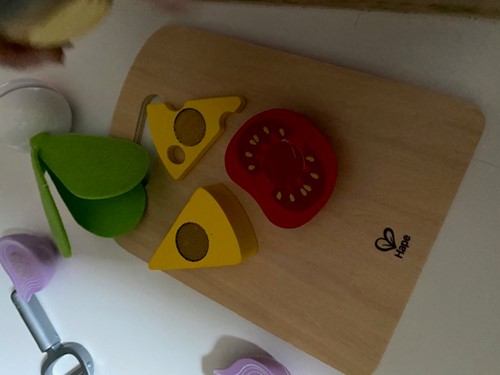 Available to purchase here.