Read More Reviews
Review: Geomag Challenge Goal - Magnetic Building Game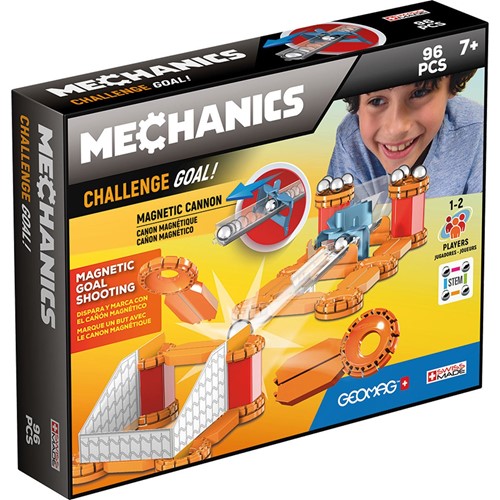 Product Info
Geomag challenge sets are designed to be built and played as fast and frantic games for up to 4 players. Precision, timing and dexterity are the keys to winning.
Mechanics is the construction platform that combines the forces of magnetism with a world of mechanical constructions, to stimulate creativity, intervention and ingenuity. In addition to the classic magnetic bars and steel balls, Mechanics adds mechanical elements to the buildings, expanding the game possibilities: some parts of the structures are able to rotate, triggering chain reactions generated by the attraction and repulsion of the magnets.
Geomag is an educational game, which stimulates and develops the imagination, creativity, logic, dexterity and also facilitates the understanding of complicated notions of physics, such as the creation of magnetic fields and the forces of attraction and repulsion. Geomag is entirely produced in Switzerland, and manufactured with the utmost rigour and attention to the materials, which have always characterised Swiss production, in compliance with the strictest regulations on the subject. Geomag has been recognised as the ideal game to give by the American Scientific magazine, which has conducted research on games that favour the development of children's intelligence.
Ages: 7+
RRP: £25. Available on Amazon.
Our Review
We are big fans of Geomag here, and have a lot of their magnetic rods, balls and panels already, so we were interested to try out this Cannon Construction set.
The instruction booklet is all picture-based and fairly straightforward to follow and construct. The pieces feel nice and sturdy and fit together well. Unlike the other geomags we have, this set doesn't have any magnetic sticks to construct with, but instead is mostly plastic pieces which slot together.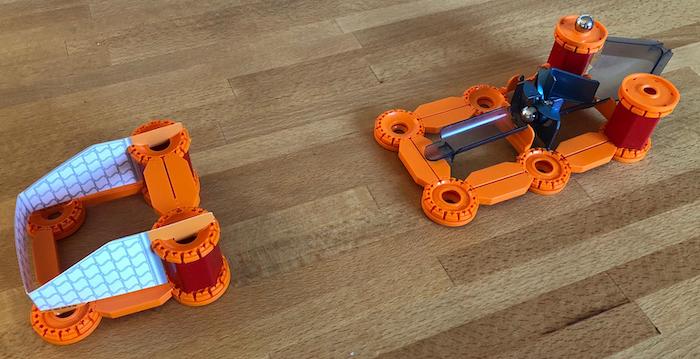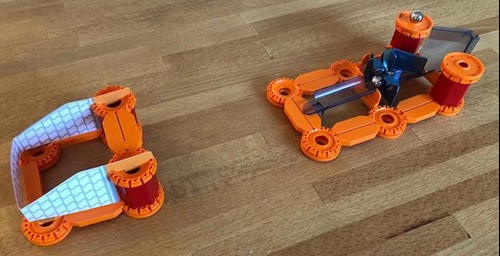 Constructed as the Goal Shooting Game
We first got to work assembling the magnetic cannon, and we were amazed at how well it worked. The magnetic ball really flew out of it! We thought the design for flipping the next ball over with a little lever was really clever too.
This set also comes with pieces to make accessories for three games you can play with the cannon: knocking over targets, scoring goals, and hitting a target to make it spin around. I really like the way that the spinning target uses some of the balls as ball bearings to make it spin round smoothly. With a bit of imagination and creativity you could also use the extra pieces to create small constructions of your own.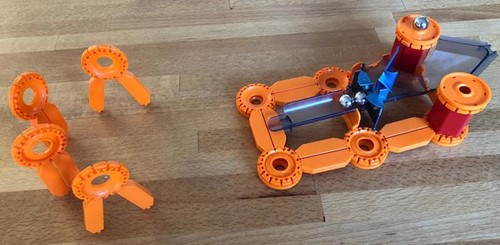 Constructed as the target shooting game
This set comes with plenty of metal balls, to allow for balls getting lost, and the fact that the balls themselves are not actually magnetic is a great safety feature, if being used near small children who might swallow them.
Our only slightly negative thing to say would be that we felt the play value is fairly limited, as it would be hard to construct much else from this kit alone. However, if two people had a kit of their own, it would be possible to set up a more competitive game that would be really fun.
Even on its own though, the cannon itself is very cool and it is a fun and educational toy to make and use. We think this set is a great way to explore mechanics and magnetic forces!