Read More Reviews
Review: Flexars Maternity Leggings, worth £59.99
Review by VIP Club Member Amy Armstrong
Product Information
Flexars have a very high waist so they sit comfortably over your bump. Made from 17 individual pieces of material which move and adapt to your unique body, Flexars are comfortable, flexible and extremely flattering. They have no elastic, and no uncomfortable zips or buttons, Flexars stay comfortable throughout the day, and do not sag or fall down. Made from Supplex®/Lycra® Flexars are fully breathable keeping you cool and dry. Flexars also dry quickly and keep their vibrant colour and soft feel, wash after wash. Flexars also have a large buttoned pocket on the right thigh.
Available to buy from flexars.com
Review

I received the Flexars leggings for review and honestly, they couldn't have come at a better time! I am currently 26 weeks pregnant with my second child and was finding the need for something to wear out whilst chasing my toddler around. First impressions of the leggings were that they felt incredibly well made with good quality material, they were wrapped beautifully too so would be a lovely gift for pregnant friends. Surprisingly, they aren't specifically maternity wear and are predominantly worn for horse riding and as active wear but they have been working perfectly well for me. I am at the stage of pregnancy where I am borrowing my (6ft 5ins tall) husband's coats and the Flexars are outlasting many of my other items of clothing - they are truly growing with me.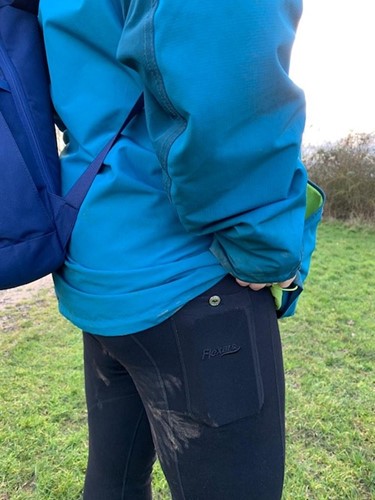 I wear them around the house, to the park and if I could go elsewhere, I would wear them there too! I find them comfortable, smart and warm enough to get me through a park trip in January while the toddler burns off all that pent up energy. One particular feature of the leggings I loved is the phone pocket on the thigh; I've never been a fan of pockets in leggings but this one seems to be in the perfect place as it is accessible and unobtrusive. 
Flexars come in a wide range of colours and sizes and I'm very tempted to get myself another pair just for something to wear while these are in the wash. These will definitely be staying in my wardrobe post birth. I'm also impressed with the company ethics, Flexars is an independent company and values sustainability, something very close to my heart. They certainly deliver on buying quality once over buying cheaper versions.