Read More Reviews
Review: Emerald Storm Irish Dance Sensation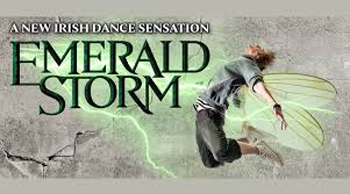 By Lorraine Holmes at Toddle About HQ. My daughter and I had the pleasure of attending the Emerald Storm show at The Grove Theatre in Dunstable at the weekend and we can honestly say we had a truly amazing evening. The show includes a mixture of different genres of dance from gentle ballet style and fiery Salsa to your high energy, toe tapping Irish Tap with a more modern day twist to it and all performed by an amazing cast of highly talented dancers and we were both engrossed right from the start. The Story, which is told throughout the show, takes you on a journey where mortals are trying to save the mythical land from destruction and this is all told through a range of dance, music and singing.  The lead vocalist, John-Philip Bowen, has a voice that is out of this world singing solos, duets and also singing along with the dancers performing it was just stunning and we didn't know where to look when the stage came alight with the whole cast performing all at the same time.
It was so lovely to look around the auditorium during the interval to see such a wide range of ages in the audience, seeing that this type of musical appeals to people of all ages and there were plenty of young children there and by the looks on their faces, they were having a great time. Some of the cast even made time at the end of the show to come out into the foyer of the theatre to meet their audience and they were so friendly and appreciative of everyone's support of the show.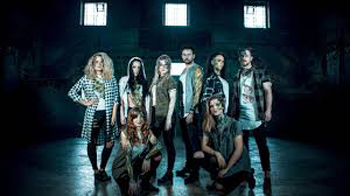 My daughter Carla has just started a dance course at college so this was a great experience for her her to see a show like this and here is her thoughts on the show: "I was really looking forward to seeing this show with my mum as we both love attending the theatre together but especially as I have just started my dance course at college and I can honestly say that I felt really inspired by it. As I was watching the show I was completely drawn in and couldn't take my eyes off the stage, not only was the dancing out of this world, I felt that everything, the dancing, singing and music was just so full of passion and everyone put their all into their parts and they all had constant facial expressions that showed how much they were enjoying themselves and were having fun doing a job they obviously love, all I wanted to do was get up and join in! I would definitely recommend the show to anybody who enjoys music and dance or even if you just want a night of fun, music, dance and to top it off an amazing atmosphere, you wouldn't be disappointed. I would definitely love to go again and if I ever had the chance I would love to be able to meet with the cast just to find out more about their love and passion for this type of show and what made them choose this as their career, I just need to talk my mum around :-)".
---
To find out more about the Emerald Storm show and the remaining tour dates (one of which is in Northampton at the end of October), please visit www.emeraldstorm.net, take a look at their Facebook page Emerald Storm or take a look at their promo video on You Tube https://www.youtube.com/watch?v=FF2yhWegSHk.