Read More Reviews
Review: Disney on Ice 2015 at the Barclaycard Arena, Birmingham
Reviewed Performance: 11am on Sunday 25th October 2015 OK, so I need to admit it – before going along to see the Disney on Ice show today, I was a little sceptical. After all, I thought, there's only so much scope for what can actually be done on ice, right?  And watching some Disney characters skating round a rink for a couple of hours didn't sound overly exciting… But I was pretty confident that the kids would love it. And there's (almost) nothing I won't do if it puts a smile on their faces. So off we went. And I must say, I was very pleasantly surprised.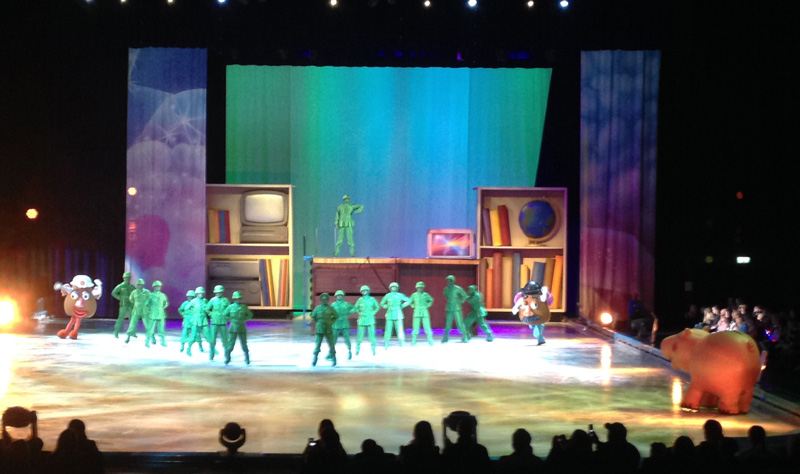 The cast of Toy Story were amazing in the ice skating re-telling of this well-loved classic The children, as expected, were delighted to see their favourite Disney characters performing for them. Their faces properly lit up with beaming smiles. And – dare I say it – I really enjoyed it too. The show was
'hosted' by the classic Disney characters, Mickey, Minnie, Donald and Goofy, and they introduced each of the four parts to the show. Each part took a Disney movie and told the story of the movie in brief, skate-dancing to music from the films and miming to voiced parts, to help tell the story. It's so much more than just people skating – it's a proper show, re-telling greatly-loved Disney classics. The first half started with Toy Story (the one where Andy goes to college), followed by The Little Mermaid. The second half featured Cars, with Frozen for the finale. The costumes are absolutely fantastic – looking exactly like the film characters (no second rate costumes here). And the skaters, well, they are just amazing. Even without the Disney bit, they would have been mesmerising to watch. They are seriously good. Spins, jumps, lifts, jumping spins, spinning lifts… you name it, they can do it.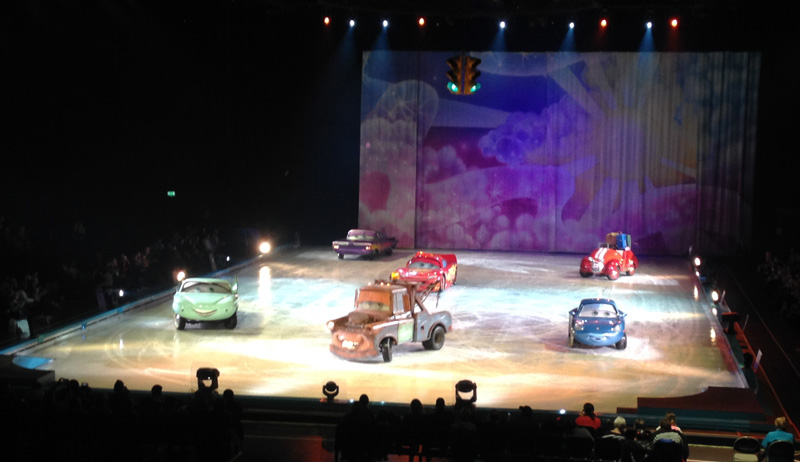 The costumes were amazing - none more so than the cast of Disney's Cars! One word of warning – the volume is turned up very loud. It works well, but if you have a child sensitive to loud noises, you should definitely take ear defenders. Though the helpful staff will provide ear plugs if you forget to bring them! I wasn't sure how they were going to do Cars, but, amusingly – and impressively – they put some actual cars on the rink! Though of course they looked like the real Cars, together with moving eyes and everything. This was the shortest part of the show, but very entertaining, as the cars drove and skidded in tight formation around the ice.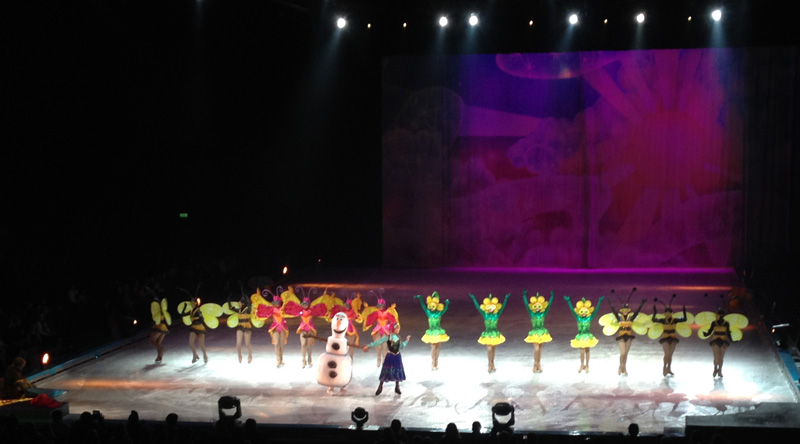 Olaf and Anna performing 'In Summer' from Frozen But the climax of the event was Frozen – and it was so well done. All the best songs were featured, and you could feel the joy of all the children around you as they all sang along to 'Let It Go' and all the rest. Olaf was fantastic – even down to the point of losing his head. And there was no Marshmallow (the snow monster), which my children were very pleased about. They do need to abbreviate the story significantly (no trolls, no Sven even), but we all know it anyway, so it really doesn't matter. We all got swept along in the magic of the moment - my daughter Alice was literally jumping up and down as she applauded at the end – and we all left feeling very happy indeed.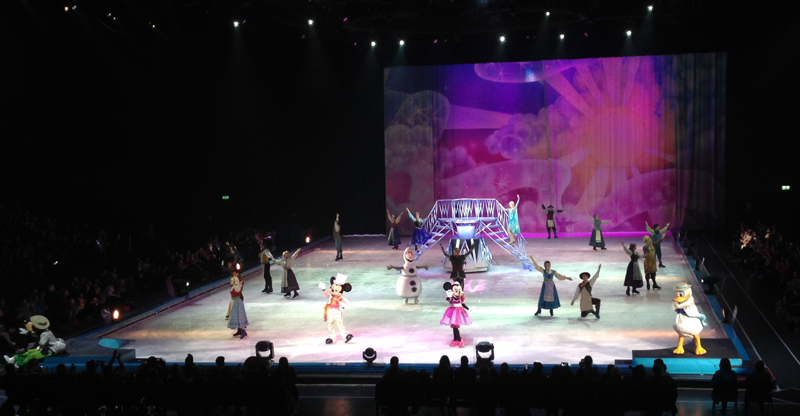 The finale was a real feel-good fest of love!
---
  The Disney on Ice Tour is at the Birmingham Barclaycard Arena until 1st November 2015, then moving on to Belfast (5-8th Nov), Dublin (12-15th Nov), Sheffield (18-22nd Nov) and London (22nd Dec – 3rd Jan). Tickets cost  £19.74 - £46.62, depending on seat location (+ £2.55 booking fee). Tickets can be booked online at www.disney.co.uk/disney-on-ice/worlds-of-enchantment/.