Read More Reviews
Review: Dantoy Bio-Toy Tipper Truck, worth £30.75
Review by VIP Club Member Hazel Carmichael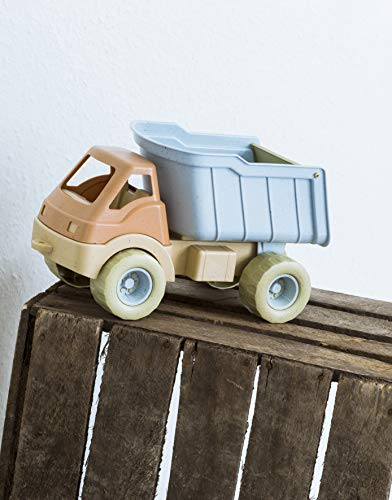 Product Information
Dantoy have launched a brand-new "I'm Green" line of bioplastic toys. Made of at least 90% sugarcane, a sustainable raw material, the toys are 100% recyclable. Traditional plastic is made from crude oil, whilst Dantoy's bioplastic is made from ethanol, a form of alcohol, that has been extracted from sugarcane. Its manufacturing process produces fewer carbon emissions, and the sugarcane is cultivated on controlled, pesticide-free plantations. Sugarcane is a 100% sustainable raw material and all packaging is made from recycled cardboard. The toys are made to last and are approved for contact with foods, microwave safe, dishwasher safe, frost-proof and contain no toxins.
Available to buy from Amazon.
Review
We were very excited to be chosen to do the review of the Dantoy Bio-Toy Tipper Truck.
My little boy was very excited to receive his tipper truck! He played with it as soon as it came and continued to play with it all afternoon.
He enjoyed putting things in it, tipping it out and filling it up again. The size of the bucket was perfect as you could fit lots in it. It would be great for carrying around building blocks and then tipping them out to build with. It was straightforward to tip it up and he loved opening and closing the flap at the back. It was easy to drive and move and strong enough to put up being played with by a not so careful 2 year old!
You can tell it's a good quality toy and that it's well made and the fact it is made from sustainable materials is brilliant.
We will definitely be buying more from this range.