Read More Reviews
REVIEW: Crocs Kids Swiftwater Sandals, £34.99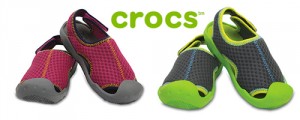 Review written by
Toddle About VIP Club
 member, Joanna Osborne. The Crocs Swiftwater Sandals fitted my son perfectly. He is only 21 months old, but he wears size 7 and wears a wide fit footwear. The sandals are
suitable to wear for walks and in water too
. They cover the foot perfectly and are breathable. My son constantly wanted to wear them during the hot weather. As for wearing them under water, they do the job better than I expected. I haven't been on holiday but I have been taking my son swimming. He cannot swim yet nor does he listen to me when I say do not run because its slippery! He has worn them in the pool 5 times already for an average of 1½ hours each time.
The adjustable closure stayed closed for the whole time
he was in the water. He was climbing over the mini water slides constantly and he ran around the pool, not on the drain grid but on the slippery part and he did not slip once. The mesh of the sandal that covers the foot didn't shrink or stretch after all of the time in the swimming pool. He wore the sandals in the pool and also afterwards when he got out and they
dried fairly quickly
. The deep cushion layer feels very soft and comfortable to me and it seems like my son thinks that they comfy too. I like the design of them, they are unusual and masculine and it makes them look like an expensive sandal. Overall, I consider the Crocs Swiftwater Sandals a great product that
provides a comfortable and secure non slip wear for a long time
. I am very happy with the product.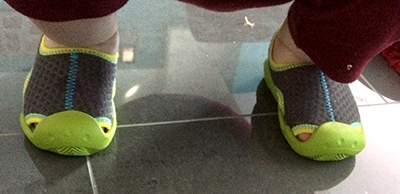 Purchase here:
http://www.crocs.co.uk/