Read More Reviews
Review: Close Parent Pop In Baby Cosy Suit, worth £19.99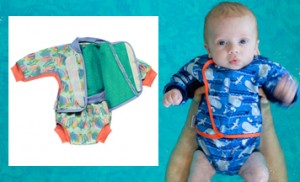 Baby Cosy Suit Review by VIP Club Member Lucy Diebelius
Product information
A cosy swim suit for use all year round to keep baby warm in & out of the water with an integrated swim nappy and UPF 50+ sun protection. Getting it on couldn't be easier with the full front opening and flexible aplix closing and any little accidents stay safely inside thanks to the integrated Pop-in swim nappy with its unique 'seal to skin bind. Designed to be used over the Pop-in swim nappy liner. Our 2019 endangered print collection features creatures that have become critically endangered in their natural habitats.
Review
As a mum of eight month old twin girls, and a two year old little boy, I'm always on the search for anything that can make my life slightly easier!  When I was offered the chance to review the Pop-In Baby Cosy Suit, I gladly volunteered, as, on paper this sounds fab - and, at £20, being able to try before I forked out for both girls was an added bonus!
Since having the twins, I'm acutely aware of the sheer amount of nappies we get through and am constantly looking for ways to reduce our plastic use - these swimsuits have the added bonus of having integrated reusable nappies - a great way of avoiding disposable swim nappies. The endangered animal turtle print was also beautiful, a great design and fab for raising awareness.
The swimsuit was surprisingly easy to put on, just pop the nappy liner on and then pull the suit over baby's legs first, then pop the arms in and fasten with the easy Velcro layer. I'd prepared myself for a bit of a wrestle, as is usually the case with baby swimsuits, but this was much less rigmarole than the usual disposable nappy, happy nappy, swimsuit, baby warmer regime we usually endure!
We went for a medium, and this was a bit snug, so sizing up may be a good idea. The soft fleecy layer meant we could spend longer in the pool, as Amelia was warm and happy. As the girls were 8 weeks premature, I tend to worry a lot about making sure they're warm enough, and this product was just great at alleviating any concerns. At £20, this is slightly pricier than a standard swimsuit. However, if you're attending swimming lessons every week, or are off on holiday, I would imagine this is worth every penny.
All in all, if you have any doubts, and are more than the occasional swimmer, I'd say go for it, you won't regret it! Now I just need to get myself a matching one for the other twin!
Available to buy from the Close Parent online shop.