Read More Reviews
Review: Climb That Tree - The new album from the family music genius David Gibb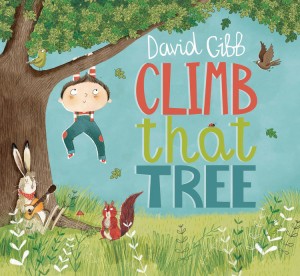 The new album, Climb That Tree, from David Gibb Imagine going on a long car journey with your children in the back. Imagine that on that car journey you had to listen to children's music. All. The. Way. You've probably had this experience already. I certainly have. Maaaany times. And it definitely wasn't much fun for the grown ups in the car – especially when we were playing the same children's songs on repeat over and over again. We tried introducing the children to more grown up songs and things did get a bit better. But there was a lot of music that we wanted to listen to that they just didn't enjoy. Cue arguments in the car. What we really needed was some music that we could all enjoy – something that appealed to the young and the old(er) - and something we could all sing along with together to make those long car journeys feel shorter. Honestly, I didn't know if that was possible. But then, a couple of years ago,
we were introduced to David Gibb's music and his debut family album, Letters Through Your Door. And our car journeys were transformed. Inspired to create high quality music for children, I think David has achieved that and more. Yes, the children love it – and I mean they LOVE it – but so do we, the parents. And to our great delight, David Gibb is soon to release (on 8th September) his second family album, Climb That Tree. We have been lucky enough to get hold of a review copy and, if anything, it is better than the first one. Which is saying something! Here's what our children (now 9,7 and 6) have to say: "I like his songs because they're about being a child. They're really good for children because it's about what they can do. And it gives you really good ideas. He has a really good imagination and he imagines things that you can think of and do yourself. And they're really good songs. The music is great and we love singing along". And, I have to say, my comments aren't much different from that! David's songs are all great to sing along to. They appeal to children, but they aren't patronisingly childish. They treat the children to very well-written, thoughtful music that, through the album, varies in tone from outrageously funny (My Teacher's a Wolf), to calm and relaxing (Ordinary Bear) to crank-the-volume-up-loud and rock out music (his absolutely genius rock-version of Jelly on a Plate).
Watch the first music video for the track 'Strong Man' here: 
My personal favourite track though is Teddy at the Disco, which could have been a genuine hit from the 70s. It's a great track that includes references to 70s songs that go straight over the kids' heads, but which I enjoy greatly. But it's about Teddy getting ready on a Saturday Night to go to the disco, which the kids just love. I mean, come on! It's genius. And this is another song that can be enjoyed greatly at full volume.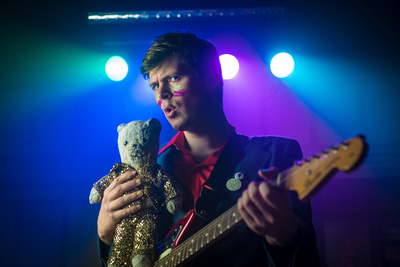 Still from the music video (coming soon!) for David's song 'Teddy At The Disco'​ I'm no musician, but I would say that musically the album is 1st class too. The recording quality, instrumental and vocal ability of the artists, as well as the quality of song writing and the production all seem top notch to me. I honestly don't think I can recommend David Gibb's music highly enough. Put simply, we love it. Everyone in our family loves listening to his albums, and we want to spread the word that there IS such a thing as music that the WHOLE family can enjoy.
---
Buy The Album
You can order 'Letters Through Your Door' here You can pre-order 'Climb That Tree' here You can listen to three tracks from the album here: https://soundcloud.com/davidgibbmusic/sets/david-gibb-climb-that-tree-sampler/s-NqRQW   David Gibb will be touring later this year with the following dates: 17 September Old Cinema Launderette, Durham (solo show) 23 September Burton Taylor Studio, Oxford (preview) 30 September Robert Ludlam Theatre, Derby 1 October Arlington Arts Centre, Newbury 8 October Bollington Arts Centre, Macclesfield 14 October Huguenot Museum, Rochester 21 October HOME, Manchester 22 October Sage Gateshead, Sage 23 October The Atkinson, Southport 25 October The Story Museum, Oxford 26 October Half Moon Theatre, London 4 November The Wardrobe Theatre, Bristol 9 December The Citadel, St Helens 10 December The Fishpond, Matlock Bath   More info at www.davidgibb.com