Read More Reviews
BRIO My First Farm, worth £49.99
Review by VIP Club Member Jessica McLish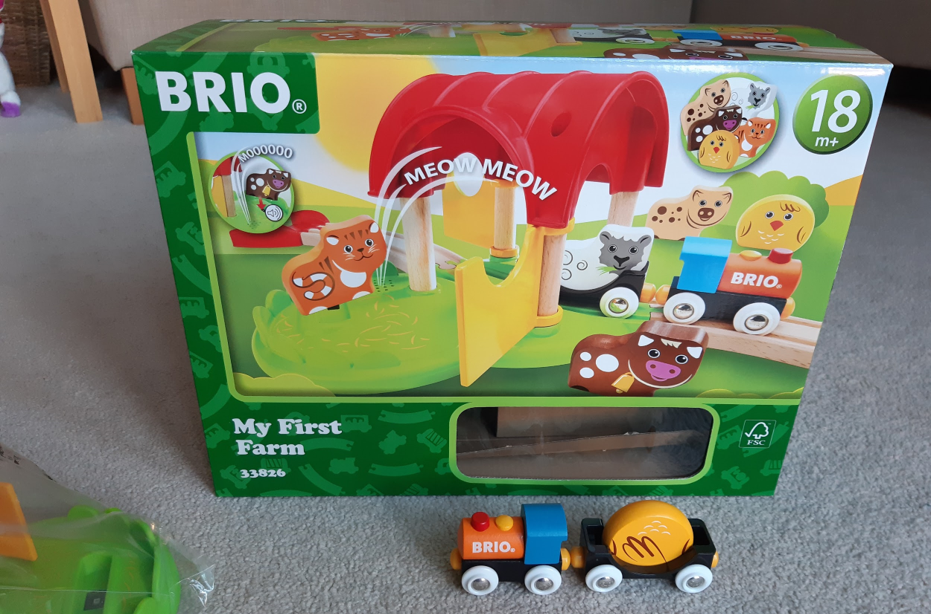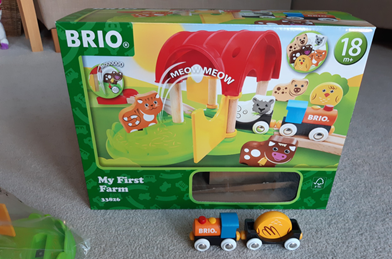 Product Information
This 12 piece farm play set opens the door to fun and learning without frustration. 5 interactive animal characters to learn about with sound effects. Place them in the farm meadow to activate sounds. Compatible with BRIO My First Railway and BRIO World systems. Suitable from age 18m.
Review
The box is very colourful and vibrant, with a transparent window showing the train inside. It was clear from both the front and back images what the toy did, what age it was for, and how many pieces inside. It was well packaged, perhaps a little excessive, but quite easy to remove from the packaging for a parent.
The toy requires 3 x AAA batteries and a tiny screwdriver. It would have been useful if this was made obvious on the box itself (e.g. if giving for a gift).
My First Farm features 5 different wooden animals - a sheep, cow, chicken, pig and cat. A couple of these weren't entirely obvious at first glance, for example my 3 year old thought the cat was a tiger and the pig was a cow. However once the noises are playing this becomes clear
There are 3 unique sounds for each animal. A different colour has been painted on the underside of each animal, and when placed into the slot a noise is played at random. This is quite clever, and would be very entertaining for an 1 - 2 year old.
The animals are made of wood and feel really good quality. They should be robust enough to withstand an 18 month or 2 year old. The train fits together with magnets, which was a little fiddly for my 3 year old initially, but she soon got the idea. The train is quite small, which is good for little hands. The yellow gates were a hit, and my daughter enjoyed opening and closing them, getting the train to stop and go.
Regarding target age range, I would say minimum 1 year to maximum 2 1/2 years would be optimum. This was too junior for my 3 year old but we did talk about playing with her baby sister when she is old enough.
This would be a really super first train set, however since we do not own any other Brio sets, this set on its own was a little disappointing, especially with the price in mind. The animals and the sounds are great, however, because there were only 2 bits of track it isn't a complete 'set' as such. The track stops, and so the train can only go back and forth and not in a loop. Of course, if you have a full Brio track and set, then this would make a fantastic addition.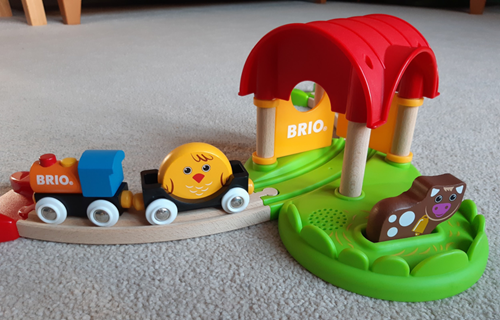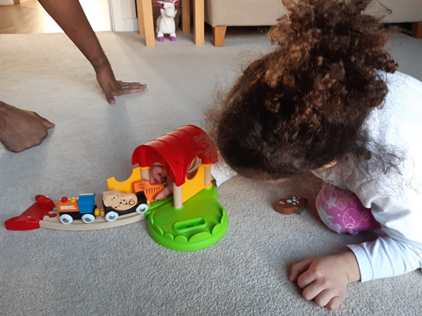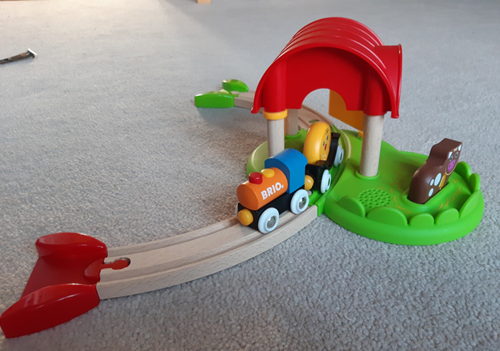 Available to purchase here.