Read More Reviews
Breathe Like a Bear book, worth £9.99
Review by Pia Howe, Toddle About Suffolk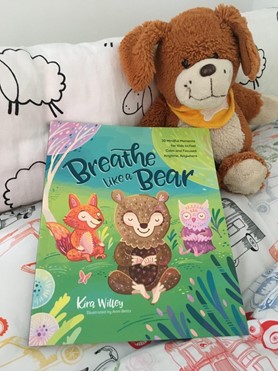 30 Mindful Moments for Kids to Feel Calm and Focused Anytime, Anywhere by Kira Willey
Fun activities that will encourage children (and their adults) to manage their bodies, breath and emotions. Suitable for children aged 4-8. 
Do you ever feel like the children in your life could use a little help calming themselves down? Or maybe they need guidance learning how to focus or how to find positive energy. 
Mindfulness, the practice of fully being in the moment, is the answer. When children discover that they're in control of their bodies through their breath, they can move to a state of awareness and positivity anytime, anywhere. 
Breathe like a Bear is a beautifully illustrated collection of mindfulness practices designed to help children feel calm and focused. The simple exercises can be done anywhere - at home, in the car, in the bath or in the classroom - and will help families and teachers establish a fun and consistent mindfulness practice. 
Review:
Both of my children (aged 4 and 8) enjoyed practising mindfulness and meditation. My 4 year old particularly enjoyed looking at the beautifully illustrated activities while my 8 year old practised these techniques on his own during bedtime, which seemed to help to calm down after a busy and exciting day. 
Especially during this uncertain and anxious time, it encourages children (and adults!) to find a moment of calm. The 'Listen!' activity is one of our favourites in the book:
Sit up tall, take a long breath in
and let it all the way out.
Hold your body really still.
Listen.
What do you hear?
Close your eyes for a minute 
so you can really focus. 
What sounds are around you?
If you listen even more, what do you hear?
Take a long breath in and let it
all the way out.