Read More Reviews
Review: Bob the Bear's Adventures, worth £8.99
Book review by Liz Alexander at Toddle About Warwickshire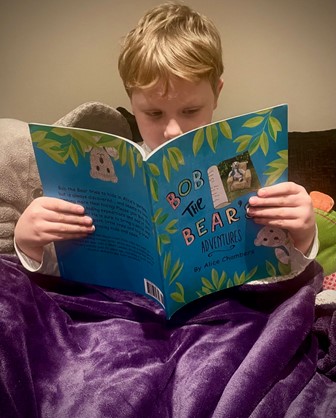 Bob the Bear's Adventures is the story of a very naughty bear who likes playing hide and seek with his owner but, it seems, prefers climbing!
Review:
The book, written by Alice Chambers, a former primary school teacher, includes photographs of Bob, her own knitted bear toy and all the adventures he gets up to. Reading a book with my son that was photographs rather than normal pictures was refreshing and certainly engaged him more, knowing the Bob was 'real'.
My son enjoyed the photographs of Bob in various different places and looking for where in the photo Bob was, sometimes hidden, sometimes not so much.
The book engages with the reader(s) by asking them to point to where Bob is, which is a great way of maintaining the interest of a younger child.
For a slightly older child, who is just beginning to read, the book uses simple language and easy to read words, as well as some repetition, so can act as a reading book as well.
At the end of the book, the reader is prompted to ask the child all the places they can remember that Bob had hidden during the story, which excellently provokes discussion about the book and what happened within it.
I think that children will love the simplicity of the book, along with it's humour and the interaction of having to find the bear within the pictures.
At the end, my son immediately asks for his own Bob the Bear… I wonder if he is planning to play Hide and Seek with his Bob the Bear too?
WIN WIN WIN
We are giving you the chance to win a copy of Bob the Bear's Adventures. Enter before 23rd January 2022 for your chance to win.