Read More Reviews
Review: Baby to Love Easy Up Booster Seat, worth £29.95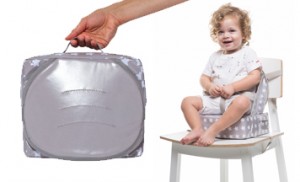 Easy up booster Review by VIP Club Member Lucy Scammell
Product information
With the compact and portable Easy Up Booster, your toddler can sit comfortably on any chair, anytime, everywhere. Lightweight, simple and easy to use Baby To Love wanted to create a solution to the headache, a product parents can rely on. Coated with a transparent layer of plastic, you can just wipe with a damp cloth and you're good to go. Attach the Easy Up to both the bottom and back-rest of your chair. Then place your toddler in the booster securing the straps, each carefully positioned to keep your baby secure without interfering with their natural movement.
Review
I was really pleased to be asked to review the Easy Up Baby Booster seat, as it was something I was considering buying for my 18-month-old but wasn't sure how useful it would be.
I discovered that it is actually a really useful piece of kit to have when a highchair is not available or when other little ones come over for tea. It is very simple to use and attaches easily to any chair with adjustable straps and secure clips around the back and bottom of the chair. The seat part fastens securely, ensuring the child can sit safely whilst eating, and my little girl loved sitting on a 'big' chair. I was very confident that she was safe whilst using the chair, which is of course the first concern for all parents.
The booster seat is a really attractive design with white stars on a grey background, which makes it suitable for all children, and the wipe clean fabric ensures that cleaning up is quick and easy after mealtimes. The nature of the design means that it is not particularly compact when folded down, but it could easily be put in the pushchair basket when out and about without taking up too much room.
We have started taking it with us whenever there is a chance of a café stop, in case there are not any highchairs available. It will also be coming on holiday with us as one of our essential pieces of travel kit. We have tried the chair with an 18-month-old and a 2.5-year-old, and the booster seat worked well for both of them, making it a good investment as it will last for some time.
The price point means it may not be affordable or an essential item for all families, but I think it is fair for what it is. I would definitely recommend the Easy Up Baby Booster Seat and know that it will get a lot of use in our family.  
Available to buy here.