Read More Reviews
Reading Ideas You'll Love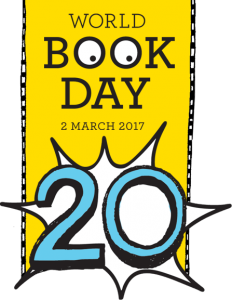 To celebrate World Book Day on Thursday 2nd March 2017, we asked our VIP Club Members to review 25 children's books to find some amazing, and less well known gems that you might want to discover for yourself. You can read all the book reviews below. Would you like to write reviews for Toddle About? Become a VIP Club Member for just £1.00 every 3 months and this is just one of the several perks you will enjoy! Find out more at www.toddleabout.co.uk/vip/  
Apple Pig by Ruth Gary Orbach
Reviewer: Victoria Crabb (Milton Keynes) Buy This Book We thoroughly enjoyed reading Apple Pigs, it was the perfect and soft bedtime read which engaged all 3 of my children (20months, 3year old & 4 year old).
Apple Pigs was a simple story about a young girl looking after a tree, which feels no one cares for. Once it feels loved and cherished the blooms into the most beautiful and fruitful tree, ensuring everyone in the house is well fed with apples, until the family cannot eat anymore and turns it into a sharing tree and a tradition each year, inviting everyone to come and enjoy the apples. We felt the story was very nurturing and caring, explaining when you care for the important stuff around you, you will see them bloom. In the case of this story the family enjoyed a lot of apples, which they luckily got to share with lots more friends. When I asked my 4 year old boy his favourite part he told me it was the making of Apple Pig's which I could understand as they looked like fun to make, which is a great thing they include an how too. My favourite part was how the little girl listened to the tree and helped to restore it to its full beauty. We thought the illustration were beautiful and brilliantly well done."
---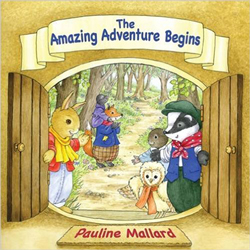 The Amazing Adventure Begins by Pauline Mallard
Reviewer: Suze Itzinger (Beford) Buy This Book The story is about a rabbit who leaves home for the first time to see the world, on his journey he meets other young animals who travel with him on his adventure.  Five is a very sweet character although my daughter thought it a strange name 'that's a number Mummy' so she renamed him Rabbi. I had to read the book over several days as it was very wordy and my daughter got distracted after a few pages. The illustrations are very pretty but my daughter wanted to colour in the black and white ones as she thought the lady who wrote the book had forgotten to do it.
---
Charlie's Thumb by 
Runa M. Copley
Reviewer: Jess Marshall (Leamington Spa) Buy This Book Charlie and his thumb (written by an orthodontist) delves into what happens when Charlie continues to suck his thumb when he starts to lose his teeth.  The tooth fairy, a mischievous character, takes the readers on a journey of consequences, to help Charlie break the habit. The book is most suited to an older child and one who still sucks his thumb. I think the 'call to action' was a bit lost on my three year old who has never sucked his thumb. But I think that it would be a very effective way of encouraging a thumb sucker to start to think about changing their ways.  In saying that, he did seem mesmerised by the pages and illustrations and has now informed me that he has a 'loose tooth' so I think the tooth fairy reference resonated well.  I used this as a chance to reinforce the importance of keeping teeth nice and clean.  All up - it was an interesting read and nicely illustrated. We enjoyed reading it together.
---
Daddy Do My Hair? Beth's Twists by 
Tola Okogwa
Reviewer: Nadia Lynch (Rugby) Buy This Book Daddy do my hair tells the story of the bond between father and daughter. Short poetic verse is used to tell the weekly routine of Beth's father doing her hair ready for school. Bold full spread colour images are used to emphasise the words of the poem which make this book suitable for both older children as well as for babies. Our 5 month old looked intently at the imagery as the Poem was read to her.  The pictures are probably the best part of this book, they really add to the poem and bring the story to life. The rhyming verses help to keep children engaged as you turn the pages. Many books that we've read focus on the bond of motherhood or friendship and so it is nice to see a book that focuses on the special bond that a father has with her daughter. Again  the pictures help to highlight this. This book may not be to everyone's taste as the basic story line is not particularly exciting. I think it is the underlying message of the bond of fatherhood that gives this book another level and this may have to be explained to children to help them understand the meaning of the story. Overall this is a good book, with good imagery that keeps children engaged. It is quite a short story and can be read within five minutes making it good to add as a quick story before bed or to help settle a child. If I were to give this book a mark out of five; I would give it a good three, owing to the fact that without explanation the basic storyline is a little flat.
---
Goodnight Everyone by Chris Haughton
Reviewer: Caroline Beaton (Milton Keynes) Buy This Book The sun is going down and everyone is sleepy - well almost everyone. There's still one little bear who is very wide awake. This book is something that we can all relate to when it's bedtime and a little one wants to play. The story tells of a little bear who should be going to sleep but all he wants to do is play but all the woodland animals are too sleepy to play. Will little bear fall asleep ? This book will keep your toddler engaged from start to end. The content is very expressive but minimal which helps to keep the toddlers attention throughout. With sleepy yawning actions to carry out with your toddler through the book. How long will it be before you are yawning too? The bold bright visuals and stunning scenes of starry night skies will capture your toddler's attention. At the start of the book the pages are cut in half and each page gets bigger as the animals grow in size too. A clever alternative to lift the flap books as these pages won't rip or tear. This is a great feature of the book. Ages from one to three would enjoy this book. The younger children will be taken in by the bright colours which really stand out in blocks which makes the colours clear and easy to point out to the children.  The older children will enjoy seeing all the woodland animals and with the cut pages getting bigger as the animals grow in size gives them an understanding of sizes going from small to large. This book is really about the visuals which is what I like about the book. The content is minimal which I think is a good thing as my daughter loses interest quickly when a book has too much content. My daughter is two and a half - she loves books but is a tough critic. If the book doesn't grab her attention in the first page she will refuse to look at the rest of the book. Luckily she was engrossed from the first page looking at all the animals and the colourful woodland scenes. She liked the cut pages as they were easy for her to turn. I would have liked to have seen more of these pages carried out through the book. Her favourite parts of the book were  the starry night scenes as she would say "look at the pretty stars " and once the book was finished she asked to read it again which for a tough book critic really sums up what a good book this is. Which is why I would give it four stars.
---
Growl! Howl! Animals by DK
Reviewer: Lucy Gallo (Northampton) Buy This Book This book is about the adventure of a little tiger cub discovering the sounds and different kinds of animals in the jungle for the first time. The character in this book 'little tiger cub' will relate to your child as you read through the story because they are both discovering these animals and sounds for the first time, this keeps your child really involved and interacted. The best part of the book are the sounds that are hidden under the flaps throughout. As I was reading this to my son he thoroughly enjoyed the noises and seeing his facial expressions as he heard them for the first time was lovely. I also like the fact that he was learning about new things as well as having fun. The pictures within the book are real photographs of the animals mentioned, I think this is a great idea rather than illustrations as your child can see what these animals really look like. The only negative thing I would say is there isn't much of a story to the book, it is just a tiger cub finding new sounds in the jungle which might not grip your child, but I think the sounds and hidden flaps counteract that and should keep your child entertained throughout. I would recommend this book to any parents with little ones who show an interest in animals. This book contains noises and pictures of animals they will not have heard or may have not even seen before so they would find it fascinating. I know my son loves animals and loved looking at the pictures and hearing the Tigers roar, the parrots squawk and the elephant blow his trunk.
---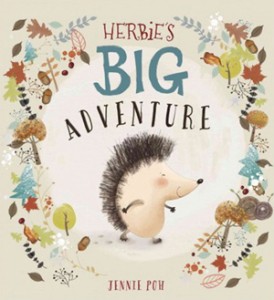 Herbies Big Adventure by Jennie Poh
Reviewer: Nina Amini (Bicester) Buy This Book Herbie is a little hedgehog but he's not so little anymore when his mum says he is ready for his first big adventure, foraging. As Herbie says goodbye to his mum now he has to be brave as he steps out into the world, ready or not. Herbie is a loveable character who any child can relate to, as he experiences new things and makes new friends. The story is a page turner as you follow Herbie thought his courageous journey in the big wide world. You can't help but smile as he gets into all sorts of trouble. I love the end when Herbie is greeted by his mum, who has faith in how big he is all along and is ready to listen to his adventures on his return. The story teaches about seasons, what foraging is and leaving home for the first time. Herbie has to be courageous as he comes across all sorts of challenge's to solve on his own. The book has the most beautiful illustrations which help tell the story without the use of the words for younger children. The story would suit a 3 year old who is just about to start school or nursery, and their first time away from their mum. A the story tells a tale of no matter what happens or how big you get you will always have a mum ready to give you a big hug.
---
How To Be A Cowboy by 
Alice V Lickens
Reviewer: Kimberley Williams (Warwick) Buy This Book It is a fun book about cowboys and has a paper doll with paper clothes you can dress it in, as well as 17 stickers. The book has lots of fun facts about how cowboys lived & gives lots of great ideas about how you can be a cowboy. My son loved the illustrations and choosing what cowboy things he would wear or have if he were a cowboy. The book also has sections on what cowboys ate and the language they used, which led us on to lots of fun role play ideas. The 'talk like a cowboy' section was my favourite part, as hearing him say all the funny cowboy phrases was hilarious to say the least. My sons favourite part was definitely the sticker page. What child doesn't love stickers. I would recommend this book for children 3 years & up as my little boy is 2 years old and he found dressing the pop out paper doll a little hard. Saying that, he still absolutely loved this book and I would give it a big 5/5 because it was such a fun book for us to read together.
---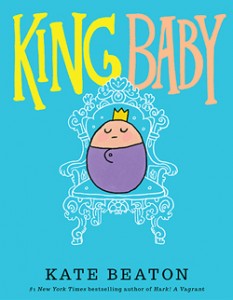 King Baby by Kate Beaton
Reviewer: Natasha Kelly (Northampton) Buy This Book This book is about a new arrival into the family, King Baby, who must be obeyed, fed, and burped, and changed, and loved...sound familiar? As a new parent this book made me laugh out loud as it told the exact story of how my life now was run by my baby! This book would be great for soon to be parents as a funny gift of what to expect, or great for a toddler to help explain what a baby needs from Mum and Dad. I loved the illustrations of the family, very funny and I kept thinking "That's so me!! The story is simple but with an oh-so-relevant plot and i finished it with a smile on my face. Well worth a read!
---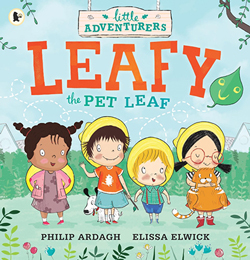 Leafy The Pet Leaf by Philip Ardagh & Elissa Elwick
Reviewer: Sarah Jackman (Milton Keynes) Buy This Book This is a lovely little story about 4 little Adventurers having a "bring a pet day" at their shed HQ. One of the Adventurers has lost his pet and has used his imagination to create a new pet- Leafy the pet leaf. Our favourite character was the little boy "Sprat". My little boy could really identify himself with Sprat - our cat recently went missing, so this was very relevant. He also loves leaves and ever since reading the book he loves them even more. Perfect for this time of the year. The book really made him giggle in places and he loved that there is so much to see on every page. The only thing that we didn't like too much about the book was that it is quiet long and it was hard to keep his attention till the end. This book would make a lovely series of books and we would love to find out more about the little adventurers and their adventures! I would recommend this book to children slightly older than our son (3) or children that are happy to sit down and read books that are a bit longer. All in all a lovely book with great potential to have a series with the adventurers. One that lots of children will be able to identify themselves with as the characters are so loveable and "real". We give this book a 4 stars.
---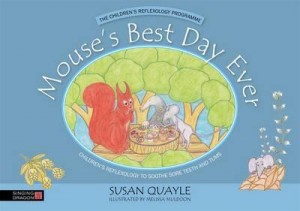 Mouses Best Day Ever by Susan Quayle
Reviewer: Amy Eymor (Flitwick) Buy This Book I am a mother of a 3 year old and an 9 month old. With both of my babies, baby massage has always been part of our bedtime routine and I had also attended a course to give me the correct ways of doing it, so I was quite pleased and excited to receive this book to read and review. It's not a book to pick up straight away and start reading to the children as a bit of prep reading is required, to enable the correct moves are being used along with the explanation of the benefits of it. I personally had to do this when neither child was awake or around as there is a little bit to read.
I thought I would try this on both children and my findings as follows. My 3 year old loved the story and in the beginning, loved the concept of her feet being rubbed but as the story went on, she got "fidgety" and soon started talking and wanting to do there things. I stopped rubbing her feet but I still found the story just a tad bit too long for her. Maybe because I did this at night time, so I should have tried some daytime reading. My 9 month old was more reciprocal to it and really enjoys a bit of foot massge. He like the flow of the story, but again for a 9 month old who's crawling and cruising on furniture, after a while became less interested and planned his escape route !! The story is lovely and the language used is mostly that is understandable to the little ones. A couple of words that maybe are not in a toddlers range though.
The illustrations are beautiful and I like the easy to follow instructions on each page as to what moves to use.
It flowed very well.
Although it touches on animals being scared of the storm, I don't think it's enough to cause any concerns to the children as it all ends well and happy. I would use this book again and see if I can eventually get to the end,as the feet rubbing certainly has many benefits to the children.
Maybe it's my children who got bored too quickly, but those who like a longer story I would definitely recommend this. Another tip, is be prepared before you settle to read it as I  did struggle turning the pages whilst trying to keep my 9 month old in one place, and holding the book.
---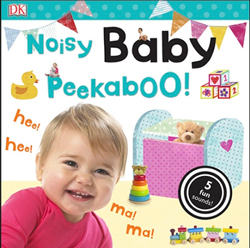 Noisy Baby Peekaboo by DK
Reviewer: Jessica Gough (Milton Keynes) Buy This Book The Noisy Baby Peekaboo book is a bright, colourful hardback with 5 fun sounds and flaps to lift on each page. The book goes through different activities that babies like to do and there is an accompanying sound with each flap. My son and I particularity enjoyed the clear, bold pictures which are a mix of cartoon and real life. The visuals kept him engaged and he loved looking at the different colours and patterns. The flaps are made of thick cardboard which meant that I was not worried when my son tried to lift the flap himself, in other books the flaps have a tendency to rip, but these did not. The sounds are activated when the flap is lifted and the sensor is exposed to light. We found that in our sheltered house we struggled to get the book to work without having a torch nearby to help the light sensor. This was quite frustrating. However when the sounds did play my son thoroughly enjoyed them. The noises are at a good volume and the batteries are easily changed when they run out. The suggested age range for this book is 1-3 years, but I also think that babies younger than 1 would enjoy it, just make sure to read it in a bright room!
---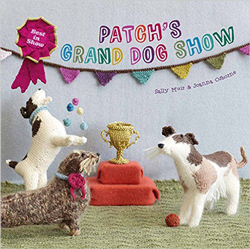 Patch's Grand Dog Show by 
Sally Muir & Joanna Osborne
Reviewer: Sarah Docker (Northampton) Buy This Book My five year old daughter and I read Patch's Grand Dog Show.  It's a lovely story about an odd-looking little dog called Patch who was laughed at by the other dogs for wanting to enter the dog show, and his journey to overcome his fears. When we first looked at the book, my daughter's response was "oh, it's just knitted dogs."  She wasn't overwhelmed by the cover, but had honed in on the unique style of illustrations – everything is knitted or made from fabric.  She loved the style of the text, with lots of speech and thought bubbles to keep it short and punchy.  By half-way through, we were rooting for Patch, and wondering how things would work out for him in the end! Our favourite page is the one where Patch is hiding near the hotdog van; it made us giggle at the play on words! My daughter was able to predict some of the text as it has a repeated section, which helped her to engage with the story.  However, I found the repetitiveness a bit tiresome, and would have preferred this section to have been shorter. I think the book would be a real hit with dog lovers, maybe even looking to see if there's a dog like yours in the book!  However, it's also a heartwarming, simple story that can be enjoyed by any family with young children.  There's also a little extra treat with this book – it includes a knitting pattern so you can knit your own Patch!  A request is being sent to Granny as we speak!
---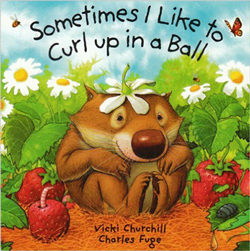 Sometimes I Like To Curl up in a Ball by 
Vicki Churchill & Charles Fuge
Reviewer: Claire Bound (Kenilworth) Buy This Book Sometimes I Like To Curl Up In A Ball is a book about a young wombat and what he likes to get up to during a typical day. The story describes the things he likes to do best and has wonderful pictures to illustrate these activities. The wombat himself is a cute and charming character and all the pictures of his movements and expressions are lovely to look at. Each page has colourful and detailed drawings which my son loved to look at, spotting something different each time he opened the book. My son, who is 3, identified very well with the character of the wombat as he also likes to scream out loud, walk around in circles and make funny faces. In fact most toddlers would find common ground with wombat's activities! My son's favourite page was the one where wombat screams out loud. He liked the way the picture shows the other creatures being blown backwards by the force of wombats scream! He also liked the page where wombat is making funny faces and started to copy them all. What I liked best about the story was the way in which wombat is shown with different friends doing the various activities during the day and then he returns home to his mother at the end of an exciting day. This mirrors life for a lot of young children and I feel they would identify well with that. I would recommend the book and am sure that 2-4 year olds will find it charming and engaging. 4 out of 5 stars.
---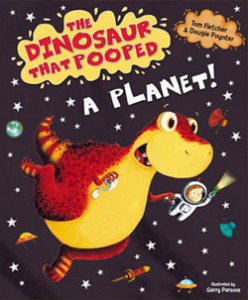 The Dinosaur That Pooped a Planet by 
Tom Fletcher & Dougie Poynter
Reviewer: Tanya Camilleri (Banbury) Buy This Book Dinosaurs (and poo!) are things that make my kids really giggle so I knew this would be fun to read. The book starts with Danny and the Dinosaur going to the space museum as they are bored. They end up on a space rocket in space when Danny and the Dinosaur realise they have forgotten their lunch. The Dinosaur is super hungry so he eats everything he can see including all of their rocket. When Danny gets upset as he realises they have no way home, the Dinosaur starts to plot a master plan to get them back home. So how do they get home? you guessed it, it's time for poop, and lots of it! Bella (5) and Leo (2) found this book hilarious. The book's rhyming means it has a lovely flow and makes it easier for children to guess the sentence endings. Especially when they get to the bit where they can shout "POO!". The illustrations are great too. Really bright and follows the story nicely. The last page especially makes us laugh as just when you think the story is over something silly happens. I would definitely recommend this book and I have just ordered the dinosaur that pooped Christmas for a gift. If you have a good sense of humour and want something a little different to other children's books on the market then this is for you too. And lets face it, what kids doesn't find talking about poo funny. 5/5 from us!
---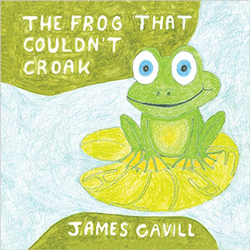 The Frog That Couldn't Croak by James Cavill
Reviewer: Felicity Harvey (Banbury) Buy This Book The Frog That Couldn't Croak is well written textually, and full of well written rhyming vocabulary. It has a hidden message in the storyline all about a frog who doesn't croak, but instead makes a 'Cock a Doodle Doo' noise - and all the other animals laugh at him because of it. The hidden message within the story is suggesting at least he makes others laugh with his 'disability(?!)' of mkaing the wrong type of noise for his species. Sadly I did not agree with this hidden message within the story, and did not find this message suitable for children. Also my son and I were very disappointed and the quality of illustrations throughout the book - which were not well finished, or terrific quality. Sadly, I would not recommend this book, and will not be reading it to my son again.