Read More Reviews
Ocarro Pram Review: Mamas & Papas' Flagship All-Terrain Stroller
As a top pick for parents needing a high-end all-terrain pram, the sleek and versatile Mamas & Papas Ocarro deserves a closer look. As Mamas & Papas' flagship stroller model, the Ocarro combines sophisticated aesthetics with robust functionality. This comprehensive review will cover who this pram best suits, an overview of standout features, detailed component spotlights, specs, included accessories, and frequently asked questions to help parents determine if the Ocarro is the right fit.  Read on for the full scoop on Mamas & Papas' premier pram ready for adventure.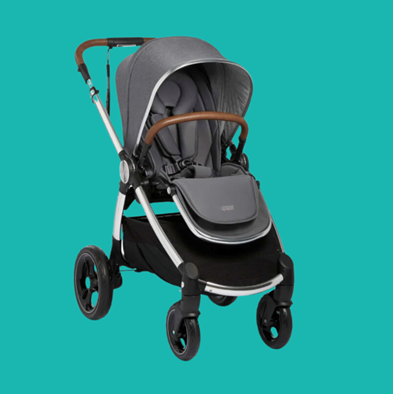 A Top Pick for Adventurous Parents
With its robust build and luxury details, the Mamas & Papas Ocarro most appeals to active, style-conscious parents needing an all-terrain pram able to handle urban streets and rural trails with ease. Its puncture-proof wheels, deluxe seat unit, and abundance of storage make it ideal for families always on the move.
Overview: Ocarro's Standout Features
* Precision-engineered aluminium chassis by Mamas & Papas - 13.5kg lightweight yet durable
* 12.5" rear wheels and 8.5" front wheels absorb shocks
* Plush, reversible seat by Mamas & Papas- multiple reclines & memory foam
* Oversized UPF 50+ canopy for sun protection
* 22L underseat basket hauls daily essentials
* One-hand auto-fold in a few seconds
The Maneuverable Chassis
The Mamas & Papas Ocarro's aircraft-grade aluminium chassis strikes an ideal balance between sturdiness and easy steering at just 13.5kg. Its polished chrome finish and clean lines give it an undeniable aesthetic appeal. The one-hand auto-fold feature allows swift folding in a few steps without removing the seat. Once folded, the compact free-standing chassis simplifies storage and transport.
All-Terrain Wheels & Suspension
This Mamas & Papas pram comes equipped with 12.5 inch rear wheels and 8.5-inch front wheels outfitted in cushioned puncture-proof EVA foam tires. Combined with the dual rear suspension and all-wheel suspension system, the Ocarro absorbs shocks and uneven terrain with ease. The front swivel wheels offer exceptional maneuverability and can lock for added stability when jogging or on rougher ground.
Deluxe Reversible Seat Unit
The plush seat by Mamas & Papas provides a cozy ride for little ones up to 15kg with its padded bucket-style design, memory foam inserts, and 5-point safety harness. Multiple recline positions allow sitting upright or lying flat for naps. The seat conveniently reverses directions for interactive forward and parent-facing options. The ventilated backrest and removable machine-washable fabrics optimize comfort and convenience.
Oversized Canopy for Protection
Parents will love the Mamas & Papas Ocarro's UPF 50+ retractable canopy that fully extends for sun protection and includes a peekaboo window and quiet magnetic cover for checking on baby. When zipped open, the extra ventilation panel improves airflow on hot days, helping to keep your baby cool.
Abundant Storage
From its 22 litre underseat basket to included Mamas & Papas accessories like a changing bag, cup holder and more, storage abounds with the Ocarro. The extra large basket accessed from the back stashes all essentials while on-the-go. The standing fold means parents can even stash items in the basket while collapsed.
Added Conveniences
From the 5-position telescoping handlebar to the magnetic harness access panel, the Mamas & Papas Ocarro offers thoughtful details for optimized convenience. Silent ventilation windows in the seat and carrycot keep kids comfortable in warm weather. Car seat adapters create a travel system, while a rain cover and footmuff provide protection from elements.
Specifications Overview
* Dimensions: 110 x 58 x 96 cm (unfolded)
* Folded Dimensions: 37 x 58 x 76 cm
* Weight: 13.5 kg
* Maximum Weight Capacity: 15 kg
* Suitability: Birth to approximately 3 years
What's Included in the Mamas & Papas Ocarro Complete Bundle?
For maximum convenience, the Mamas & Papas Ocarro Complete Bundle packages the pram with a carrycot, car seat, accessories and more:
* Mamas & Papas Ocarro Chassis
* Mamas & Papas Reversible Seat Unit
* Mamas & Papas Carrycot & Mattress for Newborns
* Mamas & Papas Car Seat Adapters
* Cybex Aton Infant Car Seat
* Car Seat Base
* Mamas & Papas Cup Holder
* Mamas & Papas Changing Bag
* Mamas & Papas Footmuff
This comprehensive bundle by Mamas & Papas provides the entire travel system from birth through the toddler years. Everything needed for safety, comfort and complete convenience is included.
Conclusion
For active, style-conscious parents seeking a high-end all-terrain pram, the Mamas & Papas Ocarro delivers robust engineering, luxury details, and incredible convenience as the ultimate stroller for life's amazing journeys ahead.
Is the Ocarro pram good quality?
With its durable aluminium frame, cushioned wheels, plush seat, and abundance of features, the premium Ocarro pram delivers exceptional quality and construction for a smooth, comfortable ride. Its intuitive design and high-end materials like leatherette accents make it a top quality investment.
How easy is the Ocarro pram to fold?
The Ocarro's clever one-hand auto-fold mechanism allows parents to swiftly collapse it down to a compact size in just a few seconds. Just press the auto-lock buttons and fold - no need to remove the seat first. This hassle-free fold optimizes storage and portability.
What age is the Ocarro pram suitable for?
With options like a bassinet for newborns and a reversible seat fitting children up to 15kg, the versatile Ocarro accommodates babies and toddlers from birth through approximately 3 years old. Its multiple configurations grow with your child.
Does the Ocarro fold with the seat on?
Yes, unlike many strollers, the Ocarro conveniently folds with the seat unit attached in either the parent-facing or forward-facing position. This simplifies folding while on-the-go without disturbing your child.
How smooth is the Ocarro's ride?
The Ocarro's all-wheel suspension, adjustable rear suspension, and puncture-proof tires provide an ultra-smooth ride over uneven sidewalks, grass and varied terrain. Parents will appreciate the cushioned comfort.
Is the storage basket big enough?
With an oversized 22 liter capacity, the Ocarro's underseat storage basket provides ample room for all essentials. The wide rear access enables easy loading without disturbing baby.