Read More Reviews
Just So Festival 2023: A Decade-Long Love Affair with Whimsy and Wonder
In its 13th year, the Just So Festival shows no signs of slowing down. Produced by the creative geniuses of 'Wild Rumpus,' this annual festival at Rode Hall in Cheshire is an intimate, ethical, and imaginative family adventure that is truly unique. This year marked our family's 9th consecutive visit, and the magic hasn't waned a bit.
You can camp, visit for the day, plan your 'must-see' performances or simply wander around the various quirky zones and stumble upon something magical.
However you choose to spend your time at Just So, doing it dressed as one of the seven animal groups makes it extra special. Though of course not compulsory, revellers are invited to join and dress up as either Owls, Lions, Stags, Frogs, Bees, Fish or Foxes as you compete for the 'Carnival Cup'.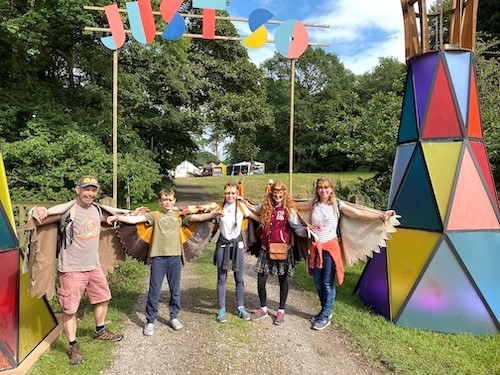 We were owls – and have been every year for the last 9 years. We've even won a couple of times! Just not recently… so if you DO decide to go next year, join us on team owl! The only carnival animal with wings, it's a lot of fun. Hoot Hoot! :)
The winner is the group with the most golden pebbles, which can be earned by embodying the ethos of the festival. Recycle, play nicely with new friends, tell jokes and stories and if spotted by a volunteer or vendor, your good deeds might be rewarded.
A Festival Like No Other
Once your tent is set up and you're through the gates, it feels as if you've entered a parallel universe. My daily cares vanish, and I find myself in a land where animals walk and talk, and happiness is the default state.
For me, Just So has just the right blend of familiarity and novelty. Every year, there's enough that remains the same to make us feel like we're returning to our tribe. Yet the festival never fails to surprise us with new acts, bands, workshops, and even food vendors. It's like coming home, but to a home that has new rooms to explore each time you visit.
Highlights of 2023
It'd be impossible to review everything that happened over the weekend this year, but you won't be far wrong if you imagine a glorious mix of music, workshops, storytelling, circus skills, theatrical performances and some things that just don't fit any category.
Here are some of my highlights:
Ian Douglas' storytelling around the campfire
Ian is a regular at Just So, and a master of storytelling. Gather round the campfire at night in the Enchanted Forest and sit, enrapt, as he spins tales of magic and myth to keep everyone entertained, no matter how old.
Trunks, by Gary 'Gacko' Bridgens, the Royal Troubadour of Piel Island.
Gary was a new act this year, and we absolutely loved his show, which was a laugh out loud musical and story-based comedy performance. With plenty of audience participation and ad lib, he is quite obviously a professional entertainer and brilliant at his job.
The Music!
There are bands and music acts playing on the various stages around the festival, and we thoroughly enjoyed them all, in particular we lost our inhibitions whilst dancing to David Gibb, Perhaps Contraption, The Bobbysocks and Thingumabob & The Thingumajigs.
Silent Disco
Another regular feature of Just So, the Silent Disco is so much fun for parents and children. With a channel for the kids and a channel for the grown ups, it's an odd thing to watch – as a hundred or so people of all sizes dance and sing to songs that only they can hear! But it's such fun to be a part of – just make sure you get there a little early to bag yourself some headphones.
The 'Family Catwalk Extravaganza: Ghetto Fabulous'.
Unlike any other performance I've ever seen, this show really captured our imagination and our hearts. It was a catwalk show that was riotously fun, whilst challenging gender stereotypes in the form of a competition between four professional dancers – all 'queens' - wearing increasingly outlandish and hilarious outfits. It was affirming, positive and really, really fun.
Tape That
This was a charming, light-hearted, non-verbal acrobatic duet using rolls of tape. On paper, it may not sound very exciting, but it was thoroughly enjoyable to watch as a simple roll of tape was transformed from DJ decks to a spyglass, and is stretched to create physical barriers and obstacles for the performers to navigate.
How to Spaghettify your Dog with Hiba Noor Khan
In this workshop, Hiba explored the brilliantly bizarre and mysterious world of physics. In a highly engaging way, she took us around the universe and down into the nucleus of an atom, showing us how much fun physics really is. From an understanding of the sheer size of space, to a lesson in how to slow down time, it really was a fascinating show.
Ship of Fools
This was a truly odd, and yet entertaining show. We really enjoyed it, though in truth we weren't entirely sure why. It was visual comedy, with very little talking, performed by a small troupe from around the world. Totally bonkers, and very Just So.
Singing Workshop run by folk band Good Habits
This was a highly enjoyable singing workshop with a couple of lovely, highly skilled and entertaining musicians. Over the course of the session, they had us singing rounds and enjoying making music together.
Dodo's Dream: Circle of Two
Just So wouldn't be complete without at least one acrobatic show, and this one was literally awesome, demonstrating incredible feats of strength and dexterity in an acrobatic/dance performance about when the clock strikes twelve, magic begins and a doll comes to life…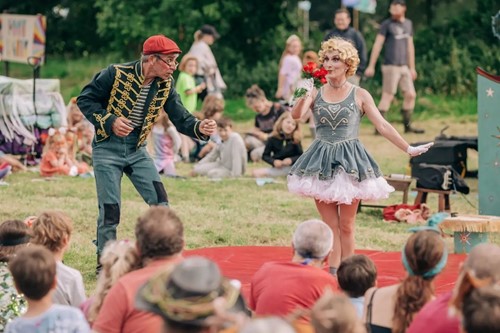 The Food!
I love street food, and Just So abounds with a plethora of food options, from delicious pizzas and fish & chips to the most amazing falafel wraps and dahl. Get stuck in!
Midnight Feast on Saturday Night
We enjoyed free snacks whilst listening to bedtime stories, singing silly songs and playing a variety of games.  
Accessibility and Inclusivity
The festival is capped at 5000 attendees, making it feel safe and intimate. The site is (mostly) accessible for pushchairs and wheelchairs – though I'd recommend slings or off-road pushchairs - and there's something for everyone, regardless of age or interests.
Tips for Future Attendees
Get a programme early to plan your must-see performances.
Dressing up is not compulsory but highly recommended for a more immersive experience.
Tickets for Just So 2024 are already on sale! Get in early to get the best price.
Conclusion
In a world that often feels too serious, the Just So Festival serves as a delightful reminder of the joy and wonder that life has to offer. It's so much more than just a weekend getaway; it's a mainstay on our family calendar. The festival ignites imaginations and offers a magical landscape that will stay with you and your children for years to come. Whether you're a lion, a fox, or a bee, Just So is a festival that you'll love just as much as your kids do.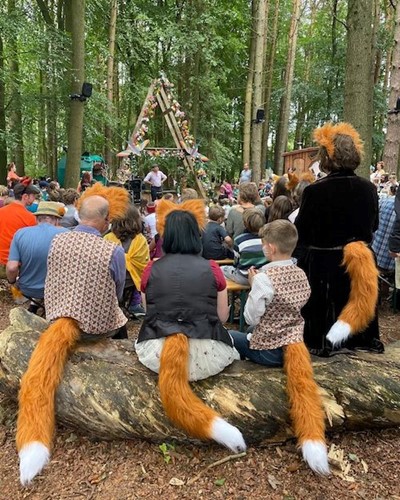 Just So Festival 2024 Details
Dates: 16/17/18 August 2024
Location: Rode Hall Estate, Cheshire
Tickets: Available on the Just So website
Early Bird Prices: Adult weekend camping tickets £145, Child weekend camping tickets £45
For more information, visit the Just So Festival website.