Read More Reviews
Review of the Week: Family Holiday at North Hayne Farm Cottages, North Devon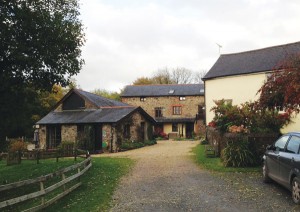 The North Hayne Farm Cottages   Following a recommendation from one of our readers, Kerry Shephard, we recently went for a family holiday at North Hayne Farm Cottages in North Devon. Put quite simply, we LOVED it. If you are looking for a lovely family getaway in the UK, then book yourself in – you won't regret it. And we aren't the only family to be raving fans of this place. Check out their page on Trip Advisor and you will see 152 reviews* – ALL of them giving them the highest ratings possible. North Hayne Farm Cottages has also just won Silver in the Visit Devon Tourism Awards, and is up for more silverware in the South West Tourism Awards.
So why is it so wonderful?
North Hayne Farm Cottages gives you everything you could want and more - owners Cheryl and Roger have designed it with young families in mind. The seven charming cottages are warm, cosy, clean and very well equipped for a family stay. Each cottage has its own hot tub as well – great fun for the children and a lovely way to relax after they've fallen asleep! The farm setting itself feels idyllic – situated down the country roads, it has its own pond and stables with plenty of animals for the children to enjoy. The children are encouraged to feed the animals in the morning and evening, and this quickly becomes an indispensible part of the day – it's also a lovely chance to get to know the other guests. There are plenty of other things to enjoy on site too, from the play barn and games room, to craft activities and quiz trails. Cheryl and Roger and their family go out of their way to make your stay perfect… you can get an online grocery shop delivered before you arrive and they will receive and unpack it for you; they welcome you with delicious cream teas; they will provide anything from high chairs and cots to booster seats and stair gates for your children; even the curtains in the children's rooms have black-out lining so they sleep well. But it's more than that too. It's hard to describe, but all the other guests at the farm agreed that they have something special here. For my part, I think it boils down to the fact that Cheryl and Roger genuinely care: they are the special something that made our holiday so wonderful. Unlike any other holiday we have been on, they are part of the experience. The children are now begging us to return – but they don't want to go back to North Hayne Farm Cottages, they want to go to Cheryl and Roger's. And that speaks volumes to me.  
More Detailed Reviewing...
The Cottage
The cottage itself (we were staying in 'Squirrel Nutkin') was perfect, at least by our standards. The two best words to describe it are warm and cosy - which refers not just to the temperature, but the decor, the choice of furniture and the beautiful welcome pack. Everything is finished to a high standard, and it is obvious that a lot of thought has been put into everything, from the cushions on the bed to the selection of DVDs by the TV and the children's board game in a drawer. All the curtains in the children's rooms have black-out lining on them to keep the rooms dark too – a huge bonus in the summer I'm sure!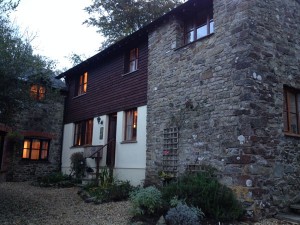 Squirrel Nutkin Cottage We had taken advantage of Cheryl and Roger's offer to accept and unpack an online Tesco shop that had arrived before us, and all our provisions had been unpacked and stored away in the kitchen. This was such a wonderful touch, and greatly appreciated. On the table in the kitchen was a lovely welcome pack including a fresh bunch of flowers and a plate of freshly baked scones with delicious jam and authentic Devon clotted cream. Yum!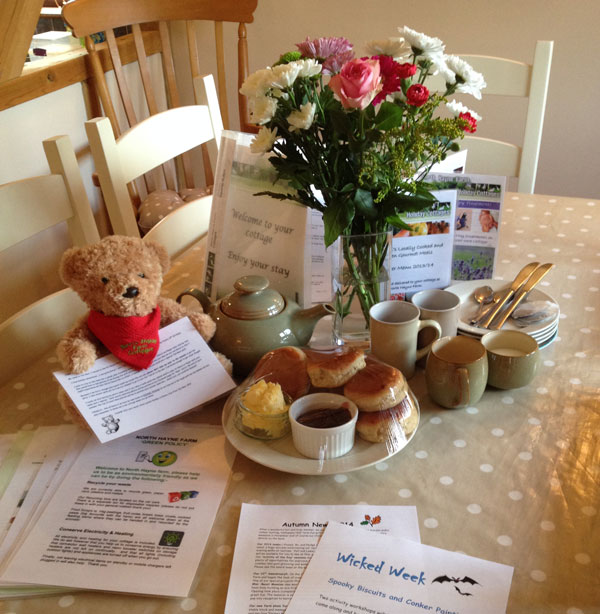 The welcome pack: Cream Tea, flowers and activity info Outside the back doors is a small garden containing a large hot tub - each cottage has its own hot tub. Beyond that is an expanse of green grass, with a small play area including swings and slide - and a little playhouse. Just perfect for young children who want to burn off a bit of energy – and for parents who want to able to keep an eye on them, but not actually go outside themselves....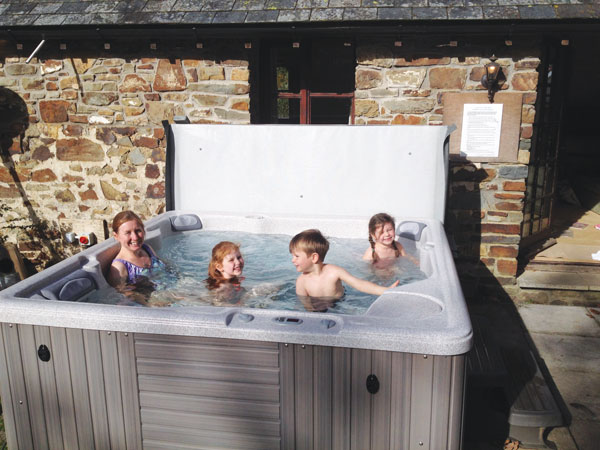 Each cottage has its own hot tub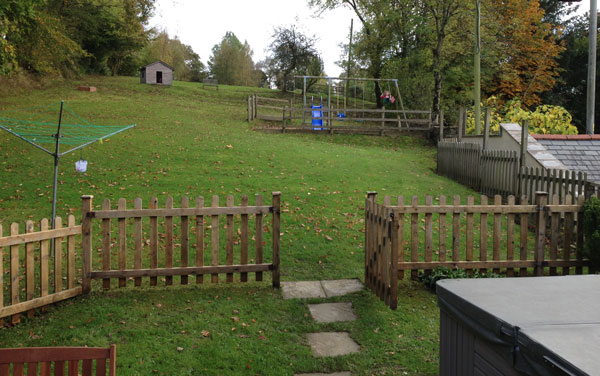 The back garden view from Squirrel Nutkin Cottage
Animal Feeding
Guests are invited to help Cheryl and Roger in feeding the farm animals. This happens at 9:15am and 5:30pm every day (though the time does change with the seasons) and morning feeding is followed by donkey rides! Needless to say, the children LOVED this. The animals include ducks, chickens, rabbits, guinea pigs, chipmunks, sheep, goats, alpacas and three of the most gorgeous piglets! No doubt the pigs will grow up quickly to be enormous versions of themselves, but they were 6 weeks old when we made our visit and had only been on the farm for three days.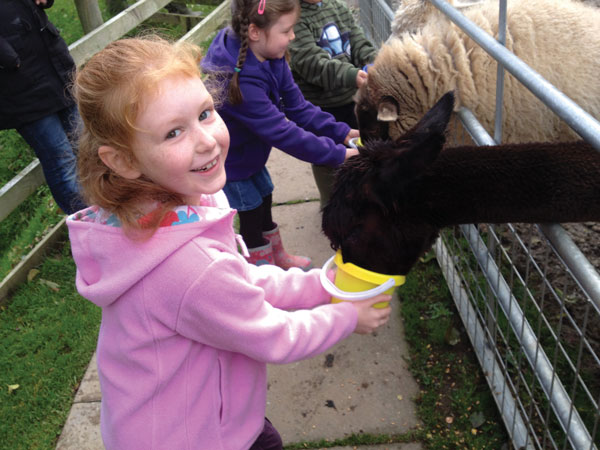 Feeding the alpaca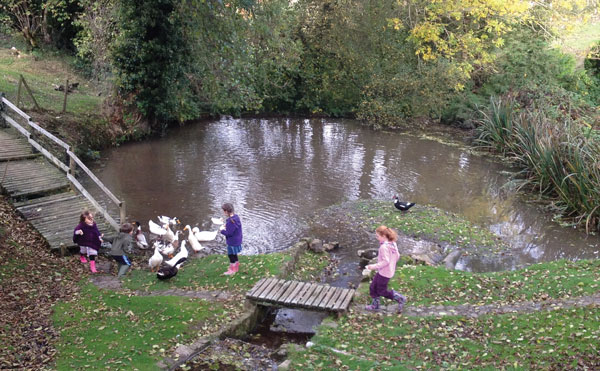 Feeding the ducks down by the pond Cheryl and Roger are very, very good about encouraging the children to wash their hands. Not only do they have plenty of wipes and anti-bacterial gel around the place, but they have devised a cunning way to make washing hands fun. Stickers! But not just any old stickers. The stickers have all been drawn by children who have visited the farm cottages - and all new visitors are encouraged to draw their own stickers, which our children loved, needless to say. Washing hands after that was never a chore, but something they actually looked forward to! Genius.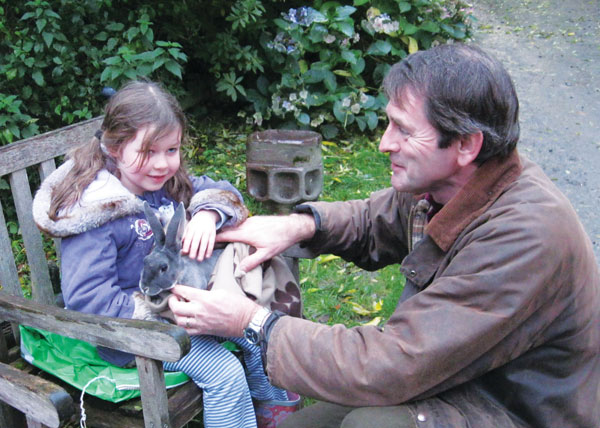 One of the extra evening animal activiies - Bunny cuddles!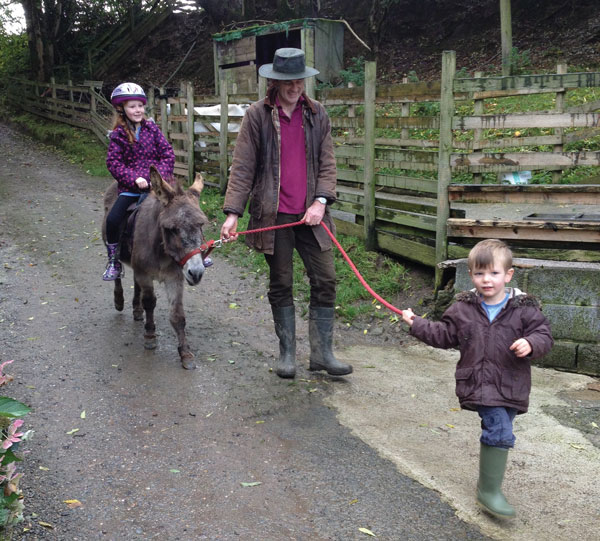 The daily donkey rides - unbeatable fun!  
A Day on the Farm
Despite a long list of local attractions to visit, we spent our first day at the farm. We were just playing it by ear, but there was always something to do and we never made it off-site. After the morning animal feeding and donkey rides, we explored a bit more around the farm - venturing into the games room and the play barn for the first time. Part of the same building, the play barn is for younger children (roughly 7 and under) whilst the games room is for older children and grown ups. The Play Barn betrays Cheryl's background in education, being more than slightly reminiscent of a nursery setting (which is lovely). With oodles of toys (all well kept and tidily stored - but ready to play with and easily accessible), and charts on the walls for the months of year and numbers, our children found it an inviting and enjoyable space to play in. No adult direction needed. The Games Room has a table tennis table, pool table and dartboard and we definitely made use of this over the week on the rainy days. Our eldest, now 7 years old, decided that it was time she learned how to play table tennis and she did so well. It will be a memory I treasure.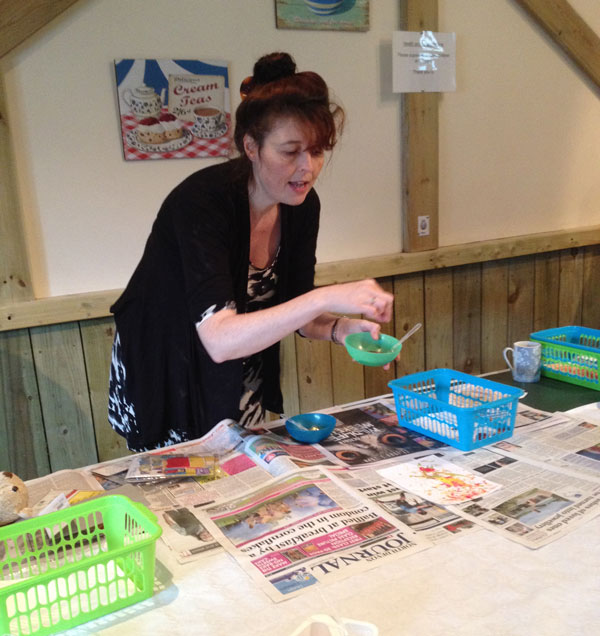 Cheryl leading the first of two optional craft activities in the games room. The children loved it!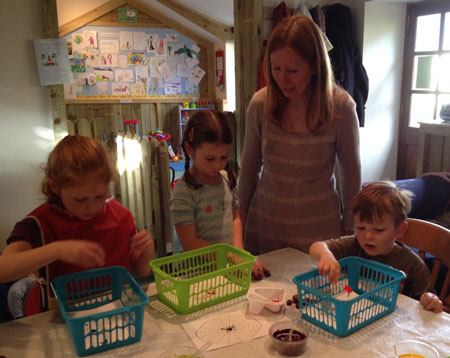 Enjoying the marble painting! When we returned to the cottage later that morning, the children were happy to play one of their games so we took the opportunity to relax with a cup of tea and a good book. After lunch, we had a family dip in the hot tub, which was thoroughly enjoyable! We also met one of the farm cats, Tabitha, who was very friendly and another animal for the children to play with. Cheryl has created a variety of activities to entertain children on the farm, from her own farm-related activity booklets to 'treasure' hunts round the farm and a mini beast hotel. We spent another hour enjoying these activities and a leisurely wander round the farm before returning to the cottage for a bit of television for tired children and dinner. After which, we headed out again for more animal feeding! This time, animal feeding was followed up by an activity of guinea pig cuddles. In the last year, Cheryl and Roger have introduced extra little activities like this to the feeding routine to many a child's delight - later in the week there were bunny cuddles, goat feeding and chicken-egg-collecting!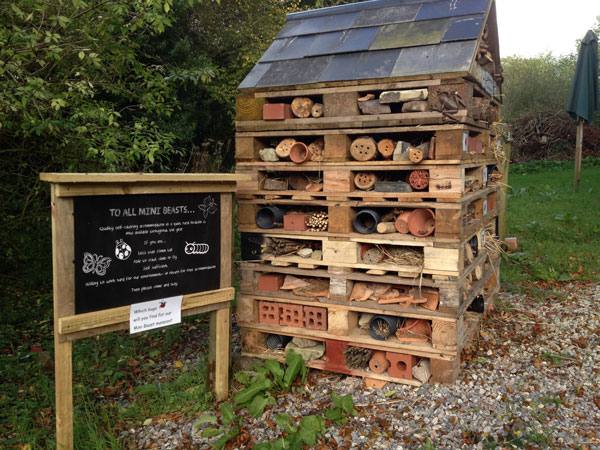 The Mini Beast Hotel  
Local Attractions
North Hayne Farm Cottages are about a 30 minute drive from loads of attractions and we certainly didn't get to see all of them over the course of our week stay. Here are a few of the places we visited, with quick thoughts:
The Big Sheep. Yes, there are lots of sheep, but they also have goats and ducks! And plenty of shows, play equipment, tractor rides, train rides. indoor play area and more. Plenty to do for a full day out. This was our children's favourite day trip. Feeding the lambs at the Big Sheep
Watersmeet. An idyllic National Trust property to visit in the valley where two rivers, East Lyn river and Hoar Oak Water, meet. After walking down to the valley floor, we enjoyed some cakes at the tearooms and a brief respite, taking in the beautiful natural surroundings. The picturesque tea rooms and shop at historic Watersmeet
Lynmouth and Lynton. We caught the cliff railway between these two seaside towns. It's a short trip and well worth it for the experience. It's a steep journey to the top in the water-powered funicular railway and the views from the top out over the sea are just stunning. The wind was very strong when we visited and it made for some big waves, making the view that much more dramatic. The water-powered funicular railway between Lynton and Lynmouth.
Ilfracombe and the Tunnels beaches. A great place to experience the sea and go hunting for sea life in the rock pools. Not that we found anything more than some anemones and a few thousand barnacles, but the searching was fun! It's a lovely rocky beach though, with two bathing pools that I'm sure we would've tried out had it not been blowing a gale and rather chilly. But there was one man swimming that we saw. One crazy man :-). At the entrance of the tunnel leading to the Tunnels Beaches Rock pooling at the Tunnels Beaches
Arlington Court - a National Trust property. We didn't get to see everything, but we had an enjoyable wander around the old house, which is very grand. The volunteers were all very good with the children, and the NT are obviously doing their best to engage with families as there were three 'trails' for the children to follow (involving finding certain things in the rooms around the house) plus a dressing up activity full of old fashioned clothes for the whole family to enjoy. In the grounds of the property there is also, apparently, a coach house with a variety of carriages to look at, a 'bat cam' for viewing the resident bats, and a woodland trails with a couple of play areas along the way. The children being shown a seriously old toy at Arlington Court by one of the volunteers
Tarr Steps. This is a beautiful spot - the site of the ancient clapper bridge, a stone construction across the river. A bridge of some kind has been at this spot for hundreds of years. If you have a decent 4x4, you could drive across the ford. But we don't, so we didn't. We all enjoyed crossing back and forth across the bridge on foot however and then went for a short walk up the side of the river.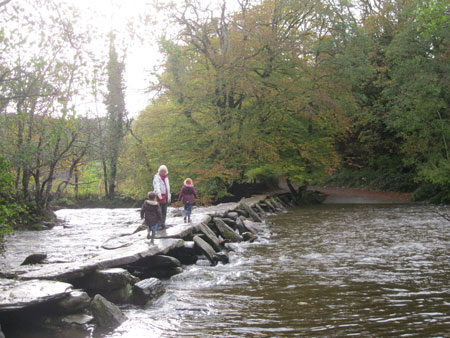 The ancient Tarr Steps - a lovely place for a nature walk    
---
  North Hayne Farm Cottages take bookings all year round, and host special activities for events such as Christmas, Easter and Halloween. 7 night breaks start from £354, 3 or 4 night breaks from £248. Visit www.northhaynefarmcottages.co.uk for full details. Contact Cheryl & Roger for availability on 01769 550807 or info@northhaynefarmcottages.co.uk.   * at the time of writing: Feb 2014