Read More Reviews
Family Car Review - The New Crossland X SUV from Vauxhall

We were recently given the chance to test drive the Crossland X, the latest SUV to the Vauxhall fleet, for a whole week. Vauxhall are pitching it as a family car and they wanted to see how it would hold up to a proper road test, with a real family. As our normal family car is now 12 years old, we were very happy to oblige! We took the car on a 3-hour trip down to South London for the weekend (should've been 2 hours – not the car's fault) and drove it around town on day trips with the kids during the week. We definitely put it through its paces and tested in most normal family situations.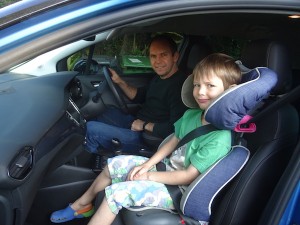 Me and the boy in the driver's seat But before we get into the review, you need to know a few things about us to put it into context...
Firstly, we are not car geeks. We like driving nice cars, but we aren't super-obsessed about the make and model of the car we drive – so you're not going to read much here about the technical specs. Though I have given it a go as best I can! Secondly, we are a family of 5, so primarily we want a car that is big enough for us and all our stuff, is safe and reliable and is a comfortable drive. If it can accelerate to 60mph in 3 seconds, that's great – but we're not going to be making the most of that performance very often. With that said, let's get into it!   Overall Verdict For the price range, I think this is an excellent car. Starting from £15,640, it doesn't cost much more than a new Ford Fiesta, so you're getting an SUV at compact car prices.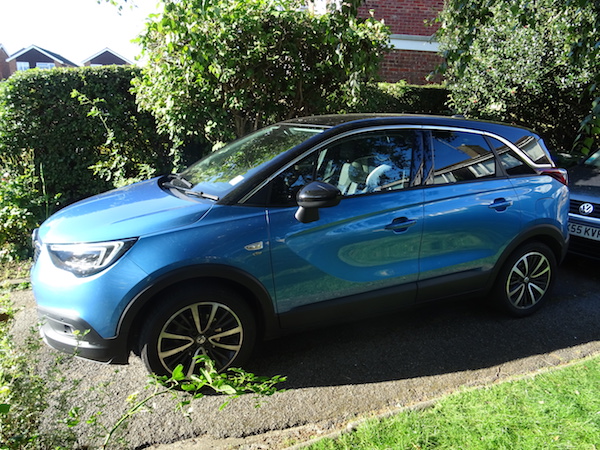 Our Crossland X, on the drive   Looks and Gadgets The car looks great (our children like naming our cars and they christened it 'Blue Ninja', so you can tell they liked it too!), and the finish is very modern and attractive - but the thing that really stood out for us was all the gadgetry that is packed in. The Crossland X has a large, easy to use touchscreen to control the music, air con and sat nav, wireless phone charging, wifi hotspots, Bluetooth, usb audio streaming, Apple CarPlay and Android Auto smartphone mirroring, amazingly clear hands-free calling and Vauxhall's On Star service which you can use in case of emergency, or if you just want to find the nearest pizza restaurant!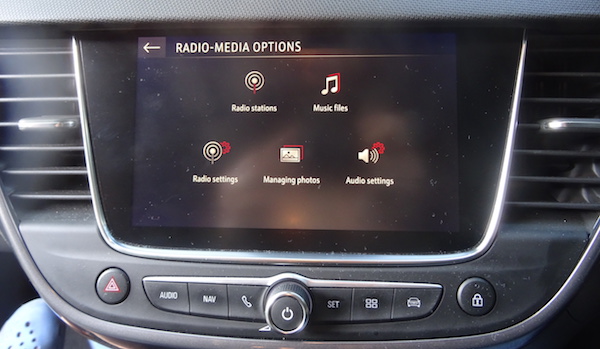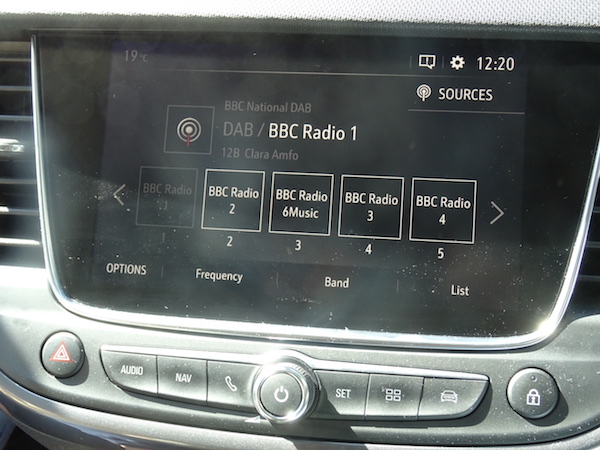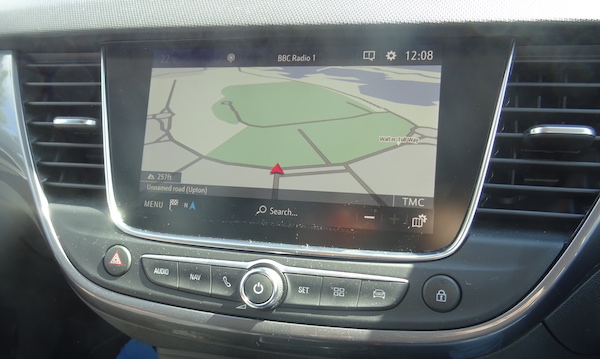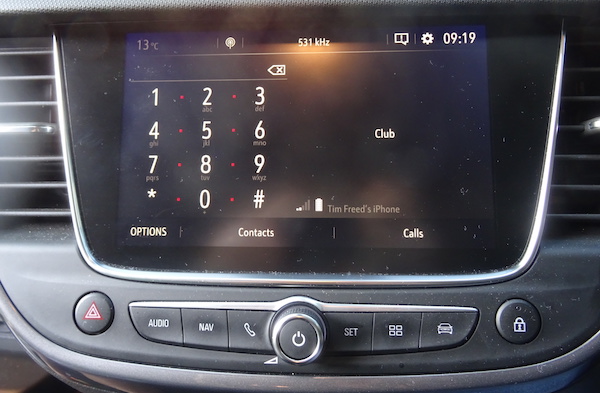 Hands free calling The parking assistance was unlike anything we have seen before, providing a birds eye view of the car, and video viewing of where you're reversing, with indicators as to where the car is going to go, depending on the position of the steering wheel.
  In truth, the gadgets were all a little overwhelming at first, but we loved them! All in all, it felt like a very futuristic car to us.   Safety The digital safety features are equally impressive, with side blind-spot alert and alerts if you cross lanes without indicating (great if you're distracted in the car or feeling drowsy). It also has forward collision alert and autonomous emergency braking, which I have been reliably informed is a high-end feature not normally seen in car in this price bracket (though it doesn't come as standard).
Drive Performance The Crossland X drives nicely, but nothing to write home about. For nipping about town and the occasional long distance journey we were perfectly happy with the handling and acceleration. It will apparently do 0 – 62mph in 9.1 – 14 seconds, which was certainly good enough for us. The elevated seating and driving position is comfortable too.   Space and Size The big downside for us was that it just wasn't big enough for a family of 5. At least, not our family of 5 where the children are all rather young. The Crossland X is quite compact for an SUV, and fairly narrow, which means the middle seat in the rear isn't a full-size seat. For us, with 3 children in car seats, this meant that there wasn't space to put all three in the back – and it was a bit of a squish getting an adult in-between two car seats. Having said that, we managed a 3-hour journey like that - it just wasn't ideal.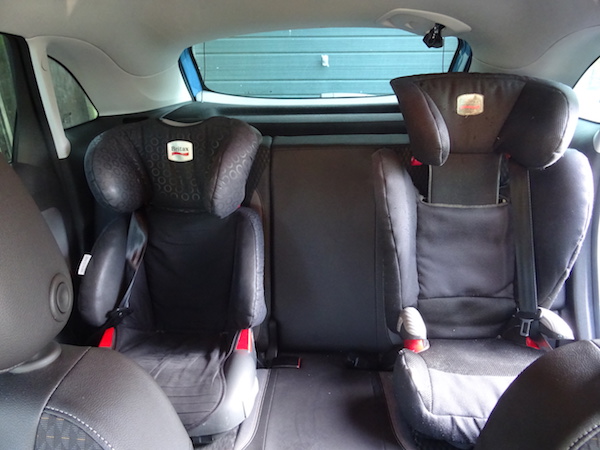 Two car seats in the back - not much room between them!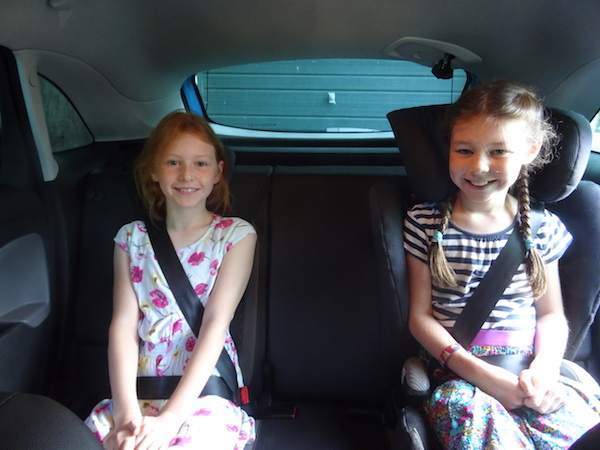 With just one seat it was much roomier I think it's fair to say that a family of four would probably find the size of the Crossland X to be just about perfect. Leg room in the front and back is totally fine and the boot itself is a very decent size - it has a nifty secret compartment under a false bottom which can be opened up for extra room too.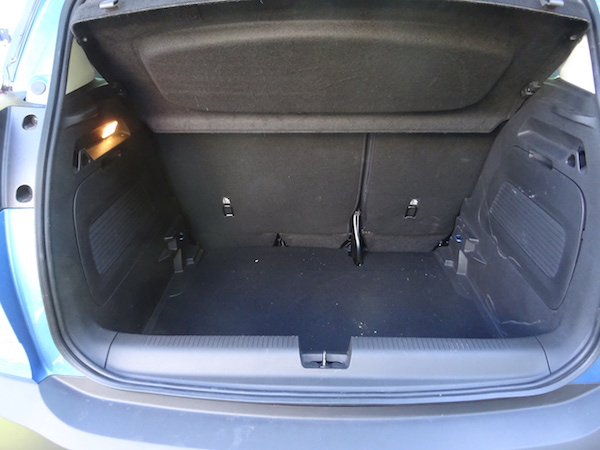 The boot with the false bottom removed for maximum storage In Conclusion For a family of 3 or 4, the Crossland X would make an excellent family car. It is a great car for the price, packed with futuristic gadgets for entertainment, comfort and safety, and it is an enjoyable drive. Find out more about the Vauxhall Crossland X here  
---
  Key Stats:
Features include:
Panoramic 180° panoramic rear-view camera
Advanced park assist
Forward collision alert with pedestrian detection and autonomous emergency braking
Side blind-spot alert
OnStar – a personal advisor at your fingertips to help with everything from a vehicle health check to emergency assistance
Wireless phone charging spot and Wi-Fi hotspots to keep everyone connected