Read More Reviews
Editor's Review: Sunday Lunch at 185 Watling St. Pub and Kitchen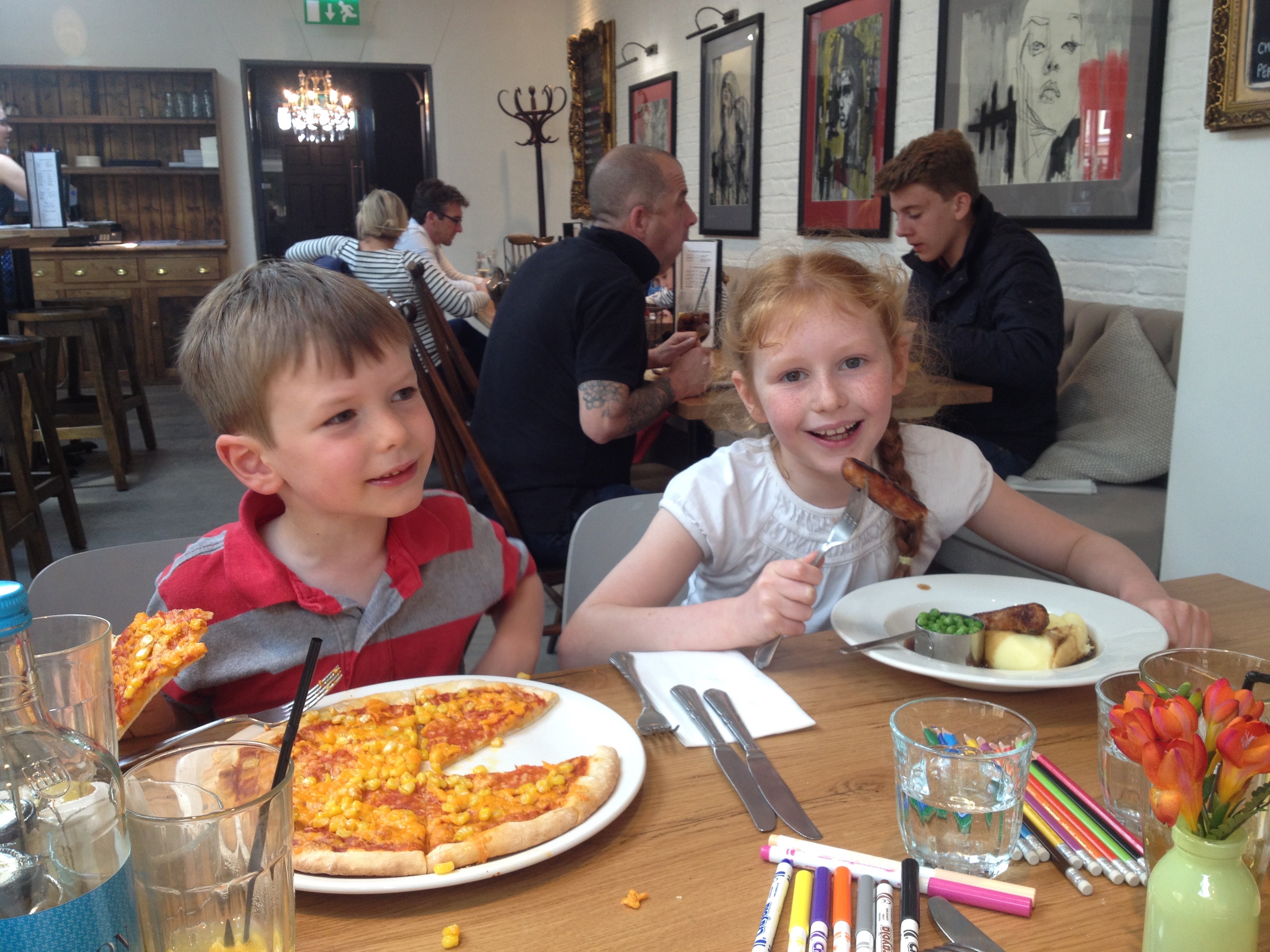 185 Watling St turned out to be a delightful place to enjoy a beautifully prepared Sunday lunch with the whole family Before we had children, we used to eat out a fair bit. As one child became two however, and two became three, well, meals out have become much more of a treat and a special occasion. And it's such a shame when it doesn't turn out how you'd hoped. Poorly cooked food. Bad service. Dirty tables or smelly toilets. Not child-friendly (even though they say they are). The potential for that treat turning sour is definitely there, and we have certainly had less than wonderful experiences as a family in the past. I'm pleased to report however that today was a different story – today we discovered 185 Watling St Pub and Kitchen in Towcester. And it was amazing. 185 Watling St is in the heart of Towcester,
right on the old roman road that runs through the centre of the town. The building itself has been converted from a domestic home and, through extensive refurbishment and building work, transformed into a very classy pub restaurant. I must admit, having been in to 185 for evening drinks once before, I didn't immediately peg it as a family-friendly eatery. Its interior is undeniably lovely – but when I visited for drinks in the evening it felt more trendy wine bar than family restaurant. It's amazing what a bit of daylight and a change of purpose can do!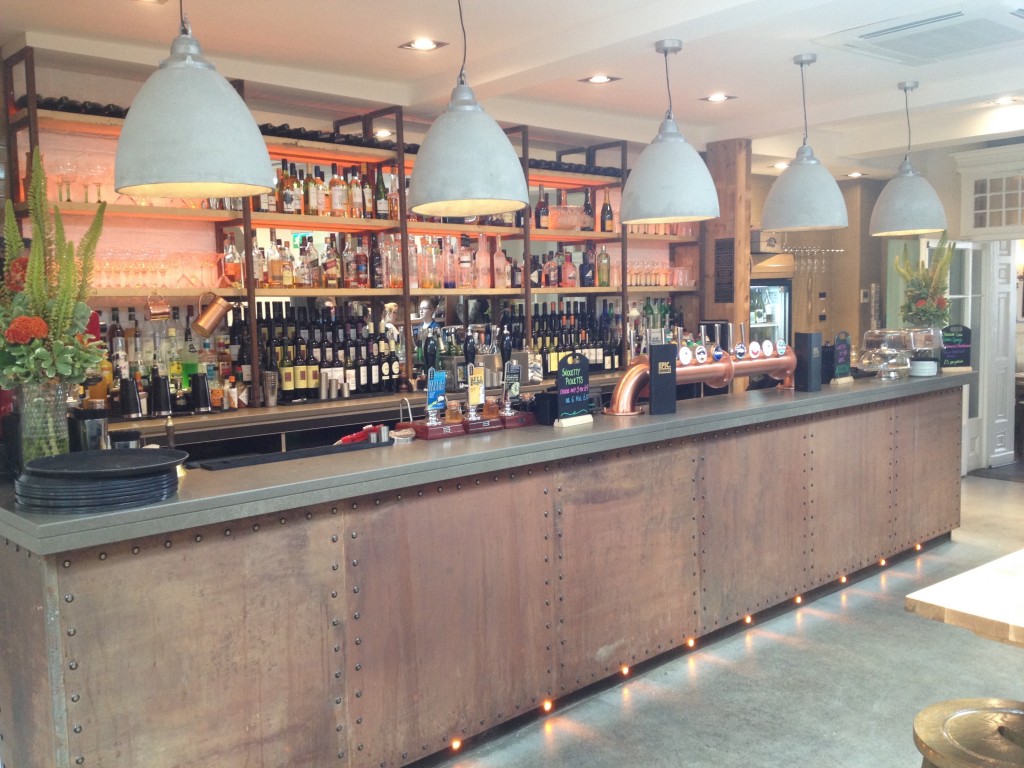 The bar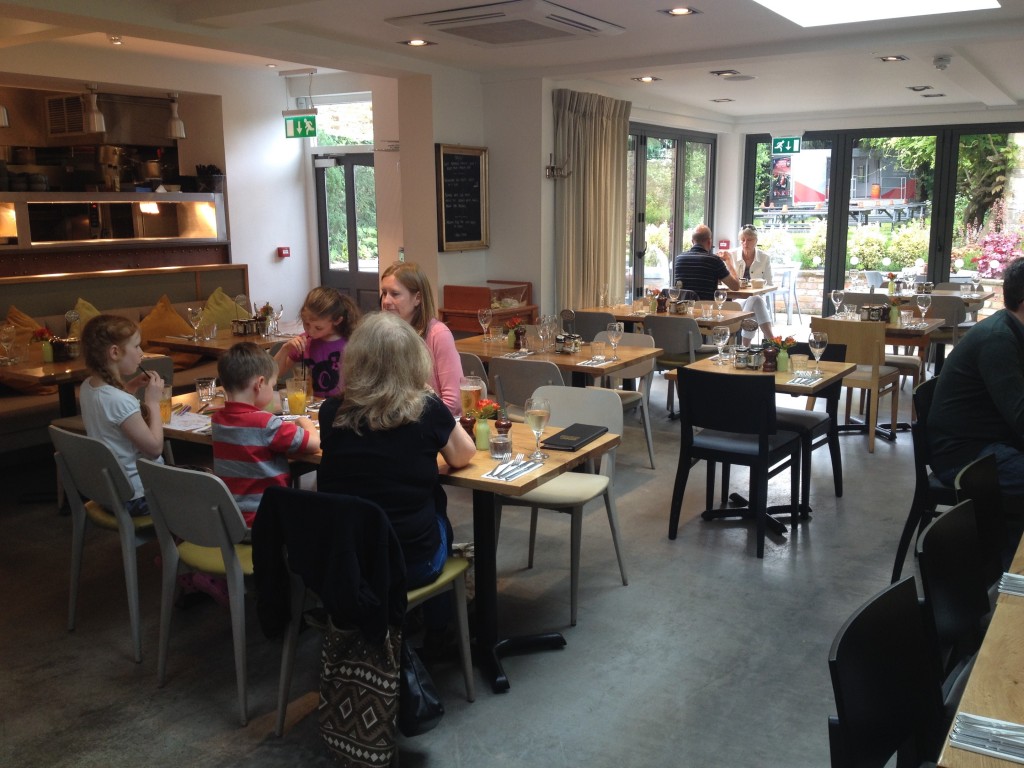 Our table was in the centre of the restaurant - plenty of space between tables meant we felt like we had our own private space whilst being in the middle of the venue. Today 185 was still trendy and upmarket, but it was also welcoming and a very enjoyable place to eat as a family. The two things that stood out from our experience today were the two most important to my mind: the quality of the food and the quality of the service. Though it must be said, 185 ticked all the other boxes too! Abi looked after our table and she was everything you could wish for from a waitress. Smiley, polite, considerate, helpful and quick, she topped it off by being a hit with the children too, giving them plenty of personal attention that they enjoyed immensely. The adult Sunday menu had plenty of choice, and the prices were definitely reasonable and simple. At £14.50 for a single adult course, £21 for two courses and £27 for 3 courses, I would say the prices are a bit above average, but not outrageously so - and by golly do you get what you pay for!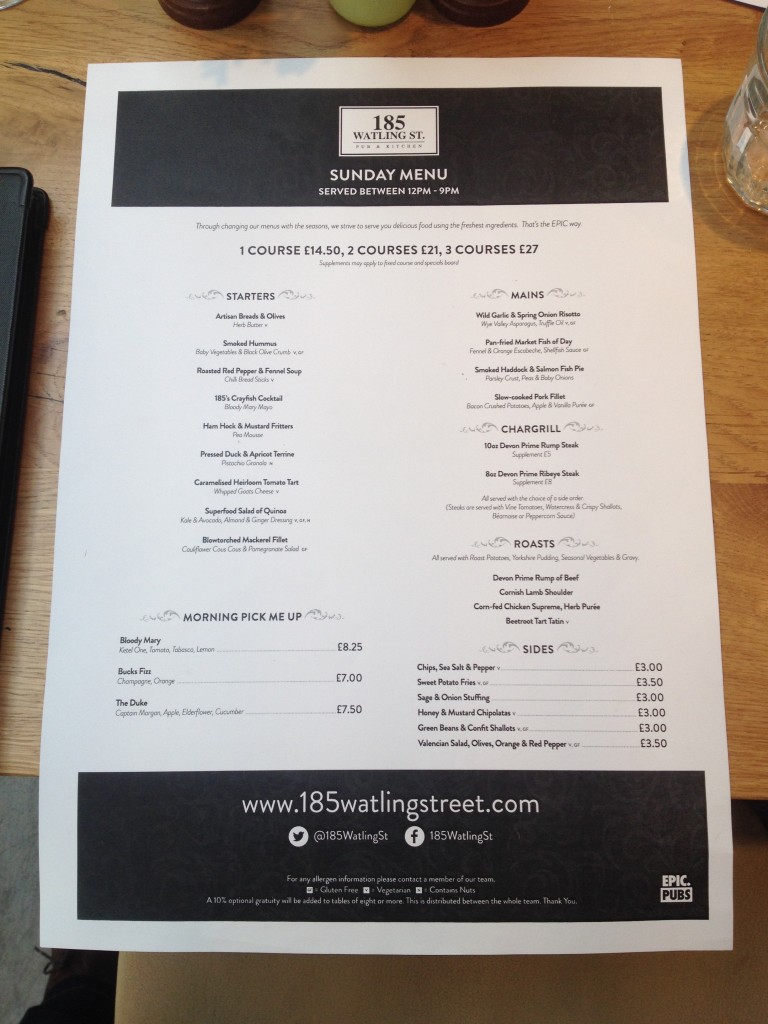 The adult's Sunday menu at 185 Watling St I opted for the 'Blowtorched Mackerel Fillet' to start, with the 'Beetroot Tart Tatin' Sunday Roast. Mrs F went for the Smoked Hummus starter and a new special, the Crab Salad, for her main. I don't think I'm overstating it to say that the food was exquisite. I'm no food critic, but I know what I like – and I liked this. A lot. It was perfectly cooked, the balance of flavours and textures on the plate were spot on, and the portion size left us feeling completely satisfied.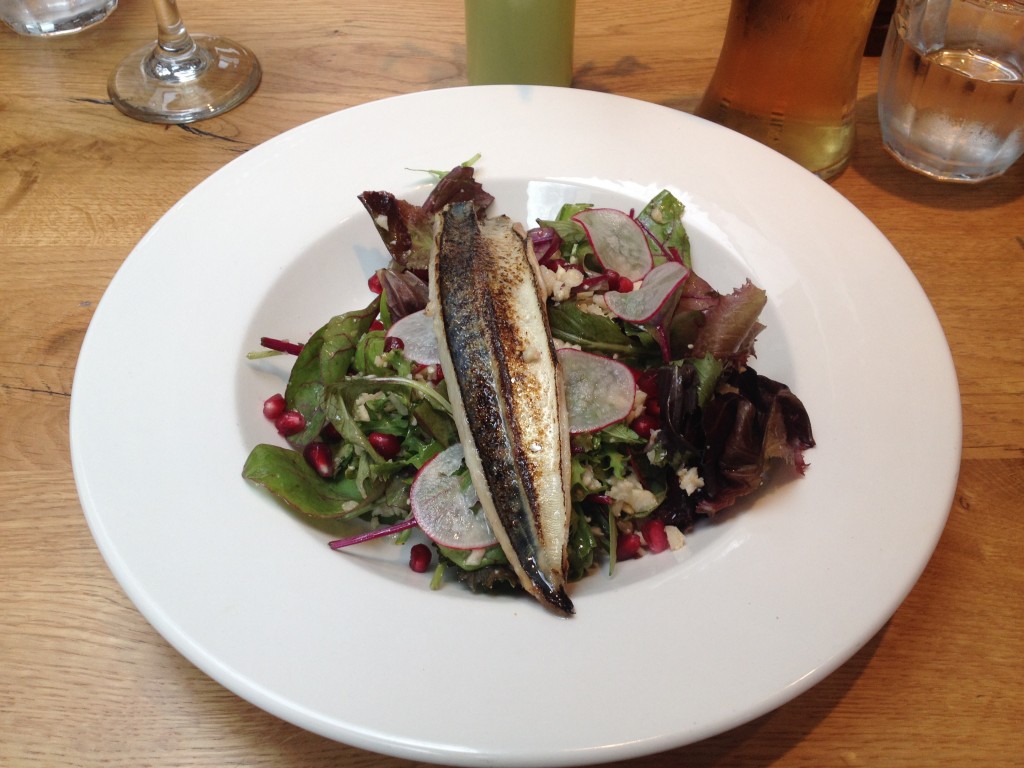 The Blowtorched Mackerel Fillet starter on a bed of cauliflower cous cous and pomegranate salad. Yum!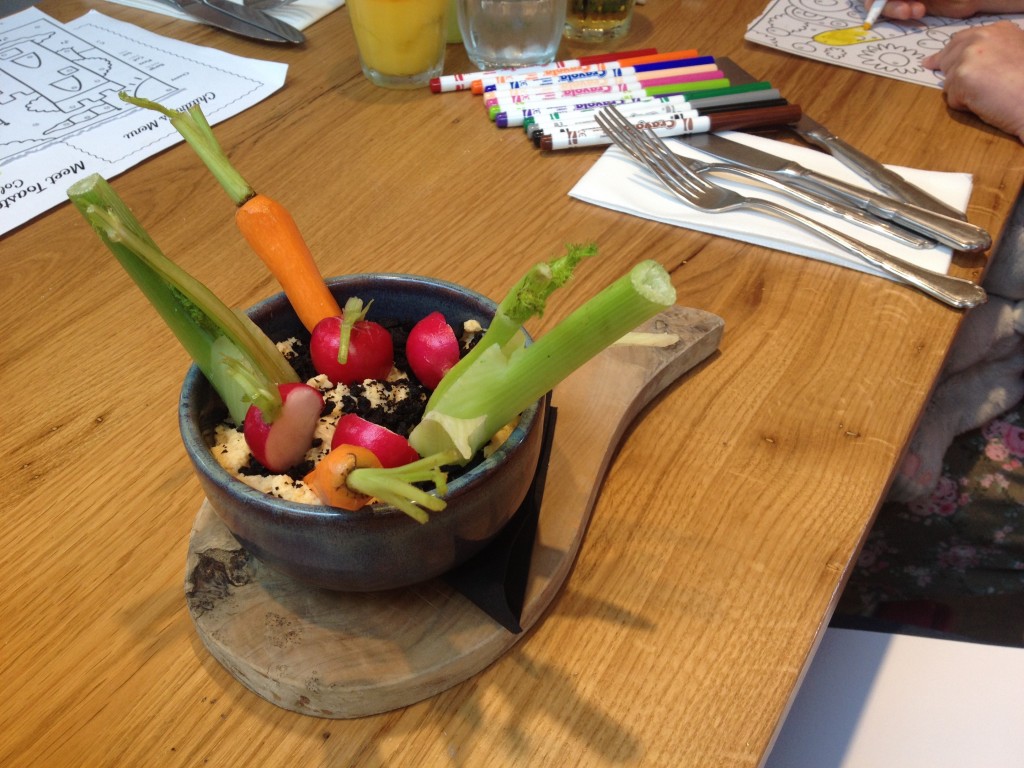 The beautifully presented and incredibly tasty Smoke Hummus The children's food was prepared to equally high standards. The children's menu is certainly more limited, though there is the option to request a half-size adult meal as a child's meal too so, in actual fact, they had more to choose from than us! Our children didn't need to stray from the classic children's staples however, opting for the cheesy garlic bread for starters (£2); pizza, bangers and mash and cod goujons and fries for main (£6 each); and the chocolate ice cream sundaes for desert (£3.50).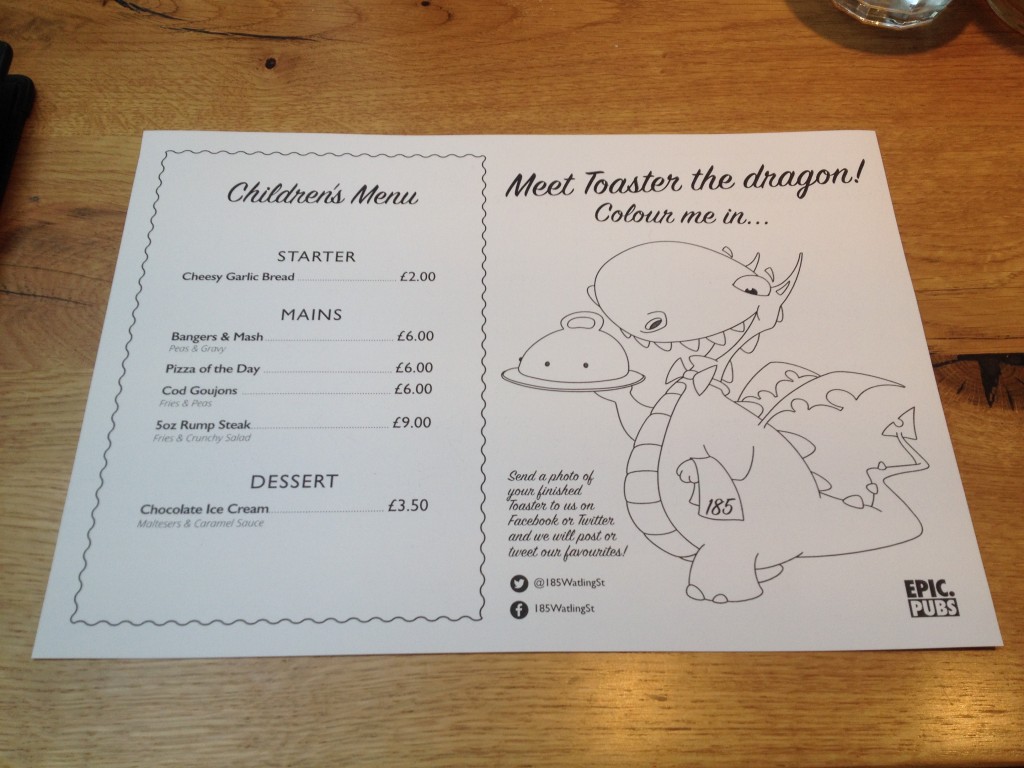 The children's menu at 185 Watling St, Towcester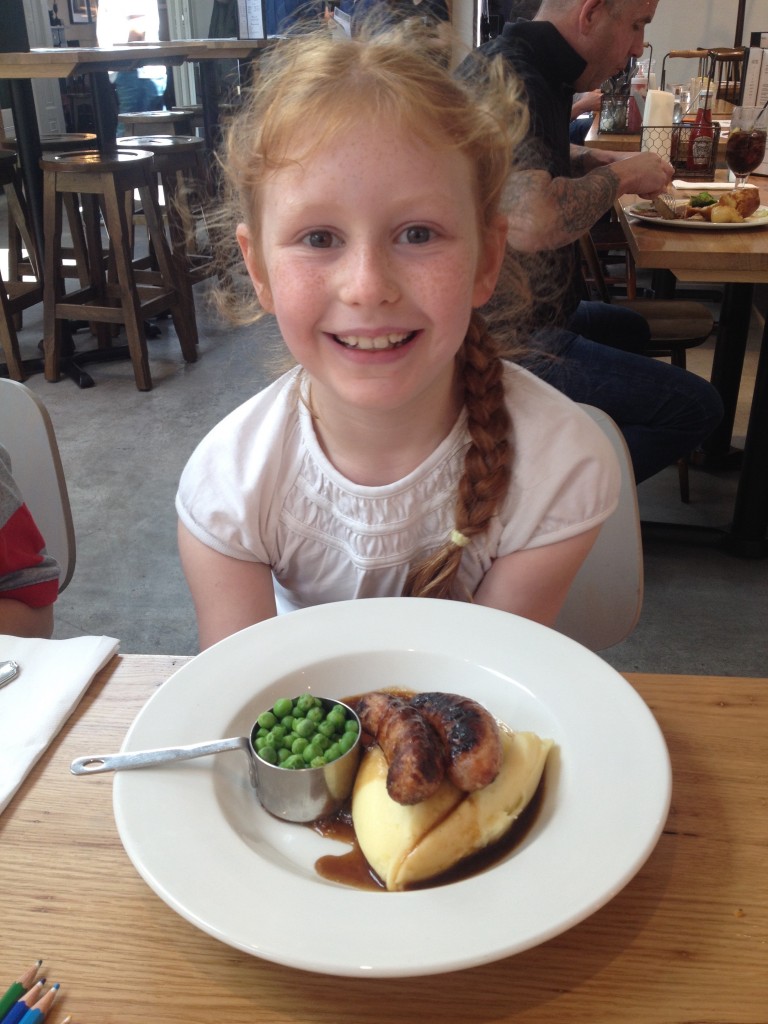 Yummy bangers and mash - "The best I've ever tasted," she said!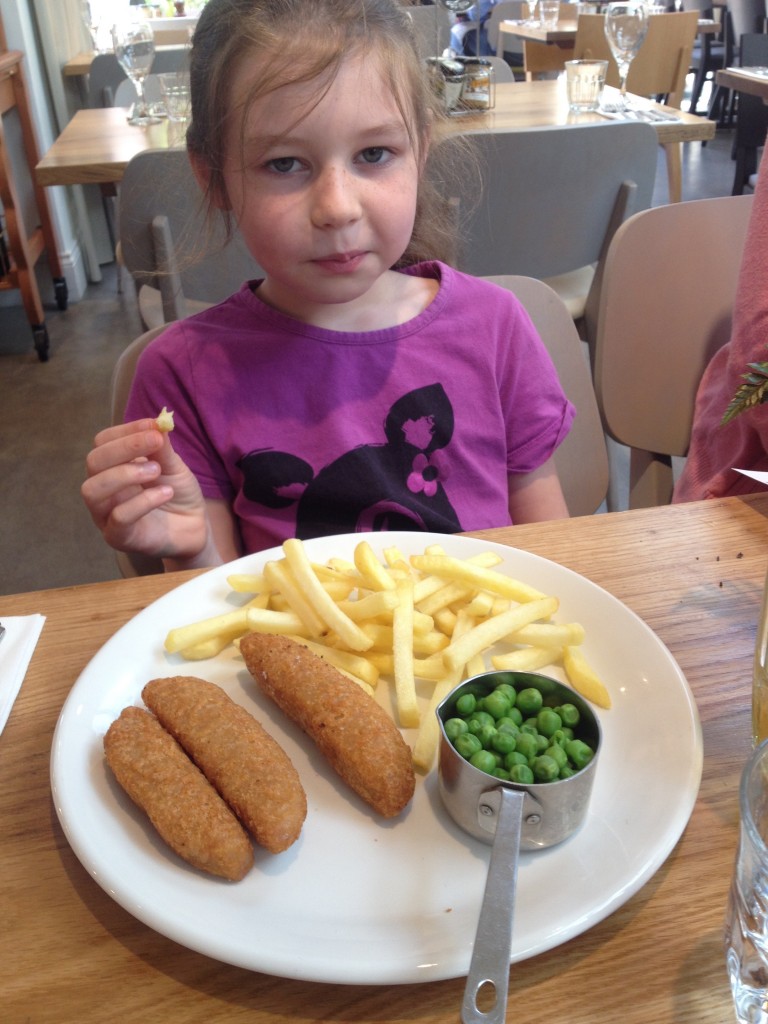 Children's portion of Cod Goujons, fries and peas. Perfectly cooked. It's worth mentioning that the staff were more than happy to oblige with the requests of a fussy eater as well. You want just sweetcorn on your pizza? No problem. You just want the Maltesers from your sundae, and no ice cream or cream? (Seriously). Consider it done! And it was all done very much free from judgement too, which obviously makes all the difference!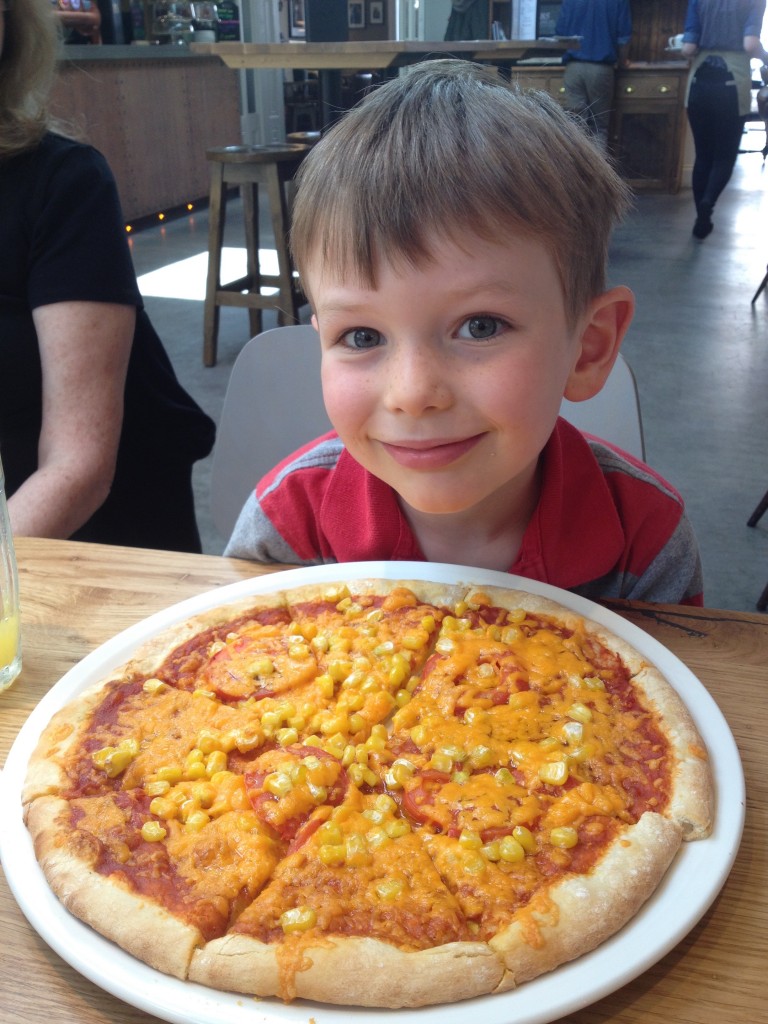 A truly massive, and greatly enjoyed child's pizza (with extra sweetcorn)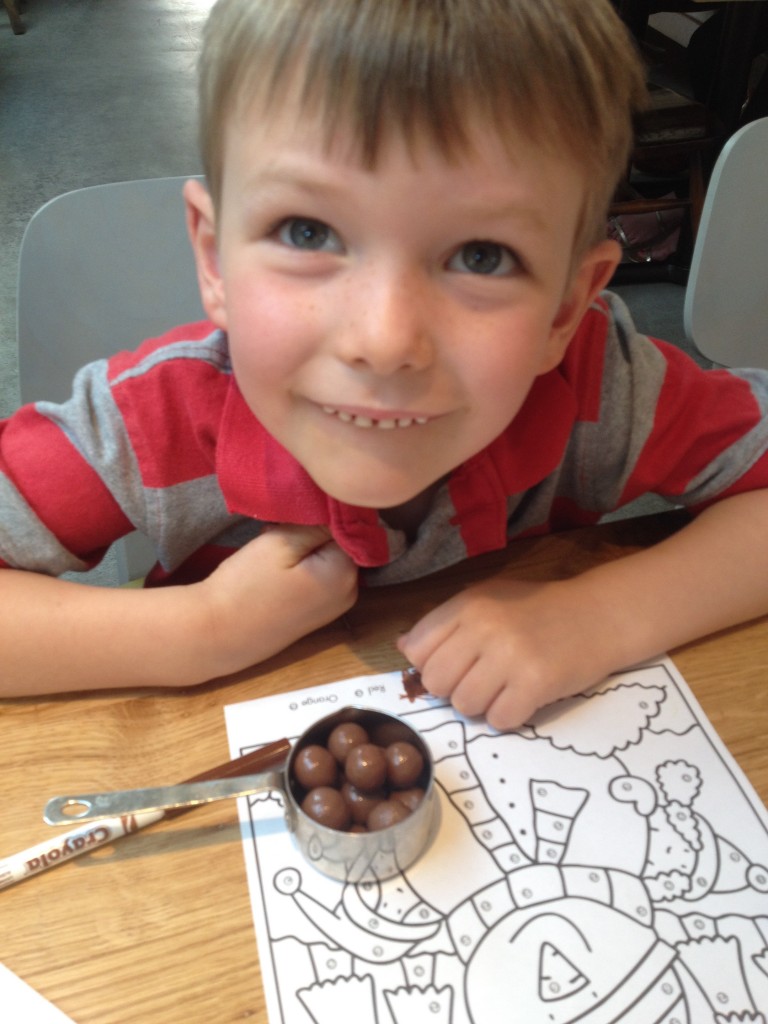 Yep, that's an chocolate ice cream sundae without the chocolate ice cream or the sundae. Just a pot of Maltesers :-) The venue itself is immaculately presented: tastefully decorated, clean and hygienic, and there is also ample outside space to the rear with a large beer garden with picnic tables, should you need to stretch some little legs.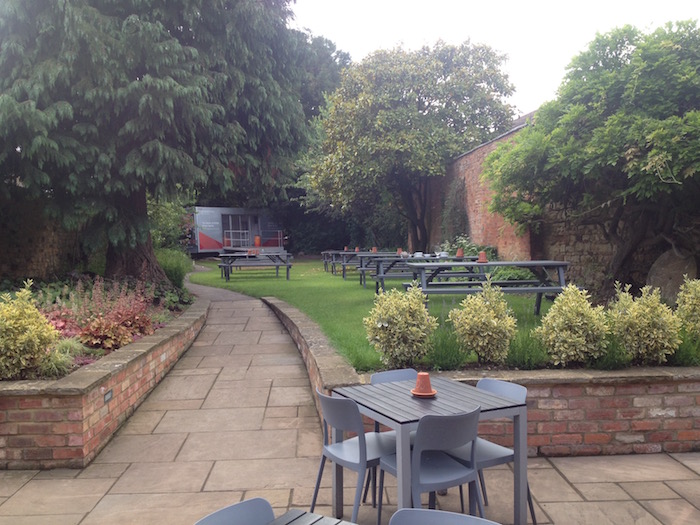 Garden to the rear of 185 Watling St I would certainly say 185 Watling St is family-friendly. They haven't gone as overboard as some places will to provide entertainment and distractions for little ones but the colouring in on the children's menu and the interactions from staff turned out to be all our children needed to stay entertained. The food came quickly (but not rushed), so we we never entered the 'bored child zone'. We felt welcomed by the warm staff and the children all commented on how much they liked the waitresses because they talked to them and were 'kind'. Our 8 year old even wrote an impromptu 'card' to say thank you and express her feelings about the food and service!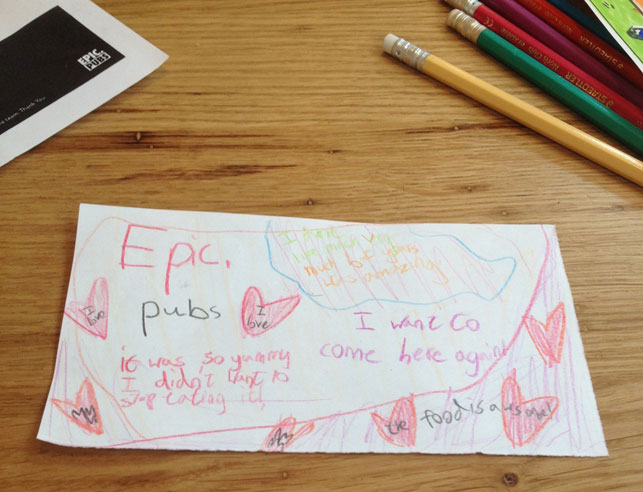 The thank you note our eldest felt moved to write for the staff at 185 Watling St. So, 185 Watling St Pub and Kitchen – you get two enthusiastic thumbs up! Thank you for a delightful treat. We will be back.
---
  185 Watling St Pub and Kitchen is at 185 Watling Street, Towcester, NN12 6BX Tel: 01327 317177 Web: http://185watlingstreet.com/ Written by Tim Freed, Editor of Toddle About Magazine. We were invited to visit the restaurant to write this review.