Read More Reviews
Review: Build Your Own Magnificent Microscope
Product Info
Build Your Own Magnificent Microscope: Discover the wonders of nature with eco-friendly microscope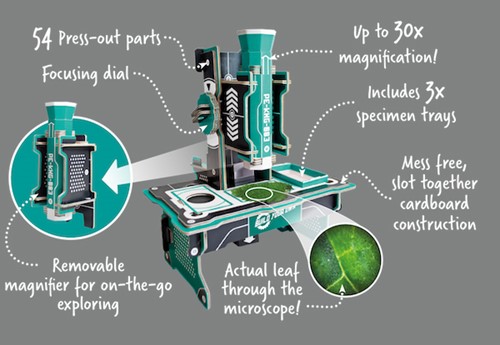 Build Your Own's new, eco-friendly cardboard Microscope kit is perfect for kids who love to get outside and explore nature. This fully functioning microscope is easy to assemble using slot together techniques – there's no glue, no mess, no fuss.
Everything you need is provided in the kit - simply follow the instructions: press out the pre-cut parts, add the lenses and mirror to create an impressive, portable microscope. Awesome for examining garden mini-beasts, leaves, feathers and more – you'll be amazed at what you can see with the 30x magnification.
The Build Your Own Microscope encourages kids to immerse themselves in the fun world of science and exploration. Popular with parents too, this innovative, STEM-inspired kit reduces screen time, and brings families together to create rich memories.
RRP: £16.99
The Build Your Own Microscope is suitable for ages 8 to 100
Available from www.buildyourownkits.com
Our Review
We thought the build your own microscope kit was fantastic! I wasn't sure about the fact that it was made from cardboard, and I was sceptical that a home-made microscope with tiny lenses would actually work. But oh my gosh! It really does work. Better than a proper microscope that we previously bought in fact!

I built this with our 10-year-old son William, and it was a lot of fun to do together. It didn't take too long – perhaps half an hour or 40 minutes. So perfect for a younger child is shorter attention span. It was a really enjoyable activity to do, and it allowed us to explore how a microscope actually works, which is pretty cool.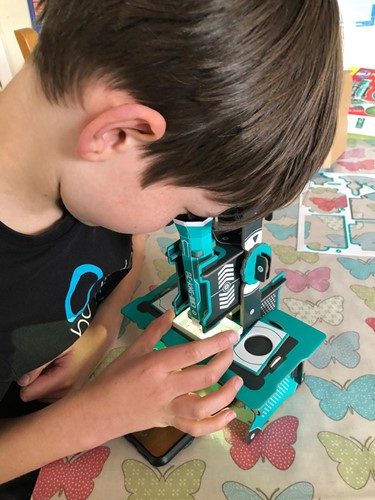 Looking through the finished microscope

The cardboard pieces are sturdily made, but you do have to be careful when slotting in some of the bits so that they don't bend. We managed just fine, but I would recommend active parent participation to make sure it is built without being damaged. Unless your child is careful of course!

There is no glue needed to construct the microscope, all the bits just fit together perfectly.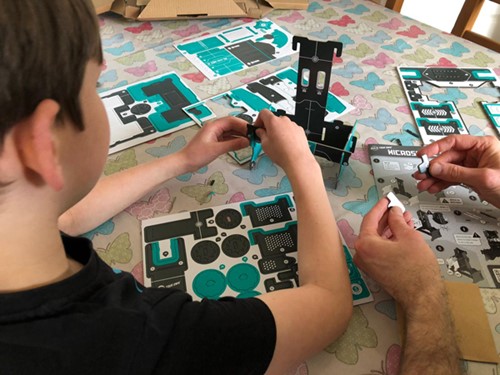 The pieces all popped out easily and were satisfyingly sturdy when fitting them all together, despite being made from (thick) cardboard.
I loved the discussion that happened alongside building the microscope - for example, the kit prompted us to explore how light refracts through a lens in order to magnify what we can see. It was a great example of making learning fun.

A torch of some sort is needed in order to light specimens from below so you can see things through the microscope, but the microscope is handily designed so that you can use a phone torch for this.
As soon as it was constructed, we looked closely at some ground pepper corns, and also a thin sheet of onion skin. You can see the pictures here.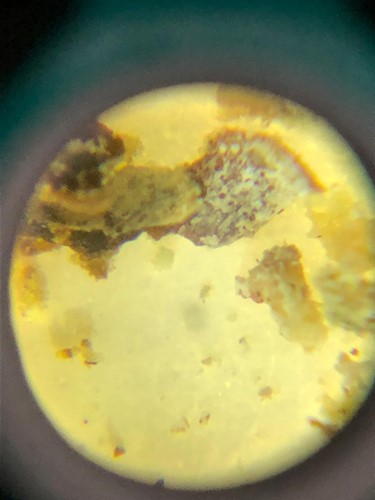 A ground peppercorn up close, as seen through the microscope

They were amazingly clear to see - we could even make out the individual cells in the onionskin. Using the focus wheel, and the option to increase the distance between the lenses you could get a clear picture and you could also zoom in and out. Weirdly, I've often had trouble looking through proper microscopes - not so with this one! It was really clear and easy to use.
In short, this is a fun and educational kit that provides learning opportunities whilst making the microscope, and also afterwards when using it too. It's priced well and would make a great activity for any inquisitive, hands-on learner.
The finished microscope, lit from underneath by a phone