Read More Reviews
Audiobook Review: Flamingo Fashion by Samantha Hunter worth £3.23
Audiobook reviewed by Pia Howe at Toddle About Suffolk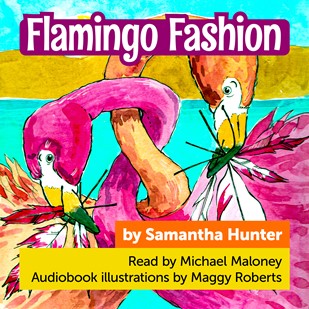 The Story:
Freddie and Fifi are two fashionista flamingos who decide to open a fashion boutique and style other animals on the African savanna in fluffy pink feathers. The outfits they create have silly results and calamitous outcomes, teaching the valuable lesson that we are perfect, just the way we are!
"A caper of a story that encourages creative self-expression and promotes the invaluable message that we are perfect exactly as we are."
Review:
This was our first audiobook review and I wasn't quite sure what to expect as this was a new experience for my 5 year old son. So I initially listened to it as a bedtime story with my 5 and 9 year old (who didn't want to miss out). Unfortunately my 5 year old son lost interest as there weren't any pictures to look at. Given that this was his first audiobook experience, I didn't expect him to have a long attention span. So we decided to give it another go the next day and he really enjoyed listening to the funny voices of all the different characters then.
Although the book is aimed at 3-6 year olds, I spent a good few minutes after listening to the story, talking to my 9 year old about why we shouldn't change to fit in and that we are all perfect - just the way we are! There is an important message here and valuable lesson to be learnt that my 9 year old understood. 
Both of my sons enjoyed the rhymes and we did have a giggle listening to the funny voices, especially the dancing giraffe. I really like the descriptive language the author has used. I would definitely recommend this story to any parent and being used at school.
Available on Kindle and Audible, the audio version is narrated by actor Michael Maloney.
About the Author: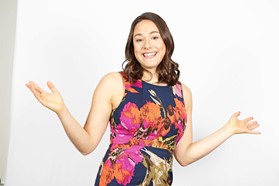 Sam Hunter is a full-time mum, podcast host and entrepreneur. She started writing after the birth of her son in 2017 and self-published her first book - Flamingo Fashion - at the end of 2020.
Sam wrote creatively as a young girl on her weekends and during visits to her mum's office in the summer holidays. All of her writing was about animals and it is no wonder that her first book is a children's story set in an animal's world!
Her first book, a middle grade novel called Freddie's Fantastic Adventures, was inspired by a children's t-shirt with a flamingo on the front and while out walking a few years later, the idea for Flamingo Fashion popped into her head!
Sam is passionate about developing both children's and adult's creativity and her writing is designed to inspire imaginations in a fun and playful way. Proceeds from the book are going to the LitWorld charity, who work to develop children's creative confidence and literacy skills, through the power of storytelling.
Sam lives with her son, daughter and husband in Hertfordshire, England.