More Parenting Articles
Yummy Savoury Muffin Recipe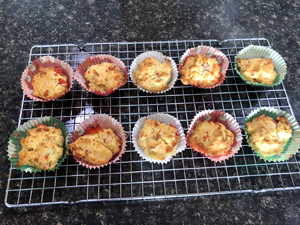 Recipe provided by Gemma of Crafty Cooks, Oxford. These great muffins are so versatile to make with whatever filling you fancy!  From Ham and Cheese to Pepper, sweet-corn and tomatoes, the possibilities are endless! SERVES: Makes 6 Muffins, TOTAL TIME: 25 Minutes, AGE: 12 months+ Ingredients:
6oz/168g SR Flour
2oz/56g Butter
1 Egg
60ml Milk
Choice of fillings eg pepper, corn, ham, cheese, tomatoes.
Method:
1 – Sieve the flour in to the mixing bowl and add a small handful of your chosen filling 2 – A Grown up needs to melt the butter for you and let it cool slightly 3 – Stir in the butter, milk and eggs 4 – Spoon the mixture in to cupcake cases 5 – Bake in a pre-heated oven at 190°c/375°F/GM5 for 12-15 mins. Our Top Tip: Swap out ingredients to include your child's favourite flavours!
---

Crafty Cooks, Oxford run after school classes, weekend classes and toddler classes every week. For me information please call 07478 848744 or visit our website www.craftycooks.co.uk/classes/oxford/ or Facebook page www.facebook.com/craftycooksoxford/