Go Back
Wonderful Ways to Help Move Your Toddler
Big changes are part of every toddler's life – whether it's trying new foods, going new places, meeting new people and of course, growing up fast! One of the biggest transitions any child has to go through is moving into a new bedroom. If your child is around 18 months, you might be thinking about moving them into their own bedroom space and giving them their first taste of independence.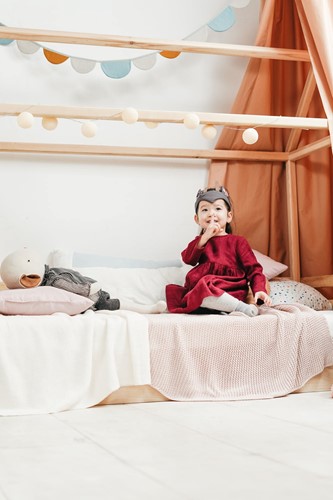 While this can feel incredibly overwhelming for parents and little ones, it's important to remember that every child is different and you'll know what's best for your little one and when the time is right for them to transition to a new bedroom. However, if you think your child is ready, you're in the right place. In this post, we'll explore some wonderful ways you can help move your toddler into a new bedroom! Read on to find out more.
Choose A Great Bed
Choosing your toddlers first bed can feel a little daunting, and with so many options it can be difficult to know where to start. However, take some time to think about what you think your child might like. Perhaps they might benefit from a daybed style, or a fun tepee design or something practical and traditional. Many toddler beds also have storage solutions underneath them – the perfect place to start storing their clothes or their toys! Choosing a bed is a big deal, so why not let your little one join in on the excitement? By letting them have a look at some prospective beds, they too can get excited about the change and they'll find the transition a little less overwhelming.
Show Some Enthusiasm
If you're nervous or sad about your child moving into their own room, then your little one will pick up on these emotions and they'll feel anxious about the change. By showing your enthusiasm and sharing excitement about them moving into their "big boy/girl room" they'll be much happier about the switch. Talk about how much room they'll have to play, where they could put their toys and how much fun they're going to have!
Make It Gradual
If you have another baby on the way, and your child needs to move rooms to make space for the new arrival, then it's important not to rush the transition. Suddenly banishing your little one from their crib and putting a new baby in there, could make them feel like they're being banished or replaced. This could lead to all kinds of issues and cause emotional distress! If you have a little one on the way, make the transition gradual but ensure it's complete before the baby arrives. This will prevent feelings of jealousy or upset.
Keep Their Routine The Same
Toddlers thrive on routine, so keep their bedtime routine identical to how it was before, despite their new bedroom change. This will help them feel in control and know what to expect.
Final Thoughts…
Is your little one ready to move to a new room? Consider the points above to make the transition easier.