Go Back
Wardrobe Ideas to Stay Comfortable after having a Baby
Having a baby is one of the best feelings for any parent, especially the mother. However, at the same time, you would want clothes that feel the most comfortable at all times and there are specially designed clothes for that.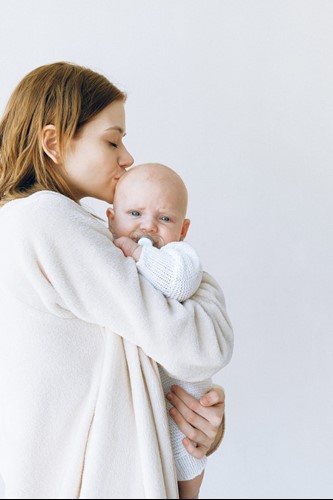 That is because, after postpartum, your body will most likely evolve every day. For instance, one day, you will find your body shrinking, and another day, you will shed a lot of water. 
Depending on what kind of clothes you prefer, you can choose from a seamless sports bra, a nightie, or a robe. 
Don't worry, these are not the only wardrobe ideas we will discuss today. There is more to explore. Read on. 
1. Nursing Bra
As the blood flow increases and your breast milk kicks in, your breasts will likely become large, hard, and sore. This is why you need a bra that is soft and supportive. And that's where a nursing bra can help. It is soft and designed to help you milk feed your child anytime. 
Now there are various types of nursing bras, allowing you to choose the design you love. 
2. Postpartum Underwear
While this doesn't seem so obvious, you will thank yourself for getting this. They are disposable panties that most hospitals give you for free after the delivery. 
You should swear by disposable underwear because you will lose a lot of blood and mucus for up to six weeks after delivery. Therefore, you'll need large panties that can comfortably hold maternity pads. And irrespective of whether you had a c-section or vaginal birth, these panties can come in handy. 
3. Comfy Lounge Pants
Who doesn't love cozying up with the most comfortable pants? These lounge pants are perfect when you are at home on maternity leave. You can buy multiple pairs so when one is in the washing, you can wear another. The best part is that they aren't expensive. You can get ones as low as £20. 
4. Leggings
When buying post maternity clothes, you should be investing as much as possible in stretchable clothes. And what's better than leggings? You can purchase leggings with a low, elastic waist as they're more comfortable and can be worn even when going out. You can wear leggings with loose t-shirts or nursing tops to complete your comfy yet elegant look. 
5. Easy-access sweaters
If you had a baby during winter, you will need clothes that keep you warm and comfortable. And the best one is an oversized sweater as they're more comfortable and provide an easy option for breastfeeding. 
You can also consider choosing v-shape sweaters to further make the breastfeeding process easier. Wrap sweaters are yet another great option as they're comfortable yet give you a great look. 
6. Lightweight Pyjamas
If you're not a big fan of lounge pants or want something alternative and lightweight, pyjamas are a great option. You can choose three-quarter pyjama pants that are flexible and ensure smooth movement. Plus, they're ultra-soft, making it easier for you to wear them throughout the day or even at night. 
7. Draped Cardigan
When you want to create an illusion of a slimmed-down frame, nothing can beat a draped cardigan. Moreover, they are perfect when worn over nighties, nursing tees, or even sports bras. A well draped cardigan will also help you fight the cold weather. 
8. A Robe
Last but not least, a robe is one of the best postpartum clothes, especially when you find restrictive clothes irritating. In fact, they can be the best option when you're spending time at home or when you have unexpected visitors. They can also be used when you're feeling a little cold.  
Conclusion
Filling your wardrobe with the right clothes is vital, especially after you have had the baby. That's because it will keep you more comfortable and prevent uneasiness. Make sure to choose the ones mentioned above. And don't forget to purchase a seamless sports bra that you can wear all the time at home.