Go Back
Shop About Summer 2016: Unique and Fun Products for little ones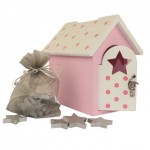 Reward Boxes - £35
Beautifully hand crafted reward boxes with silver wooden stars to be presented to your little one for good behaviour (as little or as often as that may be!). These stunning boxes would also make a lovely new born or christening gift which will definitely come in handy a year or two down the line! www.thislittlepiggyonline.co.uk  
Twinkle Baby Monitoring System - £99
  More than a monitor, Twinkle is a next generation baby monitoring system that enables parents to not just see and hear the baby, but also keep track of feedings, sleep and nappy changes, keep track of the child's growth and developmental milestones, and see, for example, how the growth correlates with the WHO growth charts. What's more, virtual visiting hours can also be granted to those eager grandparents who just can't visit enough. www.onnicare.com  
SwimFin Swimming Aid - £21.99
The SwimFin works in harmony with the body because it's worn on the back, providing total freedom around the arms, allowing for a natural swimming position. SwimFin is the only aid to ever have been endorsed by the ASA and works across all 4 swim strokes. Is super safe and highly visible, coming in a choice of 8 fintastic colours! Buy from: www.swimfin.co.uk  
Personalised Gifts - from £20
Little Art Works create beautiful handmade bespoke gifts, which can be personalised to make the ultimate tailor made present for someone special.  Or celebrate and mark an event such as a wedding, christening, anniversary or birth. Other personalised products are available.  Look on our facebook page: https://www.facebook.com/Little-Art-Works-770072629757933/ message us here or littleartworks@hotmail.com  for further information.  
Period Costumes - from £9.99
Looking Glass Theatre's The Works Theatrical & Fancy Dress have a new fabulous range of children's period costumes in stock from Egyptians to the 1950s. Perfect for school events, parties and role play. 157 Adnitt Road, Northampton.  Tel: 01604 472020 - www.itstheworks.co.uk  
Luxury Personalised Silver Keepsakes - from £13
Impressions to Keep handcrafted luxury silver jeweller used the hand, foot and fingerprints of your loved ones. You can even capture your pet's paw print, or use a child's drawing or handwriting to create precious jewellery. There is also a brilliant range of personalised silver-plated cutlery and gifts, your message hand stamped onto each piece. Perfect gifts for all occasions. Spoons start from £13, charms from £38 inc. P&P. Buy from www.impressionstokeep.co.uk  
Mini Melissa Shoes - from £45.99
Super stylish and comfy, these designer jelly shoes are made from bubblegum-scented plastic so feet will smell good as well as looking good. Complete with Velcro straps to make it easier to get them on, they are perfect 'mini me' versions of mum's melissas. Buy from Shoeting Stars, 1B Russell Street, Woburn Sands, Bucks, MK17 8NU - www.shoetingstars.co.uk  
Acosy Bumpers - from £9.99
Acosy Bumpers stop little ones going bump in the night.  A simple way to prevent your child from rolling out, the nursery grade foam is designed and made in the UK and will give you and your little one the reassurance needed when sleeping in a 'big bed'.  Secure in place by a fitted bottom sheet, they provide a safe and soft alternative to hard, uncompromising bed rails. Available in two sizes from www.acosybumpers.co.uk from just £9.99.  
 Ask The Midwife App - £1.99 per ask
Qualified midwife advice is now just a click away for expectant mothers, 14 hours a day, 7 days a week. Ask The Midwife is an innovative, new mobile app on iOS for all women who are accessing Maternity Care in the UK. Download the app for free and ask any questions regarding pregnancy, birth and beyond and get a fast response from a UK Registered Midwife (within 4 hours max). First question is free. www.askthemidwife.co.uk  
Reusable Swim Nappies – from £8.95
Why take a whole pack of disposable swim nappies on holiday when you just need one reusable one! Simply rinse under water after use. Save ££'s. 
UPF 50+ Sun Suits - £12.95
Help ensure your little one is protected from the sun with these sun safe suits offering UPF 50+ protection.  They also help keep babies warmer in the water so perfect for swimming. Pop in to see our full collection of baby/toddler swimwear and sun suits. Both available to buy in store at 41 Russell Street, Leamington or online at www.thecottonnappycompany.co.uk - 01926 430000  
Strider 12 Sport Balance Bike - £80
  Brambles' Cycling Club (p.45) only use Strider balance bikes and Strider have launched their new 2016 Sport model. As well as being lightweight and fully adjustable, it now has a refined performance moulded padded seat and two seat posts, enabling seat height to range from 27cm to 48cm. Buy from CSW Active, email: cswactive@gmail.com