Go Back
Turn your child into a confident learner
Guest blog post from Children's Funky Furniture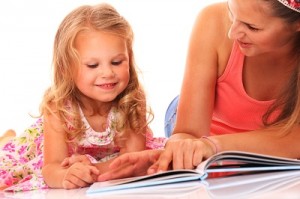 Reading with your child helps to develop a great learning environment in the home At Children's Funky Furniture, we make it our business to be knowledgeable about how children grow and develop so that we can offer you and your child the best possible products, service and support to help you in raising your child confidently. We have teamed up with Educational Consultant Dr Anastasia Pappa from Ostrakinda to assist you in your child's educational development in our two part series blog all about how to turn your child into a confident learner – simple activities you can do to make your child smarter. As your pre-school child grows, they will learn through play and this gives you lots of opportunities to engage with your child both in the playroom with toys and with outdoor play.
Practical ideas for Indoor play We can establish a great learning environment for our children at home. Some activities we can do are (this is not an exhaustive list):
Reading together
Play card and board games as a family
Do puzzles together
Help to Construct and make things between you and your child
Doing arts and crafts together
Make sure the activities are age appropriate and that you do them together. If the activities are too challenging, your child will quickly loose concentration. Remember that children develop differently and learn at a different pace. Try not to get too competitive. This may result in you rushing your child on when they are not ready. Practical ideas for outdoor play Outdoor play is excellent for providing learning opportunities and it has the additional benefits of giving your child a good physical work out which we all know will help them to sleep better at night. Try activities like:
Playing activity games. Either choose activities of your own choice e.g. football, softball or use an use an activity table like our Plum premium wooden octagonal activity table
Build a castle together on the beach or at home with our children's sandpits
Play team games where your child has to learn the rule of play and be a team player
Plant vegetables or flowers together
  Praise the effort that your child puts in to the activity Praise the effort that your child puts in to the activity and not the outcome. Help your child to understand the connection between trying hard (effort or practise) and the outcome.   Be careful not to label your child Be careful not to label your child. For example, "he is a boy and boys do not do puzzles" or "my child simply will not sit down like other children and listen to a story". In the latter case, maybe the child is not ready to sit down, so find a way of combining the story telling with actions that both you and your child can do whilst you recount the story. The time will come when your child is ready to sit down. Don't give up because it seems too hard, keep looking for activities that hold your child's attention and where you both can spend time talking about what you are doing together.  
---
  This blog has been shortened for Toddle About Magazine. If you would like to read the full version of this blog, please visit www.childrensfunkyfurniture.com/blog. Receive part two of our blog – How to help your child with their maths by signing up to our newsletter at www.childrensfunkyfurniture.com/newsletter . Dr Anastasia Pappa offers parenting workshops, one to one parental coaching and school class workshops. For more information please visit www.ostrakinda.co.uk.