More Parenting Articles
Travelling with Toddlers: How to make your family holidays and days out enjoyable (for everyone)
Written by Lorraine Thomas.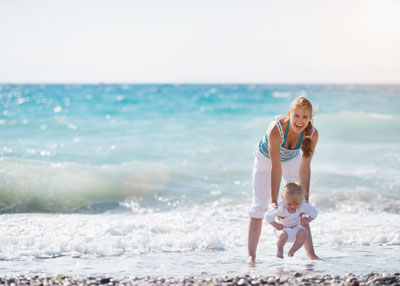 There's no such thing as the 'perfect' family holiday so be realistic about your expectations. We were on the beach at the weekend and I saw one stressed mum sink into the sand, looking as though she was going to need a holiday to recover from this one.  Her young son on the other hand was having a great time, running at top speed, shouting at full volume and sending sand flying in every direction. "Stop shouting and stand still - you're kicking sand everywhere!" she shouted. Her excited toddler carried on. My heart went out to her. We often have such great expectations that family holidays will be relaxing and full of fun. They can be – but they can also be really stressful times, especially with a toddler because they love routines, and unfamiliarity can bring challenging behaviour and tantrums. Mum's sand tantrum is a very common one.  But the reality is that if you are 3 or 4 and are on 'planet beach' – one of the most exciting planets you have ever encountered in your universe – then you will want to shout and let the world know.  You can't really understand why anyone would want to stop you doing what you are doing.  You're living in the moment and you love it. You may find his behaviour difficult because he is over-excited and you are unrealistic in your expectations.  You may have told him a dozen times not to run around and get sand over everything and you can't understand why he's refusing to do what he's told.  Step into his flip-flops.  If you were his age, let loose on a beach – you'd probably be doing exactly the same.  Instead of feeling frazzled by flying sand – get stuck in with a bucket and spade, take him to look for crabs or go for a paddle in the sea.
Top Tips for an Enjoyable Family Holiday
Enjoy An Imperfect Family Holiday!
Family life with a toddler is exciting – and demanding. And family breaks are no exception. There's no such thing as the 'perfect' family holiday so be realistic about your expectations. Recognise that spending a lot of time together in a confined space can bring pressure on all of you. Try to understand what may be causing her tantrums and you'll be better equipped to deal with them. If your toddler's behaviour is challenging at home, they'll bring that behaviour away with them and it may get worse. If they're fine at home, they may suddenly begin to have tantrums on holiday. This probably isn't because they're being deliberately difficult but because they love routine and familiarity. You want to get away from it all – but they want to pack it in their suitcase and take it with them. When your toddler feels overwhelmed by a new experience and change in routine, you'll notice it in their behaviour. They want reassurance. It's common for a toddler who has a good evening routine at home to revert to meltdown on holiday. You can understand why. They're away from the security of their own bed and timings may be different because of holiday mealtimes etc … So it's a good idea to keep as many of the key elements of their routine in place so that you do have time for a snuggle and story with them.  Make sure they've packed their favourite teddy and bring a night-light if there's room. Make sure they know you are close by. This will all help them to feel as secure and settled as possible. The frantic pace of daily life means that many families rarely sit down and eat together.  So when you're on holiday, make the most of special leisurely family mealtimes.  Your toddler may be a good eater or going through a picky phase.  Whichever it is, they may find strange foods hard to swallow. It's great to encourage your little one to try new tastes, but they may refuse because they really don't like it. Toddlers need time to get used to new tastes.  If they don't want to experiment, don't make them.  
Make Sure It Is Family-Friendly
Take all of this into account when you're thinking about where you want to go and choose a destination that will help you to feel relaxed. Successful holidays need careful planning. As a mum or dad, you have logistical skills that are second to none – and you'll definitely need these with your toddler in tow. Do your research and make sure that the day out or holiday you book really is going to be family-friendly.  Make a detailed list of key practical requirements you have.  Book a break that is safe and has some enclosed play areas so that your toddler can toddle without you feeling tense. Check out the sleeping and eating arrangements and book toddler-friendly equipment such as the cot or car seat that you need. A personal recommendation is always good and looking at online reviews can be helpful. You may want to consider a 'house swap'. Many families do this now and there are lots of good websites to help.  It's good value and if you swap with a family with children – at home or abroad – you'll have everything you need there.  
Create A Memory That Will Last Forever
Have fun together on holiday. Think 'I'm listening' rather than 'iPad'. Spend time, not money. It is as important for you to play as it is for your toddler.  When you get back, frame a good fun photo you've taken and put it somewhere very visible. It's a permanent reminder of what being a family is all about.  
10 Top Tips For A Stress-Free Day Out
Instead of taking off for the holidays, you may decide to use home as a base and plan some great days out instead. Wherever you are, here are some definite
dos
and
do nots
for you to consider for your day trips.
Do
Make your journey as stress-free as possible.  De-clutter your toddler-bag and take a light pushchair for your little one when she's tired
Do your research. Decide what you really want out of this day out and what facilities are essential.
Book anything you can in advance to make life easier when you get there.
Involve your toddler in setting a realistic good behaviour goal for the day.  Special stickers for this special day together will work well.
Build in regular physical exercise, water and healthy snacks throughout the day.
Don't
Don't rush around trying to pack in as much as you can.  Instead of feeling fraught, slow down and enjoy what you are doing more.
Don't feel you have to go it alone.  Plan days out with other parents. You all know the potential stresses and can support each other.
Don't be unrealistic.  Everything is new and exciting for your toddler and her energy and excitement levels will be high.
Don't ignore signs of boredom, tiredness or hunger in your toddler.  Look out for the tell-tale signs and act before they develop into a full-blown tantrum
Don't be afraid to say 'no'.  You will put yourself under time or financial pressure by saying 'yes' to everything so make good decisions and stick to them.
  ---------------------------------------------------------------------------------------------

Lorraine Thomas is on the Toddle About Panel of Experts. She is the Chief Executive of The Parent Coaching Academy and author of 'Brilliantly Behaved Toddler'.  She runs workshops for working parents with clients including Marks & Spencer, Morgan Stanley, Novartis and Barclays.  She is used as a parenting expert by Tesco.