Go Back
Top tips for moving house with small children
We all know that moving house is a Big Deal. It's right up there in the top 10 most stressful life events, alongside getting divorced and losing a loved one. And if it's a lot to deal with for an adult, imagine how a child may feel. Just because you are over the moon that your offer has been accepted, paving the way for a bigger family home, perhaps one with a garden and good schools nearby, it doesn't mean that your kids will look forward to the change with the same level of excitement. Who knows, they might even dread it.
If you're thinking of packing up your family home, it's important to consider the emotional impact of a house move on your kids and manage the process in a positive way for all concerned.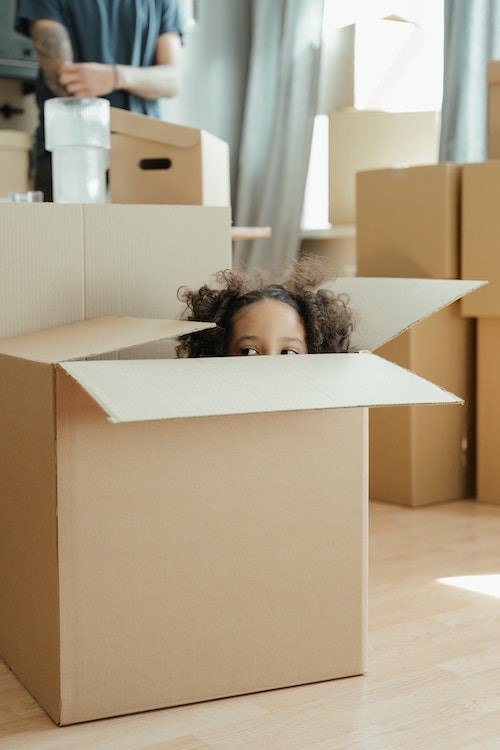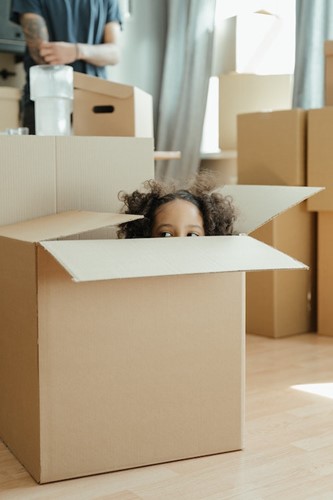 Before the move
Moving home is something that affects the whole family. It is only fair that everyone knows what's going on and can have a level of involvement. You may have spent weekends viewing potential properties while the little ones were with Grandma, but now that you have chosen a new home, you must tell the kids. They need to know that a big change is coming, and they need to feel that their feelings and concerns are being taken into account, so that they can make sense of the life changes in a good way.
Be open to answering any questions to help demystify the moving process and reduce feelings of anxiety, whether it's about leaving friends behind or starting a new school in a different location.

Explain the basics of what will be happening, so your little ones know what to expect – from packing things into boxes to removal men putting it all into a big lorry, saying goodbye to the empty house and unpacking everything in the new home.

Get the kids engaged and

involved in practical preparations

to make the house move feel more real – from packing and personalising some of their own boxes to looking at pictures of the new house and perhaps thinking about their new room décor.

Take the children to see the new house if possible, and check out local playgrounds and other facilities. Arrange a visit to a new school ahead of the move, so they can meet their new teacher and classmates and get familiar with the building.

While the whole house buying and moving process can be extremely stressful for the adults, it's important to frame it as an exciting adventure for the whole family, and something to look forward to.
 Oh, and one last but very important thing: Don't forget to make a point of saying goodbye to the old house. Whether you have some kind of leaving party, or you simply take a few moments to walk around the empty house en famille before you lock the door for the last time, some sort of ritual may be useful in helping to acknowledge how important this home has been for everyone.
On moving day
Finally, the big day has arrived. Many parents decide that the least stressful solution is to pack the kids off on a short holiday at Grandma's or get a friend to look after them, while they deal with the mechanics of the actual house move. If that is not an option and the children are staying with you on the day, you need to have a proper plan. Here are some practical ideas to consider:
With toys and games packed away in boxes, it's easy for little ones to get bored or restless. Keep them occupied with a 'special moving box' that you've put together in advance. Contents may include a favourite teddy or comfort blanket, books and colouring books, toys and a

portable games device

. You could splash out on a new toy to be brought out especially on moving day. All you need now is a designated quiet corner.

For the car journey, come prepared with favourite snacks and travel food, special plates and cups, and of course more toys, books and games to keep the little darlings occupied until you get there. DVDs or music are also a good idea, as is a repertoire of traditional travel games to play together including

age-old favourites

such as 'I Spy', 'Spot The Car' and 'I'm Going On A Picnic'.

Get the kids involved by giving them special responsibilities. Depending on their age and level of maturity, you could put them in charge of tasks such as holding the door open, delivering messages and running errands, making cups of tea, directing boxes to the right room etc. – anything to make them feel that they are playing an important part in the move.
After the move
It's a good idea to arrive at your new home before the removal vans get there to give your kids a chance to explore the house and get the first excitement out of the way. Once the removers arrive, it's action stations. Make sure that children's rooms are the first to be unpacked, so that your little ones can get settled in their new rooms sooner rather than later. When all the furniture is in place, unpack a few boxes together so they can sit in their room playing quietly.
Make time for a treat, particularly on the first day – after all, moving day is special! How about checking out the local takeaways or home delivery options and get a pizza? Perhaps play some board games if the TV isn't set up yet?

Plan your

first night in the new house

. Have the kids' beds made up and essential toys already unpacked. Settling your kids for the night in their new bedrooms should be a happy family experience

A new home may require new routines, but don't change everything all at once. Keep some of the familiar items and known routines to help your children settle in, and introduce new things gradually.
When you're feeling a little more on top of things, it's time to say hello to your new neighbours and their kids – it's never too early to make new friends. If the weather is nice, why not take your children to the local park or playground, or enrol them into a new club or activity. The sooner your kids are feeling at home in their new environment, the more you can be certain that the home move was a success, and life can carry on as normal.