Go Back
Toddlers Take Flight: 5 Fab Family Holiday Tips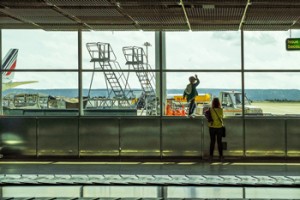 Once you've finished peeling your kids from the ceiling after too much festive excitement, there's often a collective comedown in the first weeks of the new year. But booking your family holiday for 2019 is one wonderful way to motivate your mob on those cold winter mornings and stimulate their spirits until spring has sprung. If you're taking flight with toddlers this year, you'll need to be on your toes — so here are five fab family holiday tips to organise an outstanding trip.
Family-friendly airports
Your choice of departure airports might be limited by your home location.
But if you're lucky enough to live in striking distance of a few air hubs, check out internationalairportreview.com to compare Britain's most family-friendly airports. With its punctual departure record and free security fast-track for under-fives, Birmingham is rated as best — but Jersey, Gatwick and Heathrow aren't far behind.
Family-friendly airlines
With so much competition, carriers are attempting to differentiate themselves from rivals by offering excellent experiences for family travellers — which is great news for anyone with a bustling brood. For instance, Emirates offers young flyers a cool kids kit containing a branded bag or lunchbox, colouring books and craft kits for activities like origami, while Quantas provides anti-skid socks on some flights. Ask your preferred airline what they offer youngsters — you might be surprised!
Family-friendly destinations
Picking a destination that's perfect for kids is the most important aspect of any trip — and it's worth taking your time to research before committing any cash. But if sun, sea and sand are prerequisites for your family having fun, onthebeach.co.uk has handily compiled a list that helps you choose family-friendly beach destinations. Their Family Beach Index for 2019 rates Crete as the top pick for criteria like temperature, entertainment and proximity to the UK, but there are plenty of options to choose from.
Cheap family flights
You might find bargain last-minute deals on package holidays if you've got the nerve to let your plans hang in the air for a few months — but if you're booking flights separately, being an early bird is the best bet. And although the web is awash with comparison sites, when you search low-cost flights on kayak.co.uk, you can filter according to your check-in baggage requirements, which generates more accurate results.
Convenient family airport parking
Whether you're heading off on your hols with babies, toddlers or teens, the journey from home to the airport can often be nerve-wracking. And while public transport links are improving, making this journey in your own car is sometimes the most chilled-out option — kids can be entertained in comfort as you rock to favourite tunes on the radio. Find family-focused UK airport parking at Looking4.com and, as well as grabbing affordable deals, you'll be confident that your car is safe and sound until you return. Follow these five fab family holiday tips and you and your toddlers will take flight for terrific trips in 2019