More Parenting Articles
Tips for Water Safety - Child Safety Week 2018
Written by Jo Wilson from Swim Works [caption id="attachment_2947" align="alignright" width="267"]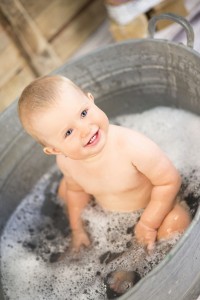 Shockingly, most babies that drown, drown at home in the bath or in the garden[/caption]
Did you know babies can drown in as little as 5cm of water? It's hard to believe when you think just how shallow that is, but this National Child Safety Week is the perfect time to think about how we can keep our little ones safe in and around water.
Most babies and small children who drown, drown at home in the bath or in the garden so not leaving babies alone in or near water, even for a moment, is best. Scarily, babies drown silently so you might not even hear any noise or struggle. It's such a horrible thing to even think about, but having it at the front of your mind will keep you more mindful of the dangers.
Here's a few quick tips from the Child Accident Prevention Trust, especially with summer coming up:
Always empty your paddling pool after use

If you're visiting friends, ask about ponds or water nearby and be alert

Explain to older children why they should never swim in rivers or canals

At the beach, teach older children to swim between the two-coloured red and yellow flags that mark the areas with lifeguards

And keep children off inflatables when an orange windsock's flying – the water might look calm but a wind blowing off the land can quickly sweep inflatables out to sea.
We want your children to love the water, but respect that it can be dangerous too. Visit https://rnli.org/safety for lots more information to help you and your family enjoy the water and stay safe!
---
Author's Note
Jo Wilson owns Swim Works, which offers the perfect environment to enjoy swimming… with a wide range of courses and programmes for all ages and abilities, from baby and pre-school to after-school and adult lessons. Build confidence, improve and perfect your technique, increase fitness and have fun along the way.
Their newly designed state-of-art centres in Rugby and Leamington Spa have been built with the end user in mind. The virtually chemical free swimming pools mean that the water is perfect for babies or anyone with delicate skin or allergies.
Attending Swim Works to learn water safety is such a great gift you can give to your child. They teach safety skills in every lesson.
Swim Works, Rugby, 01788 568503, High Street, Hillmorton, Rugby, CV21 4EE. info@swimworks.co.uk Swim Works, Leamington,  01926 426151, Queensway, Leamington Spa, CV31 3LU. hello-leamington@swimworks.co.uk