Go Back
As many of us will know, parties are a big deal to our children, and here we share our tips on how to me your child's party extra special!
Set Up Fun Carnival-like Snacks
Spruce up the tables with colourful candy, treats, and sweets. This sort of setting is definitely something your guests will like, plus it's an excellent method to save cash that would otherwise buy party bags. Some of the fun things kids love include slushies, cotton candy, candy cane, ice cream, and so on. And the best part about it is that you don't have to physically exert yourself. You can get machines for these stuff as you can hire a Slushie machine together with cotton candy machines and the like. The adults and attending kids will absolutely love it!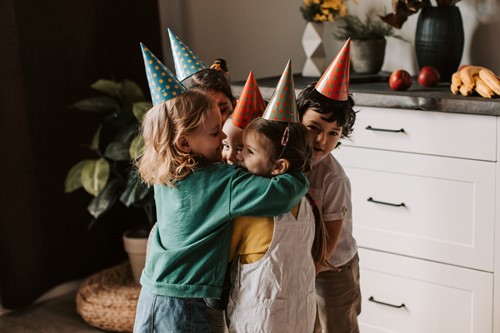 Get to Know the Guest List
What's the number of people coming? Who are in the inner circle of friends? Who doesn't S/he get along? These are integral questions you need to have answers to when coming up with a guest list since they will greatly determine how the party will turn out. You'll need to ensure that your kid's closest pals are there and having fun. In case the kids are too small, invite the parent(s) and set a different spot for them to hang out, socialize, and discuss their children, while keeping a watchful eye on them. 
Make Your Own Party Bags
It's not a must that you head over to the store to purchase party bags. It's actually more fun making them yourself. By doing so, you'll be saving money as well as getting the chance to tailor it to suit the age group of your child. For instance, if the birthday party is for little kids, putting toy cars or candy in the bags is ideal. Older kids may be receptive to a book, a DS console, or what you think they're into.
Get Creative with Decorations
Make sure that you know your child's favourite things and make sure to encapsulate them in the party decorations. When you know their current obsession, make sure to include them in every aspect of the party, from the cake to the theme of the entire party. This is definitely something the children will love and is an excellent method of exercising your creativity while saving on costs. For instance, you don't have to apply traditional decorations such as balloons – you can have their favourite character's pictures printed and used as decorations. We are a great source for novelty light up toys, light wands, swords and more.
Organize An Activity
When you host a birthday party for young kids, organizing activities is essential. Having an activity in place ensures that the children have something to anticipate as they get to the party. This makes sure that they are constantly engaged and entertained until it's the appropriate time for presents. What's more, having activities in place is a great conversation starter as everybody will have room to mingle and exchange stories. Some ideas include a clown or magician, dress-up station, treasure hunt, inflatable obstacle course or a craft station. There's really no wrong idea here; just ensure the activity is age-appropriate. 
Keep Them Entertained
And this is why having activities is so integral. Besides that, have some party tunes playing in the background to keep everybody at the party entertained. This is yet another way you can save cash since you don't need to hire a DJ. With a simple speaker, you can just put on music and let them dance around until they burn out, from there it's cake time!   
Young children are entertained by just about anything but it's integral that you talk over the party planning with your child so you have an idea of what their peers listen to, like, and what constitutes fun to them. Remember that the birthday party is for your child and everybody there has come specifically for them; so ensure the party has been tailored for them. 
Let Your Child Take the Lead
Children love to feel like they have an opinion and are listened to.  Allow them to make decisions on some aspects of their birthday party such as the menu, music or an activity. This way, your kid will feel like the centre of their party, which will make it extra special to them.