Go Back
Timber: The International Family Friendly Forest Festival
[caption id="attachment_2941" align="alignright" width="375"]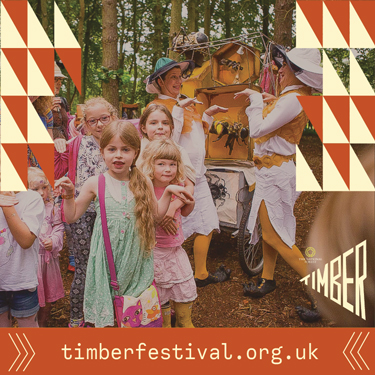 Timber is a not-for-profit festival with sustainability at its heart.[/caption] Timber Festival takes place in the hear of the National Forest from the  6th - 8th July 2018. Timber is an extraordinary, family friendly festival where music, art, theatre, storytelling, science and play will weave together into an exhilarating weekend in the heart of the National Forest, one of Britain's boldest environmental projects. Taking place over three days from 6-8 July 2018, it will be the only international forest festival in the UK. Experience the transformative impact of forests with artists, musicians, storytellers, theatrical performers and scientists from across the world. Explore what woodlands can mean to us and how we can re-imagine our relationship with our environment. Play and create in an arboreal wonderland, where the tonic of wildness rules supreme. Created by the National Forest Company and Wild Rumpus, award-winning producers of the Just So Festival, the experiences that Timber will offer, alongside early-bird tickets and boutique camping, have been announced ahead of a full programme release in early 2018. Family friendly programme highlights include:
SOUND - An ambitious adventure into sound and music, rooted in the forest. Join us across three stunning bespoke wooden stages (including the enchanting Eyrie Stage suspended between the trees) and around the campfire for the chance to see some of the most exciting new music live in an intimate woodland setting. Don't miss composer and sound-artist Jason Singh, whose work includes vocal recreations of birdsong and forestry environments, plus multi award-winning progressive brass band Perhaps Contraption, who will be performing an exuberant show. Musician, artist and filmmaker, Ichi from Japan will take the notion of a one-man band to new limits, and venture into the woods to be immersed in compelling sound installations, storytelling, soundscapes and DJ sets. LIGHT - Torchlight processions, light projections, fire gardens and luminous installations, will help us see the forest in a new light. Expect incredible performances as dusk falls each night, and discover the unexpected as into the night the forest will be transformed by spectacular installations. Take a journey into the heart of the forest at dusk in the English festival premiere of Tree and Wood, a new interactive performance exploring our relationship to trees and forests by leading artist and producer Jony Easterby, and explore all the sides of the moon in the greenfield festival premiere of Luke Jerram's Museum of the Moon – an incredible seven metre moon sculpture featuring detailed NASA imagery of the lunar surface and sound by BAFTA and Ivor Novello award winning composer Dan Jones. [caption id="attachment_2938" align="aligncenter" width="400"]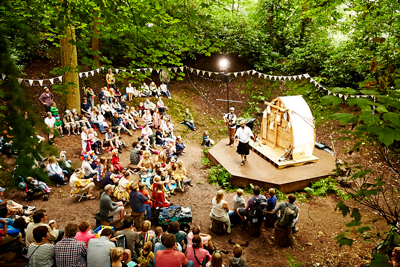 Across 3 stunning bespoke wooden stages and around a campfire will provide some of the most exciting new music live in an intimate woodland setting.[/caption] GATHER - Come together to celebrate, collaborate, collude and carouse in a world of arts, crafts and enterprise rooted in the forest, creating a vibrant living landscape. Experience Seek, Find, Speak: A Conjuring Told In Gold, the world premiere of the outdoor theatre companion to the enchanting, best-selling illustrated book of acrostic poems The Lost Words by Robert Macfarlane and Jackie Morris, a masked ball and thrilling aerial acrobatics in the trees, riveting storytelling inspired by British folk tales and world myths from Ian Douglas and mindbending science and magic from Dieter Wadeson. Take part in The Coppice Maze. - come and help to create a beautiful collaborative maze, then get yourself lost in it. Hop aboard our vintage library bus, take part in tree climbing, slacklining, leaf art and mask making workshops. Create your own unique woodland playground using pallets and tyres, ladders and ropes, and help us put together a myriad of walkways, dens and secret spaces. Take part in huge adventures at The Bewonderment Machine, a magical cycle-powered ride-on carousel and miniature theatrical flight of the imagination from A Bird In The Hand Theatre. Cuddle up for some favourite forest films when the night falls including Moonrise Kingdom, Into the Woods, Hunt for the Wilderpeople and Princess Monokoke. Keep and eye out for the Forest Monsters - don't worry, they're friendly! A fantastical installation of woodland-dwelling beasts and creatures imagined by pupils from schools within the National Forest, and have some buzzing adventures with Beekeeping experiences with The Bee Farmer and  interactive theatre show Bee Cart from Sheffield's Pif Paf Theatre. TIME - Explore the atmosphere in the woods at twilight, midnight, dusk and dawn to delight in the rhythms of the day, and join in singing the dawn chorus, running through the gloaming, and revelling at secret midnight gigs. Don't miss making clay sculptures inspired by artist David Nash's Noon Columns, and take part in a visual art installation marking the passing of time. [caption id="attachment_2940" align="aligncenter" width="400"]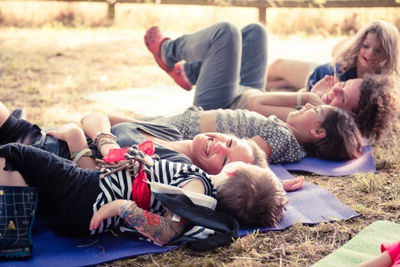 Have some laughs whilst you loosen up at family yoga, tai chi and capoeira practice[/caption] BREATHE - Loosen up, laugh, bend and stretch with the whole family with yoga, tai chi and capoeira practice. Take part in natural wellbeing therapy Forest Bathing and Sarah Spencer's Think Like a Tree programme which unlocks nature's secrets to resilience and happiness and don'r miss the Murmuration installation, an incredible flock of starlings above your heads, accompanied by a beautiful soundscape and transformed by light as night falls. FEAST - A joyous exploration of food and drink, from farmers' market stalls to food trucks, foraging workshops to picnics and banquets, contemplate and consume some fantastic fodder. Look out for incredible performance along culinary lines, foraging walks and chefs creating exciting menus from our hedgerows and woodlands.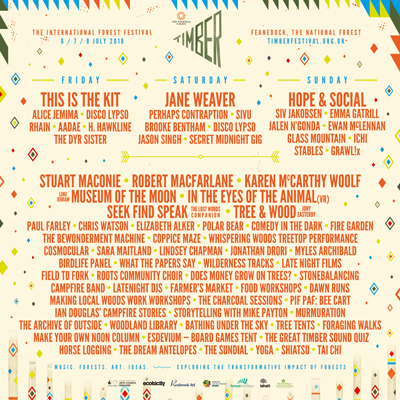 Timber is a not-for-profit festival with sustainability at its heart. Aiming to be powered by 100% renewable energy and carbon neutral, Timber will partner with other international forest festivals to share knowledge and innovations taking place in forests and transforming lives across the world. Timber is a new annual camping festival located at Feanedock, a 70 acre woodland site at the heart of the National Forest. Embracing 200 square miles of the Midlands, the National Forest is the first forest to be created in England for over 1000 years. Spanning parts of Derbyshire, Leicestershire and Staffordshire, the first trees in the National Forest were planted over 25 years ago, to transform a landscape that had been left scarred and derelict by the closure of the Midlands coalfield.  The whole Forest area spans rolling hills and farmland, towns, villages and industrial hubs, as well as the former coalfield, all framed by woodland: over eight and a half million trees have been planted since the early 1990s.  The National Forest is a forest for the nation, a national asset that demonstrates a revolutionary approach to forestry, showing how well-designed woodlands can enrich the lives of people, businesses and wildlife, while helping to address climate change.
---
For information and tickets visit timberfestival.org.uk Follow news of Timber at:   Facebook: TimberFestivalUK Instagram: @timberfestival Twitter: @timber_festival