Go Back
The Story Behind the Whizzer
Written by Zoe Chapman, founder and CEO of Kiddiwhizz.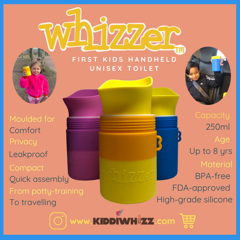 Potty training for any parent is a daunting milestone that involves a lot of anticipation, research, confusion and usually ends with a trial and error method based on recommendations.

We are lucky to be living in an era where we have access to a whole host of tips and advice as our fingertips, however that can sometimes be overwhelming because it's not a one-size-fits-all process.

At the time of potty training my son, I was an extremely stressed out single mum that was juggling life entirely on my own alongside nursing my terminally ill Father. It meant life was unpredictable and I was always on-the-go which didn't bode well for an intensive potty training plan.

I followed the online tips and brought the big bulky potties and a portable seat like everyone else, but it was not convenient enough when on the go.

What I found more useful was carrying around an empty coffee cup which I could place over my sons private area to ensure no sprays or wet clothes whilst he peed. It also prevented the embarrassing wee trails that were frowned upon by passersby or left us hopping out the way to avoid them. I'd do this behind trees, in the car, at the zoo, anywhere and everywhere. That's when I first came up with the idea of the Whizzer.

It took 6 years to navigate some pretty hard years whilst still holding on to the hope that I would one day bring my invention to life and see it on the shelves of Boots.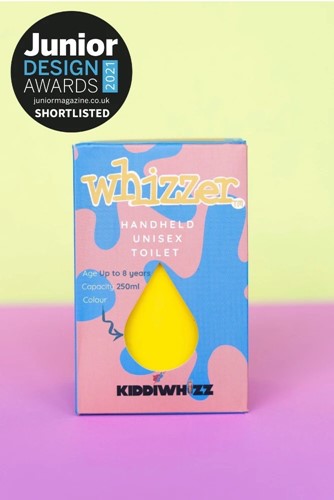 Lockdown was when it all came together. Whilst recovering from emergency spinal surgery, I was determined to make sure the pandemic was not going to be all doom and gloom for us.

Whilst still entirely alone and homeschooling my now 8-year-old son, I started my company Kiddiwhizz. I found a manufacturer for my design and worked day and night for the next 6 months, taking on every role from designing my website, packaging and branding to patent law, marketing and production to reach the launch date.

In only 2 months since sending the first Whizzers out to customers, they have already helped parents potty train quicker and more effectively, provided a compact on-the-go solution for all aged kids and even helped diagnose urine infections and support kids with sensory disorders.

The uses for the Whizzer are endless from long car journeys to beach days and theme park queues. I'm so grateful for the support of Lou and the Toddle About team who are ensuring you get to hear about the Whizzer first!

For more information on the Whizzer and all the added extras it comes with head to our listing or the Kiddiwhizz website and as a Reader and Follower of Toddle About, you can bag yourself 10% Off by using discount code TODDLE10 at the checkout.