Go Back
The Fertility Show: London, 5th & 6th November 2016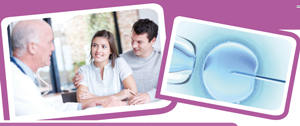 The Fertility Show is the UK's largest and most established fertility event, with the show entering its eighth year. 1 in 6 couples in the UK struggle with infertility problems, so finding trustworthy advice is essential for taking the next steps in their fertility journey. Each year, The Fertility Show brings together leading fertility specialists from the UK and internationally, in one place at one time, making it an invaluable educational and informative resource for prospective parents-to-be.  This year the show will once again be taking place at Olympia, London on 5th & 6Th November and offers a huge range of seminars and exhibitors to allow you to learn about your own fertility journey. The show takes place during National Fertility Awareness Week (31st October-6th November 2016).
Seminar and Q&A's over the two days are set to explore a range of issues and areas in fertility, ranging from:
Stress and its impact on fertility: Professor Jacky Boivin, Professor of Health Psychology at Cardiff University and Lead Researcher at Cardiff Fertility Studies.
Improving the odds of IVF working for you: Mr Yacoub Khalaf, Medical Director, Guy's & St Thomas' NHS.
What men need to know about their fertility: Professor Allan Pacey, Professor of Andrology at University of Sheffield.
A sensitive discussion on issues for families created with donors: Olivia Montuschi, Donor Conception Network.
How to keep the costs down: Dr John Parsons, The Assisted Conception Unit (ACU) at King's College Hospital.
Tickets are now on sale for the Fertility Show London: Tickets for the two-day event are priced at £12 (£15 on the door) for each day or £20 for a 2-day ticket with seminar tickets £3. Please see www.fertilityshow.co.uk
---
For the first time this year a second show has been announced, taking place in Manchester on 25th & 26th March. Visitors to the Manchester show will experience the same educational atmosphere with unparalleled access to the best minds in fertility.