Go Back
Fed Up Of The Daily Fight To Get Your Child Dressed? These proven techniques will help
By Lorraine Thomas, Parenting Expert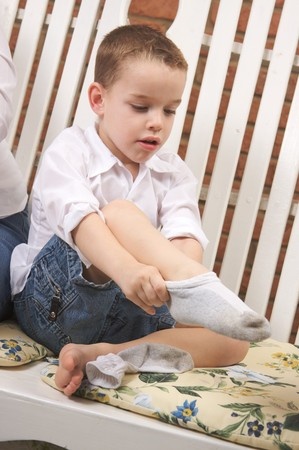 It's easy to get into a battle with your child over getting dressed. Fortunately there are a few simple techniques you can use to make this trying time less stressful. You may think that in this freezing weather everyone would want to wrap up as warmly as possible.
But if you have a toddler, you'll know that once they start learning how to dress themselves – at around two years – there will be times when your little one stubbornly refuses to put on her clothes. Not only that, she may well want to go out in the pouring rain in her shorts and t-shirt … regardless of the temperature! It can be really frustrating for you as a parent – so here are some tips to help you avoid wardrobe wars  
Avoid the Morning Rush Hour
If your toddler knows you want her to get dressed as quickly as possible, that's usually the time she'll take as long as she can. She wants you to know that she has a say in what's going on in her life – and this is a great way to demonstrate it.
It's also a fact of life that toddlers don't like change. You can understand why. Your daughter is quite comfortable in her pjs so why would she want to get out of them? So try to give yourself time rather than rushing towards a deadline. Wake her up a little earlier so that you both have as much time as possible and you can enjoy her dressing routine – not dread it.
Her concept of time is different from yours. You may think that 10 minutes will give her lots of time to get dressed. But it doesn't. You've had years of practice, she'll take much longer than you think even when she's trying her hardest. Her fingers are enthusiastic – but can act like sausages on the end of her hands. Be realistic about what she can achieve and give her lots of praise when she does.
Fun Not Frantic
You may just want to get it done, but your toddler will enjoy spending dressing time having fun with you. The more enjoyable it is for her, the easier it will be for you. Save struggles in the morning by helping her lay out her outfit the night before. Let her be involved in choosing what she's going to wear.
Keep this simple and the choices limited to two.
Make life easy by giving her a choice of jumper or T-shirt and you choose the rest. If you have the time, you can make this fun by drawing around her on a large piece of paper or card so that she has a life-size model of herself. Each evening, she can lay her clothes out on the cut-out so it's all ready for the morning.   Once you've finished with her life-size doll, you can pop it out of the way until you need it again. Another way to help her would be to lay the clothes out on her bed – from left to right - in the order she needs to put them on.  
It's not essential, but it will help and having a system like this will develop her organisational skills. When she takes off her pyjamas, encourage her to put them where you want them to go not drop them on the floor so you end up picking them up. It may take a little longer now, but you'll be glad you stuck to your guns when she's developed great habits as a teenager.  
Praise and Rewards
Visual charts and stickers and stars work well for dressing and lots of other toddler activities. Give her a star for each piece of clothing she puts on and at the end of the week she can trade her stars in for a reward. Make this something that involves spending fun time with you – playing a favourite game, going swimming, a trip to the park or to bake a cake with you. When it comes to rewards, give time not money. Or if you are happy for your toddler to watch TV in the morning, stick to a rule that works for you. Tell her she can watch TV for 15 minutes when she has finished getting dressed.  
---
Getting Dressed Without Getting Stressed
Here are some simple, practical ideas for you to try with your toddler.
Make it easy to get results. Choose clothes with Velcro fastenings, elastic waists and slip on shoes. Avoid clothes that are tricky or tight. Once she's cracked these, she'll soon have the confidence to move on to more challenging zips and buttons.
Don't ask questions that she may say no to. Give her a clear and confident direction and explain your reasoning. Instead of saying, "Do you want to wear tights today?", say, "You are wearing warm tights today because it is very cold outside."
Distract her if she starts to flex her muscles. Give her a toy to play with while you help her on with her clothes.
Set a good example. Show her what to do, for example, demonstrate how to put a jumper on by putting your arms through first and then pulling it over your head.
Let her practise dressing and undressing her favourite teddy.
Put her favourite music on so that you can sing along as you dress.
---
Final Thought: Lose the Occasional Battle and Win The War
There will be occasions when she refuses to get dressed. Try to keep calm and dress her without saying anything. If she's getting your attention, she'll carry on doing what she's doing. Grit your teeth and just do it. If she absolutely refuses to get out of her pyjamas – take her to nursery in them (with some clothes if she changes her mind when she gets there - which she probably will).
It's good for your toddler to learn that actions have consequences. And let your toddler choose what she wants to wear sometimes. You may want her to go out beautifully co-ordinated – but in the great scheme of things, does it really matter if she's wearing a creative combination of colours and mismatching socks. As long as she's not too hot or too cold, she'll be fine.
---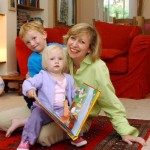 Lorraine Thomas is on the Toddle About Panel of Experts. She is the Chief Executive of The Parent Coaching Academy and author of 'Brilliantly Behaved Toddler'. She runs workshops for working parents with clients including Marks & Spencer, Morgan Stanley, Novartis and Barclays. She is used as a parenting expert by Tesco.