Go Back
TalkTalk Creates a TV Remote for Little Hands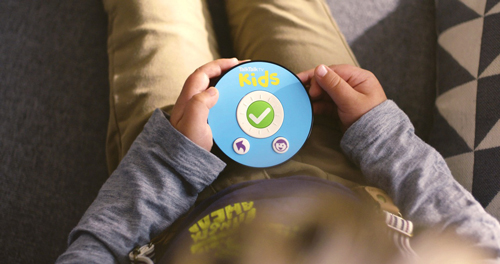 Viewing hours can be set up for the Kids Zone which includes a bedtime setting.[/caption] It's something many adults know too well, you quickly have to leave the room and when you return the kids have seized the TV remote and chaos follows. Suddenly Peppa Pig is no longer on the screen, favourite recordings have been deleted from the box or a setting you've never seen before has been activated. But now that can be a thing of the past, thanks to the revolutionary new TalkTalk TV Kids Remote. A first-of-its-kind, the TalkTalk TV Kids Remote has been designed exactly to combat both parents' and children's frustrations with standard TV remotes. One press of the unique remote locks children instantly into a new Kids Zone, featuring on-demand episodes of popular kids shows such as Paw Patrol, PJ Masks, Peppa Pig and Fireman Sam. Once in the Kids Zone, little hands can easily navigate their favourite shows and are unable to leave without adult intervention.
---
Commenting on the TalkTalk TV Kids Remote, Jacqueline Harding, Director of Tomorrow's Child and Child Development Expert, said: "It's not often I come across an idea that really makes life easier for busy parents and benefits children at the same time. Of course, nothing can substitute your undivided attention with children but we all know there are times when chores just have to be done and the TalkTalk TV Kids remote is perfect for those moments. It is so important to keep children safe while viewing TV and, this clever device, teaches them little by little how to control their own viewing patterns." TalkTalk is the first provider to create a bespoke remote for kids and families. Aleks Habdank, Managing Director of TalkTalk TV, said: "We've ripped up the rule book of standard TV remote design to create something bespoke for kids and families. Research shows that children are watching more TV content via apps because it gives them the control they crave and parents the peace of mind that they're safely watching age-appropriate content. But research also shows that TV is still kids' favourite place to watch and now thanks to the TalkTalk TV Kids Remote, kids can choose what they want to watch safe and securely on the main screen.  By giving kids a remote control all of their own, we aim to help the whole family enjoy TV the way they want it." The TalkTalk TV Kids Remote has a one-off cost of £5 (batteries included) and the Kids TV Boost is available on a rolling contract for £5 a month. The unique benefits of the TalkTalk TV Kids Remote are:
Secure and Customisable
Once in the Kids Zone children are unable to return to the normal EPG unless a code is entered via the main TV remote
The Kids Zone can be customised both on set up and at any time using the main remote
Parents are able to hide shows if they do not want their child watching it or want to encourage children to try something new after hearing the same programme on repeat for days
[caption id="attachment_2439" align="aligncenter" width="500"]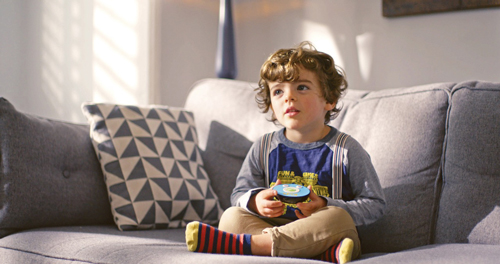 The circular design of the remote ensures it works no matter what direction a child is holding it in.[/caption]
Defined Viewing Hours and Bedtime Setting
Viewing hours can be set up for the Kids Zone which includes a bedtime setting
Five minutes before bedtime a 'sleepy head' icon will appear on screen with a countdown to prepare children that the TV is going to sleep
The bedtime setting takes into consideration time left on the episode being watched to either stretch the five minutes or shorten, ensuring the programme can finish to avoid any upset
The bedtime setting can also be activated at any time to help prep children for naps or regular bedtime can be cancelled if kids need to be kept up later than usual via the main TV remote
By setting viewing hours the Kids Zone will remain 'asleep' outside of these. So if a child finds their way to the TV set outside of hours and presses the TalkTalk Kids TV Remote, only the bedtime screen will show to let the child know that the TV has gone to sleep
Unique Design
Little hands can navigate the Kids Zone easily by simply scrolling left or right on the remote to choose a show
A simple click on the central button lets them then select the programme and episode they wish to watch
The circular design of the remote ensures it works no matter what direction a child is holding it in
Designed by Kids for Kids
The remote took over a year to develop and more than 60 school children were consulted over the design and functionality of the remote
All of the colours used on the remote were voted as 'favourite' colours by children and the remote was rigorously tested to ensure its durability and ease of use for little hands
For more information and to purchase the TalkTalk TV Kids Remote visit: https://www.talktalk.co.uk/shop/
---
To celebrate the launch of the innovative TalkTalk TV Kids Remote, TalkTalk has teamed up with Child Development Expert Dr. Jacqueline Harding to compile the ultimate Parents TV Guide. Here she shares her top tips on the perfect content for your child to watch if you need a helping hand getting on with life:
If you need time to get ready for a day out, popping on an adventure-based show can give you time to pack bags or the car. Something such as Shimmer and Shine or Mickey and the Roadster Racers will give great content to talk through the narrative afterwards e.g. what happened at the beginning, the middle and the end. This helps children learn sequencing of events which will help you explain your upcoming journey.
If you need to wake your children up after a nap look for an upbeat show such as Paw Patrol or PJ Masks. Shows like this get children active as the characters ask for interaction. Especially helpful if you need to get everyone out the door as you can role play Paw Patrol and go on your own adventure.
There are some easy signs to spot if your child is engaging with the TV show that they're watching. Pointing to the screen, smiling and laughing and wanting to tell you about things that they're watching, are all great signs of engagement.
If you need to pop on the TV to get stuff done 'checking in' with your child quickly communicates to them that you're still present and reassures them. Try either commenting on something on screen that would interest them or ask a question. Open-ended questions are always best.
Designed for little hands, the TalkTalk TV Kids Remote is the first remote designed for kids by kids and allows little hands to navigate and watch content safely via the TV set.