Go Back
Inspire the next generation of engineers and astronauts and keep kids active and screen-free with Stomp Rocket®, a great range of fun and STEM-inspired toys & games.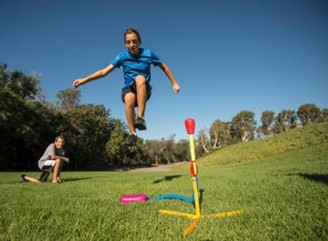 All products are portable, fast, easy to assemble, with no batteries required. Ideal for socially-distanced days out in the park or holidays, they make great gifts for Summer and Christmas. Full power to kids and parents – run, jump and STOMP for 100% thrills and spills!
Send rockets soaring up to 400 feet in the air (the length of a football field!) with the best-selling Original Super High Performance Stomp Rocket® Kit. Get some exercise running after the rockets when they land, making it a great outdoor game. Includes a Stomp Launcher and three super high performance rockets. View the demo video here.
There's flying fun all day and night for the younger kids with Stomp Rocket® Junior Glow. This set of four foam-tipped, glow-in-the-dark rockets soar up to 100 feet!
Competition
We are giving you the chance to WIN a Stomp Rocket® Junior Glow! Enter our competition here. 
Battle for the title of strongest stomper with Stomp Rocket® Duelling Rockets. This set comes with two launch pads so friends can face off simultaneously, sending their rockets up to 200 feet. While Stomp Rocket® Ultra lets you run, jump and STOMP to launch four foam-tipped rockets up to 200 feet in the air.
Designed by Aeronautical Engineers, Stomp Rocket® Stunt Planes includes three unique planes: the Looper makes giant loops; the Glider does tricks and glides over 100 feet; and Wild Cat flips, turns and soars. Learn about 'trajectory' by changing the launch angle, about 'force' by stomping harder or softer, and 'aerodynamics' by launching with wind or no wind.
Blow away boredom and send your imagination soaring with Stomp Rocket® BLO-Rockets. These indoor safe rockets feature 4 games in 1: hone aiming skills with Target Practice; compete for the furthest blast with Distance Launch; challenge each other to see who's the fastest with Dodge Rocket; or practice hand eye coordination with Catch A Rocket. Each set includes four foam rockets and two blow launchers for fun alone, with friends or kids' parties.
Available from John Lewis, Hamleys, Toymaster and Amazon.