More Parenting Articles
Simple Feta Frittata Muffins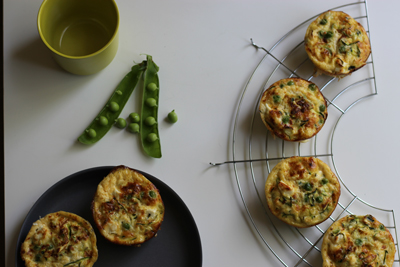 This one-bowl recipe is simple, nutritious and perfect for family picnics. The ingredients can easily be swapped to include your  child's favourite flavours so even the pickiest of eaters will love them. SERVES: MAKES 6 MUFFINS. TOTAL TIME: 25. MINS AGE: 12M+ Ingredients: • 6 eggs • 1 medium courgette, grated • 30g (about a handful) of frozen peas • 2 spring onions, finely chopped • 30g cheddar, grated • 30g feta, crumbled • Oregano (other fresh herbs optional e.g. parsley or dill) • Pinch of black pepper Our top tip: Swap out ingredients to include your child's favourite flavours!
Method: 1. Preheat the oven to   190oC/Gas Mark 6. Grease a muffin tray with butter or line with paper muffin cases. 2. Beat the eggs in a bowl. Add in the vegetables, cheddar, feta, herbs and black pepper. Mix well. 3. Pour the mixture into the muffin tray and bake in the oven for 15-20mins until set all the way through and golden brown on top. 4. Remove from the muffin tray and leave to cool on a cooling rack. Enjoy warm or chill and eat cold later.
---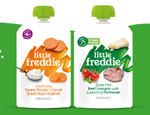 Little Freddie uses only the very best organic ingredients to create delicious and nutritious recipes that your baby will love.  For a perfect first taste, try their surprising Sweet Potato & Carrot Greek Style Yoghurt Pouch (6m+) or, for palate development, try their grass-fed Beef Lasagne with a pinch of Parmesan (7m+). Find the full range online in Ocado and Amazon.