Go Back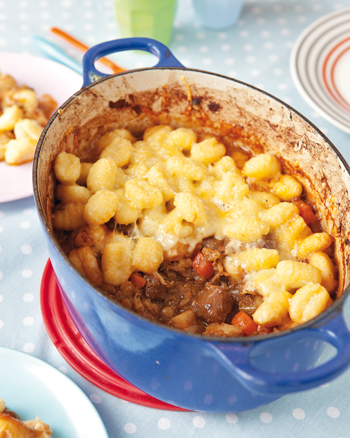 Wonderfully comforting, feel-good food, a hotpot is the perfect lure to the family table. What you need:
2 tablespoons olive oil
2 leeks, trimmed and sliced
2 carrots, peeled and diced
2 parsnips, peeled and diced
400 g/14 oz braising steak, cut into bite-size pieces
450 ml/16 fl oz reduced-salt beef stock
1 tablespoon tomato purée
1 long rosemary sprig
1 bay leaf
100 g/3½ oz drained canned green lentils
500 g/1 lb 2 oz ready-made gnocchi
30 g/1 oz mature Cheddar cheese, grated
Green vegetables, to serve
What to do:
Preheat the oven to 180°C/350°F/Gas Mark 4. Heat half the oil in a large flameproof casserole dish over a medium heat. Add the leeks, carrots and parsnips and cook for 5 minutes until softened.
Using a slotted spoon, remove the vegetables and set aside. Add the remaining oil and brown the beef all over for 5 minutes. Return the vegetables to the casserole with the stock, tomato purée, rosemary and bay leaf and bring to the boil. Stir, cover with a lid and put the casserole in the oven for 45 minutes.
Meanwhile, blend the lentils to a coarse paste or mash with a potato masher. Remove the rosemary from the casserole and stir in the lentils. Cover with a lid and cook in the oven for another 30 minutes, adding more stock or water if needed, or until the beef is tender.
Meanwhile, cook the gnocchi in a large saucepan of boiling water, following the packet instructions, then drain well.
Preheat the grill to medium–high. Spoon the gnocchi on top of the casserole, scatter the cheese over the top and place the casserole under the grill for 10 minutes, or until the cheese has melted. Leave to cool slightly, then serve with green vegetables.
---
This recipe is from the Ella's Kitchen The Easy Family Cookbook (The Orange One) features more than 100 easy-to-make, delicious family recipes ranging from speedy mid-week meals to crowd-pleasers for family parties.  With five chapters organised by mealtime, each recipe has been developed to ensure the perfect balance for little ones and grown-ups alike, with a handy meal planner and special adaptations available for those going through weaning. The Easy Family Cookbook (The Orange One) is available at £14.99 from Amazon, and is published by Octopus.