More Parenting Articles
Preparing for the Family Barbecue Season. Get Started Today!
Do you think that there's still plenty of time before the summer and the barbecue season is in sight? In the end, you can't resist and give the grill an appearance at the first sign of nice weather. This will usually be during April or May. So, you better start preparing early.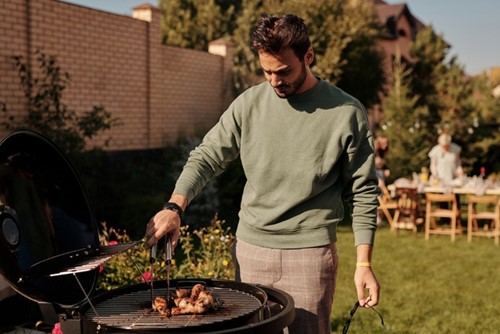 Caring for garden furniture
You should pay attention to garden furniture. The wooden one may need a new coat, which extends its life significantly. As a natural material, wood doesn't withstand weather conditions. Unexpected rain is enough and unprotected wood can degrade quickly.
Also, with regard to metal furniture, it's necessary to check for rust once every few years. If so, it's also removable upholstery also extends the life furniture's life. Should it become soiled or damaged in any way, you can easily wash it or replace it with a new one.
Wash the grill thoroughly
The family conscientiously but rather modestly takes care of the grill. So often, without being washed, the grill ends up being put into storage in the garden shed during the autumn and then it stays there until the following summer. However, this course of action reduces its lifespan and is also a very unhygienic issue.
Therefore, scrub the grill really well in the spring. Don't be afraid to use disinfectant and degreasing chemicals and use a wire-brush.
All grease or leftover food must be completely removed from the grill at the beginning of the season. 
At the same time, then check there is no empty gas bottle in a gas grill. For charcoal grills, check the fuel supply again and top-up if necessary. You don't have to be successful with last-minute shopping, when everyone solves the same problem. 
Wiping the cobwebs away 
Many families also have barbecue utensils and dishes stored in the garden shed or gazebo. It's advisable to check it in the spring and if necessary, wash it thoroughly. Simultaneously, you can also wipe the dust off the shelves and sweep the floor.
Once every few years, you should clean exterior surfaces thoroughly with a high-pressure cleaner. You'll be amazed at how it looks.
Garden maintenance
The garden is an integral part of every barbecue. Clear and fertilise the lawn so that its beautifully green at the beginning of summer and grows with new shoots. Also look at the condition of plants. If any didn't survive the winter, spring is a good time to plant new shrubs and trees. Other plants will be suitable for pruning.
Also check the herb garden. Most herbs survive the winter without difficulty with the correct care. But if some were unlucky, this is also an ideal time to sow a new plant.