More Parenting Articles
How to prepare your child for preschool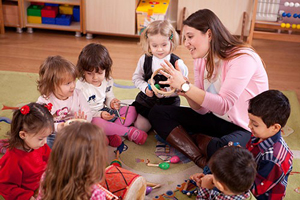 Guest Post by Wandsworth Preschool. It's hard to think about your baby spreading their wings at such a young age and experiencing a world outside of the home, and it can be hard for a child to adjust to the change. There are a few steps you can take as a parent/carer that can make the transition less traumatic. It's important to make the preparation of preschool as fun as possible! Children shouldn't feel that going to preschool is a chore, learning is enjoyable and its essential your child doesn't feel that every trip is going to be educational. Set some expectations of what your child can expect The majority of children will feel anxious at the thought of starting preschool. You may feel tempted to address this by telling your child "school is always going to be fun, and you will enjoy every moment you are there" or "you don't need to be scared everything will be fine," try not to undermine your child's anxiety and fears, instead give them information to of what they can expect, what they may be doing in class and who they might meet.
It might be a good idea to take a trip to the school with your child to see what the classroom is like and perhaps sit at the table your child will be sitting at. It's also a great opportunity for you and your child to meet the new teacher and helps your child to familiarise with someone on their first day. It's also essential that you visit some preschools before picking the one, to get a feel for it, and it's a good idea to meet face to face. Practice listening skills Getting a young child to sit still can be somewhat of a challenge at the best of times which is why encouraging your child to do so before attending preschool is definitely an advantage. Children are encouraged by their teachers to sit still and listen during class so getting your child to sit quietly and close their eyes might be good practice, and get your child to tell you all the sounds they heard! Maybe even explore where the noises are coming from. It's also a good idea to start giving your child some simple directions involving more than one step. For example some simple tasks such as asking your child to put away some of their toys, or going to the bathroom to wash there hands and then come and help you set the table for dinner. Playing games that involve your child listening to instructions is also a great way to get them to listen and solve problems and take turns. Play 'I Spy' in the car or on walks around your neighbourhood. Give hints about something you see, "I spy with my little eye something that is...tall." Your child has to ask you questions about the object until he guesses what it is.
---
Wandsworth Preschool, 2 Knightley Walk, SW18 1GZ. www.wandsworthpreschool.co.uk. 020 3319 7330. Wandsworth Preschool has a great track record of making children feel welcome and at home in their setting. It has a great retention rate of staff which helps with children feeling safe and secure with people they know, and it offers plenty of opportunities for you to pop in and look around the preschool and meet the staff. Why not contact one of the best nurseries in Wandsworth to arrange a visit today and start planning the process of your child moving to pre-school.