Go Back
Guest post by Mandy Mazliah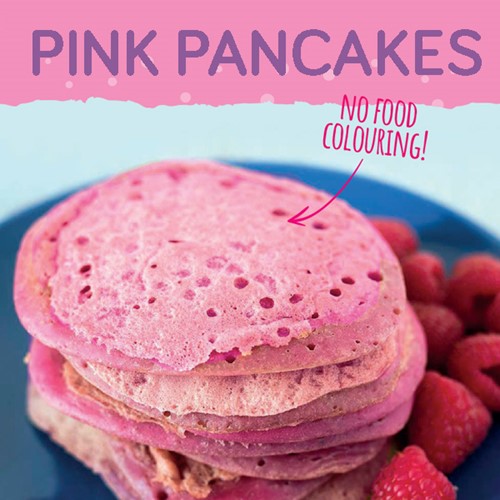 Delicious and healthy homemade pink pancakes that are perfect to make for breakfast this Pancake Day or indeed any day of the year if you love pink!
Ingredients:
• 175 g plain flour • 1 tbsp cornflour (cornstarch) • 1/2 tsp baking powder • 1 beetroot cooked, not in vinegar • 300 ml dairy-free milk (I used oat)
• 2 tbsp vegetable oil - plus more for frying • 1 tbsp maple syrup • 1 tbsp apple cider vinegar • 1 tsp vanilla extract
Method:
1.  Place all the ingredients in a blender and  whizz until smooth.
2  Heat a little oil in a frying pan over a low-medium heat and add a spoonful of the batter. Tilt the  pan to allow the batter to spread out a little until you have the size and shape that you want.
3  Cook for a couple of minutes until you can see bubbles appear on the surface of the pancake.
4  Turn the pancake over with a spatula  and repeat on the other side. Don't  be tempted to turn the heat up or  your pancakes will turn brown.
5  Keep warm in a low oven while you  repeat with the remaining pancakes.
6  Serve with maple syrup, fresh raspberries  and yoghurt, or your favourite toppings.
Mandy Mazliah is a vegan mum of three on a mission to get her kids to eat  more veggies. For kid-friendly veg-based recipes check out www.sneakyveg.com