Go Back
Piccolo's Top Weaning Tips
Weaning your little one is an adventure; making the switch to solid foods is an exciting time – albeit a rather messy one.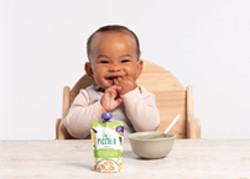 At Piccolo, we know it can be a pretty daunting task; knowing what to feed them and when, what to do if they're turning up their nose no matter what you try, and whether they're getting the right balance of nutrients they need to grow.
As parents ourselves, we've pulled together our favourite tips and insights which have seen us through our fair share of tricky times.
What is the best age to start weaning?
All babies are different and grow at slightly different paces, so it's important to trust your instincts and that you know what's best for your baby.
As a guide, the World Health Organisation says to start introducing foods from around 6 months. However if you're still unsure, some key signs to look out for include sitting up unaided and maintaining an upright position, making chewing motions and having good coordination. They should be able to look at food, grab it and put it in their mouth.
What foods should we try?
Trying new foods is an adventure for your little one, so make it an exciting one! See this as an opportunity to get creative with your own diet and get the whole family on board.
Branch out from your typical meals and start experimenting in the kitchen. A great tip is to opt for different fruits and veg in the shops so you get to try new foods alongside your baby.
Need a little inspo? Piccolo's infant nutritionist, Alice Fotheringham, has created lots of simple and tasty recipes, including everything from first purees to finger foods and family dinners.
When should we try new foods?
Try to avoid introducing new foods in the mornings and evenings. We've found from experience that when baby wakes up, the only thing on their mind is feeding, and in the evenings, they're tired and just want comfort and sleep: not the best time to see how they feel about broccoli for the first time.
Catch them at midday and they'll be a whole lot more receptive to new flavours and textures that they're unfamiliar with.
What if they don't like it?
Sometimes, you've gotta be a little bit sneaky – it's for their own good!
Because try as you might, your little one isn't going to be receptive to every new food. A great way around this is trying to serve it up in a different way.
Banana seems to be a no-go? Try some banana yoghurt or mashing it up and freezing for easy banana ice cream. Another tactic is to sneak it into something else, and keep increasing the quantity until they're ready to have it by itself.
Great alternatives to cleaning up chunks of banana that have been flung across the kitchen, if you ask us.
Should I persevere with foods they haven't taken to?
Did you know it can take up to 12 tries for your little one to develop a taste for a new flavour? So don't worry if your they don't seem to like new foods straight off the bat.
A scrunched up face or wrinkled nose might not mean that food is forever off the cards – keep tabs on what you've introduced, keep gently trying and you'll soon know whether it's an absolute no-no for them.
What snacks can I give my baby?
Good snack ideas include simple fruits like blueberries, banana or avocado as they don't need cooking. Want something while you're on-the-go, but don't want to compromise on health? Piccolo's pouches can come in handy.
As they get older, Piccolo's snacks, including their new Mighty Melts and Oaty Bars, are also great convenient and healthy options.