More Parenting Articles
Top 10 New Year Resolutions For Parents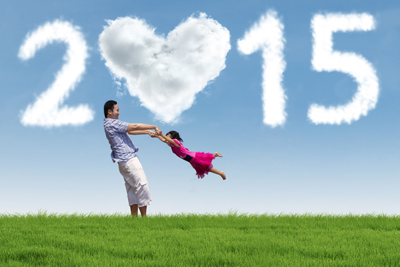 It's the new year.
A time of new beginnings and CHANGE.
You've no doubt made some resolutions for the year ahead, but maybe you have room for one or two more?
We asked parenting expert Lorraine Thomas to share with us her Top 10 New Year Resolutions for parents... and we think she's done a great job.
So, while you're enjoying your newly implemented daily run or getting used to sobriety during your dry January (only 24 more days to go!), we hope you'll find some inspiration here on how to be an even better parent in 2015:
Aim for 'connection' not 'perfection' in 2015. Make a fun 'to do' list for the year ahead. It's the only 'to do' list that counts! List the 3 things you would really love to do with your toddler this year. Put them in the diary and make them happen.
'Love Bomb' your toddler with some 1-1 time every day. You can't be 100% mum or dad all of the time but you can some of the time and that time – even if it is just a few minutes – is precious.
Listen to your toddler with your eyes. It is the very best way to teach them to listen to you and for you to teach yourself to really listen to them and tune in to their world.
Catch your toddler 'red-handed' behaving the way you want them to behave... ... instead of giving them attention for behaviour you want to discourage. Behaviour that gets attention gets repeated.
Tell your children what you do want them to do instead of what you don't want them to do. They find negatives very hard to process. So say 'whisper like this' (and demonstrate) instead of saying 'don't shout.'
Keep mealtimes special. You may not be able to eat together as a family every day but do it at least once a week.
Ring-fence special family times. Put boundaries around your screen times and switching the TV, laptops, mobiles and iPads off.
Don't take your toddler's behaviour personally. Try to keep calm and act your age – not theirs. If you shout and stamp your feet to get what you want – that's what they will do too.
Make sure you and your little one get your 5-A-Day. Not fruit and veg - your 5-a-day are fun, love, healthy diet, exercise and sleep. 'Me' time for you is vital – not a luxury. You are your family's engine room and if you are feeling rested, positive and energised it will have an impact on everyone.
Enjoy the adventure. As a parent you will always be a pioneer – so try to enjoy the adventure! Every day is an opportunity to make a difference in your little one's life.
So... is there one there that stands out for you? If so, we'd love to here what it is - please leave a comment below. I'll start the ball rolling by sharing mine in the first comment :-). Happy New Year!  
---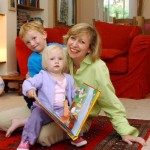 Lorraine Thomas is on the Toddle About Panel of Experts. She is the Chief Executive of The Parent Coaching Academy and author of 'Brilliantly Behaved Toddler'. She runs workshops for working parents with clients including Marks & Spencer, Morgan Stanley, Novartis and Barclays. She is used as a parenting expert by Tesco.