More Parenting Articles
National Weaning Week - Top tips on how to get extra nutrients into our baby's mealtimes
Charlotte Stirling-Reed has offered some great tips on getting extra nutrients into our baby's mealtimes.
Charlotte Stirling-Reed is a leading baby and child nutritionist and Expert Speaker at The Baby Show. Charlotte is Founder of SRNutrition and nutritionist for Joe Wicks' new book Wean in 15.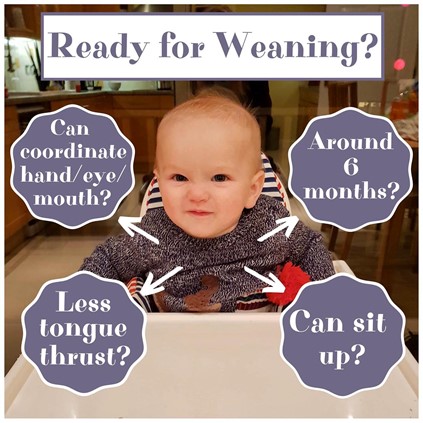 Please see below for some of Charlotte's top tips.
Adding Extras to Baby's Meals. 
Sometimes it's difficult to always think about HOW to balance baby's meals each day, and many parents worry about getting nutrients into their little ones. I always like to suggest that parent's don't overthink it too much, Try focusing on a balance of foods from each of the main food groups (carbohydrates, vegetables and fruits, protein/iron rich foods and dairy or alterantives). However, a better way to add extra nutrients, without the hassle is simply to think about ways of adding little extras to your baby's mealtimes. Here are some of my favourite ways of doing this:
Add herbs and spices - These add flavours and a variety of tastes to baby's foods, especially as it's not recommended to add any sugar or salt. However, herbs are also very nutrient rich, so a little shake here and there (although not adding huge amounts) can add a little nutrient kick. 


Think variety as much as possible - The more variety you add in your baby's diet - think different colours, flavours and textures on their plates, the more in the way of nutrients they will be getting. It's so easy to get stuck in a rut with the same kinds of foods, but branching out and trying something new, as well as always focusing on offering baby plenty of variety, can ensure they are getting lots of different vitamins and minerals each day. 


Top/Fill with veggies - Think pizza, pasta, rice and potato sauces. Offering these as a base and then stuffing/filling or topping with veggie sauce (for example) is a great way to be adding extra fibre and nutrients into baby's dinner. You don't have to just offer veggie sauces either. Lentil sauces, cheesy sauces or fish sauces can also work and offer variety and nutrients too. 


Offer a side dip - Who doesn't love a dip? Offering a dip to baby not only allows them to practice some of those vital hand eye coordination skills, it's also a great way of adding some extra flavours and nutrients to baby's meal. Some of my favourites are yogurt dip, hummus dip and even peanut butter dip too. 


Add "sprinkles" - again think a pinch of herbs and spices to add to the top of your meals, or a sprinkle of milled seeds/nuts, which is a favourite in my house for breakfast. Cheese sprinkles work well too and help to add some calcium, protein and fat into baby's diet. 


Serve alongside fruit/veg - Especially in the early days of weaning I always love recommending parents try offering fruit and veggie finger foods alongside meals. These can be cooked super soft and work so well to encourage baby to safely self-feed themselves, but they also are a great way to add another food group and plenty of fibre and minerals to a meal too. 


Balance the plate - Think about trying to offer 3-4 food groups on one plate for your baby at most meals. This way you know you're offering plenty of balance & baby is likely to be getting the varied diet that they need. As a good rule of thumb, I recommend trying to offer: a portion of veg or fruit e.g. Courgette sticks or some avocado dip; A protein/iron rich food e.g. eggs or beans and a carbohydrate e.g. bread or rice.


Stir in flavour and fats - babies also need plenty of fat in their diet, so don't be afraid to use unsalted butter and oils to cook baby's food. You can also stir in cheese, yogurt and foods such as nut butter to add fats to baby's meals along with plenty of flavours. ​
Add two toast toppings - Baby enjoying their toast in the morning? Why not offer two different toppings to add extra nutrients and help balance those food groups. For example I love serving my son toast with scrambled egg and avocado. See my image for some other perfect toast topping ideas too. 
Charlotte Stirling-Reed is a leading baby and child nutritionist and Expert Speaker at The Baby Show www.thebabyshow.co.uk.  Charlotte is Founder of SRNutrition and nutritionist for Joe Wicks' new book Wean in 15.