More Parenting Articles
Top Tips when Moving House with Children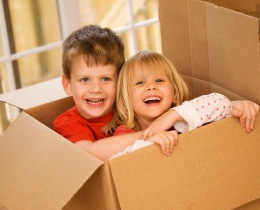 It is important that you discuss moving with your children as soon as possible. Robinsons Relocation have helped thousands of families move house so they've seen the good, the bad and the ugly. Here are their top tips to help make your move an enjoyable experience – and how to make it easier on your children, who are likely to be unsettled by the prospect of leaving their home. Moving home to a new location affects each child differently. As soon as you have made the decision to move house, it is important that you discuss the move with your children as soon as possible. Your move can be a positive adventure, provided you make it a family affair. Be sympathetic to your children's individual needs and fears but remember, children do adjust quickly - even those who have reacted negatively at first, or who are overly concerned.
Constructive ways to help children cope with leaving their old home 
Let them tell their friends and neighbours themselves that they are moving.
Get them involved in certain activities to do with the move such as organising and planning how to move your pets and plants.
Help them to collect the addresses of all their friends (including parents' email addresses) so that they can keep in touch.
Involve them in organising a sale or charity donation of toys, clothing, books and other unwanted items before move day.
Hold a 'say goodbye to old friends' party.
If your children have not been able to accompany you on your initial visits to your new home, it is a good idea to take photographs of your new house and the local community.
Find out as much information as you can about your new community such as neighbourhood, schools, local areas of interest, etc. This will enable you to talk positively about the benefits your children will enjoy in your new home.
It's a good idea to involve your children in plans to decorate their new bedrooms.
Become involved and active in your new community immediately and your children will follow your example.
Encourage your children to keep in touch with their old friends.
Be prepared on moving day 
Consider asking a friend or sitter to watch infants or young children during packing.
Make sure your younger children have their own box for their personal items - encourage them to use stickers or other decorations to identify their box as their own.
Prepare a 'hot box' which can be unloaded first at the new house, which contains items you will need immediately on arrival such as snacks, kitchen items and bathroom toiletries.
To ensure your children settle in quickly on their first night, it's a good idea to pack separately a set of sheets, towels and personal items for each child, for easy access at bedtime.
---
Robinson's Relocation have 120 years' experience helping people move house. If you're moving and could do with a hand, contact their Leamington office on 01326 833395 / Oxford office on 01865 510557 or visit www.robinsonsrelo.com.