More Parenting Articles
Moving House With A Big Family: A Guide From Someone Who's Done It
When you're moving to a new home, the reason may well be that your family is outgrowing your present home. Moving home with a big family requires a lot of planning and preparation, from getting the kids ready for the upcoming change to making sure that your pets are taken care of. Moving home can be stressful for the entire family, so in order to ensure that your move runs as smoothly as possible, you should start preparing everybody with as much time to spare as you can.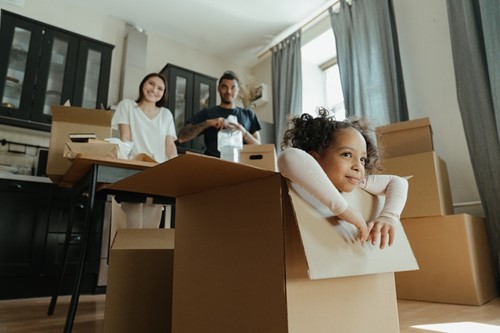 The good news for big families is that moving home can also be pretty exciting for kids. Younger children tend to be full of curiosity and wonder, so moving home can easily be a big, exciting adventure for them and communicating it to them like this will make it easier for them to cope with the change. We've put together some top tips to help you move home with a big family.
Introduce the Kids to Your New Home:
Ideally, you should plan a visit to your new home before moving day, to show your kids around and let them become familiar with the place that they are going to be living in soon. If you're moving within your current area, they might already be familiar with some of the places nearby but if not, take them to see some of the positive things about your new area such as nearby parks, shopping centres, and fun things to do nearby.
Take them to Their New School:
If moving home means moving to a new school for your kids, this can take a little bit more adjusting to as it means leaving their old friends behind and making new ones. Try to time your move during the school holidays as this gives your little ones some more time to adjust to their new surroundings and get used to being in their new home before they have to get used to being at a new school. You can also look into the opportunity to enrol them in summer activities arranged by the school so that they can make new friends before the term starts and get to know some of their new classmates.
Start Packing Early:
The last thing that you want is to be rushing around trying to get everything packed and ready the night before the move, so start packing as early as possible and get the whole family involved, too. A great packing solution is to use vacuum storage bags such as those from Rokey's Storage Bags which are not only space saving, but convenient too. If you are able to get a move-in date that's earlier than the move-out date for your current home, this is a good idea as it allows you some time in between where you can transfer boxes between the homes rather than scrambling to get it all done on one day. Let the kids pack a box for themselves for their first night in your new home and include any essential things that they will need to feel comforted and occupied on moving day.
Let The Kids Help:
One way to turn moving home into even more of an adventure for your kids is to let them help with getting settled into your new house. This could be something as simple as letting them decorate or write their name and draw a picture of themselves on their moving boxes. Be sure to pack their favourite toys last, so that these can go in a box to be opened first once you're all moved in.
Say Goodbye:
If you're moving to a completely different area, it can help to spend some time saying goodbye to the house and the area, and to any friends that your little ones won't be able to see as often once you are in your new home. It might help to have a leaving party where your children can invite all their friends and make memories. Don't forget to reassure them that they will still be able to keep in touch with their friends often even after the move; setting up a scrapbook with contact details for all their friends that they can use to keep in touch afterwards is a good idea.
Make Sure Everyone's Safe:
Moving day can be stressful and there can be lots of hazards posed to little kids with moving furniture, so plan for something fun for your kids to do on moving day. Arrange for a babysitter to come and collect them or speak to their friends' parents to see if anything can be organised for them to do while you move everything out of the house into the van and to your new home. Not only will this be safer for the children, but you'll also avoid them having to see if you get stressed out on moving day.
Keep Pets Safe:
If you have a family pet, don't forget to think about how they are going to transition to their new environment, too. This will depend on the type of pet that you have. Dogs tend to be comfortable around smells that they recognise, so make sure to bring their bed and blankets and set them up somewhere quiet and secure where they can get used to their surroundings. Don't let your outdoor cat out yet; give her 14 days[1] familiarise herself with the new house so that she knows where to come back to. And make sure that any pets you have are insured before the move. If an accident occurs, a comprehensive cat, dog, or rabbit insurance policy may cover all or most of your vet bills. This site allows you to compare pet insurance quotes and find the right one for your pet. Everypaw doesn't offer rabbit insurance, but its sister site does. Their insurance policies are underwritten by Pinnacle Insurance PLC. Always make sure to update your insurance providers with your new address
Make The First Night Fun and Memorable:
Rather than diving straight into unpacking everything on the night of moving day, let everybody have a break and do something fun instead. When packing, put things like the TV and blankets and pillows in an easy-to-access area so that you can set up a fun blanket fort in the new living room and watch a family movie together or play some games if it's not set up. Prepare snacks or have a treat and check out the local takeaway restaurants in your new area.
Moving home with a big family doesn't have to be as stressful as it sounds when you're well prepared.
[1] https://www.bluecross.org.uk/pet-advice/moving-house-and-travelling-cats