Go Back
May is National Walking Month: 5 ways to get kids exploring the outdoors
Sometimes, getting the family washed, dressed, and out of the door can feel like a workout in itself. What's more, with all the smart devices that kids (and parents) use today, it can be easy for your family not to spend enough time outside. However, this May marks National Walking Month, so it's the perfect time to get some exercise together in the fresh air.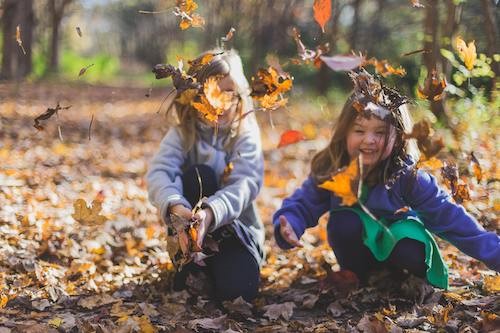 Time and again, studies have shown that spending more time in natural, green spaces offers a whole host of physical and mental benefits. Getting enough outdoor exercise is crucial for your children's fitness levels, coordination, and overall health, but it can also help improve their sleep, attention levels, and stimulate their imagination (Child Mind Institute). So, if you want to make the most of the spring weather, Gavin McKew from Start Fitness shares his top tips on getting your kids excited about the great outdoors.

Start small

If you don't head out on walks too often, then starting with an all-day hike in the mountains might be a little too ambitious. Instead, start by encouraging your children to spend more time in the garden or in any green spaces near your house. Head to the park for a family dog walk, or simply set up their favourite toys or art supplies up on a patio or garden space instead of indoors. This makes going outside more of a habit by incorporating it into your daily routine, so the next time you suggest a family day out in nature it doesn't feel like a battle.

Follow their personality and interests

You might love hiking across mountains and woodlands for the beautiful scenery, but your kids may not share this passion quite yet. So, when encouraging them to head outdoors more, try taking the lead from their interests and personality when planning the family activities.

For instance, if your child is dinosaur-obsessed, taking them to the nearest fossil attraction to spend the day exploring the site is a sure-fire way to keep them engaged. You could even bring their very own fossil brush and magnifying glass in the hopes of making a special discovery! Alternatively, if your child loves arts, crafts, and reading, then try finding outdoor locations that resemble those in their favourite books, or task them with an art project using things they find in nature. Incorporating their hobbies and interests in this way can make outdoor excursions far more engaging.

Ditch the devices
This might be easier said than done, but often the first step to getting the family outdoors is to switch off the television and everyone's various devices. Technology has proved to be an absolute lifeline for educational resources and social connections over the pandemic, but it's also important to get back in touch with the real world.

If you want to make this transition a little easier and not make outdoor time seem like a chore, you can always start by incorporating technology into your outdoor adventures. Things like photo scavenger hunts or stargazing apps can help your kids spend more time outside without even realising it!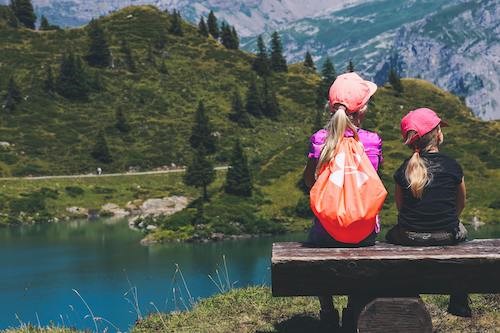 Set the example

Try to set a good example for your children to follow. While you may not always have time for an all-day family hike, try to head out for a short walk around your local area or the nearest park whenever you can. Seeing you put down your devices and step outside will show your kids that there's always time to get some fresh air and exercise, and that it's a healthy priority to have as they grow up.

Using end goals and responsibility

A more practical way of getting your children walking is to set engaging destinations at the end: whether it's a treat like ice cream or a cool landmark, knowing that they're walking towards something special helps to keep them motivated. Alternatively, you could use a more structured approach to family time by writing a summer bucket list or activity jar together. Fill these with outdoor adventures for a helping hand when you feel uninspired.

For older children, giving them responsibility for your outdoor adventures can help them feel more independent and mature. Let them pick the route for your next hike or choose the next activity you'll try as a family, be that climbing, mountain biking, or water sports. This not only boosts their interest in outdoor time, but can also encourage parents to step outside their comfort zone and make memories together while trying something new.

Quote

"Spending time outdoors is not only vital for our physical health, but it can have a real impact on our mental health too. This National Walking Month, make the most of the spring weather and get your family active in the great outdoors.

"Taking time away from our devices and busy schedules helps us to spend more quality time together as a family. To get your kids more excited about outdoor activities, try incorporating their hobbies and interests wherever possible, or giving older children more responsibility for planning your adventures. Encouraging exercise in your local green spaces is beneficial for the whole family.

"Whether it's wellies, walking boots, or running trainers, make sure you and your family are kitted out in quality, comfortable gear before heading out on any adventures. This way you're prepared for anything the temperamental British weather throws at you!"

- Gavin McKew from Start Fitness